To cater to evolving customer demands, John Deere has redesigned its 2430C Nutrient Applicator for model year 2022. With a new lower transport height, customers will reap the benefits of greater precision and control of nutrient placement out in the field. Best of all, they can accomplish this at high operating speeds.
"The new 2430C Nutrient Applicator is a rugged, highly productive tool for ag service providers and farmers to accurately apply anhydrous ammonia across more acres more quickly while minimizing outgassing," said Ryan Jardon, Product Marketing Manager for John Deere. "With the 62-foot- (18.9 m) or 47-foot- (14.3 m) wide model, customers can select the right size to best fit their operation and nitrogen application needs."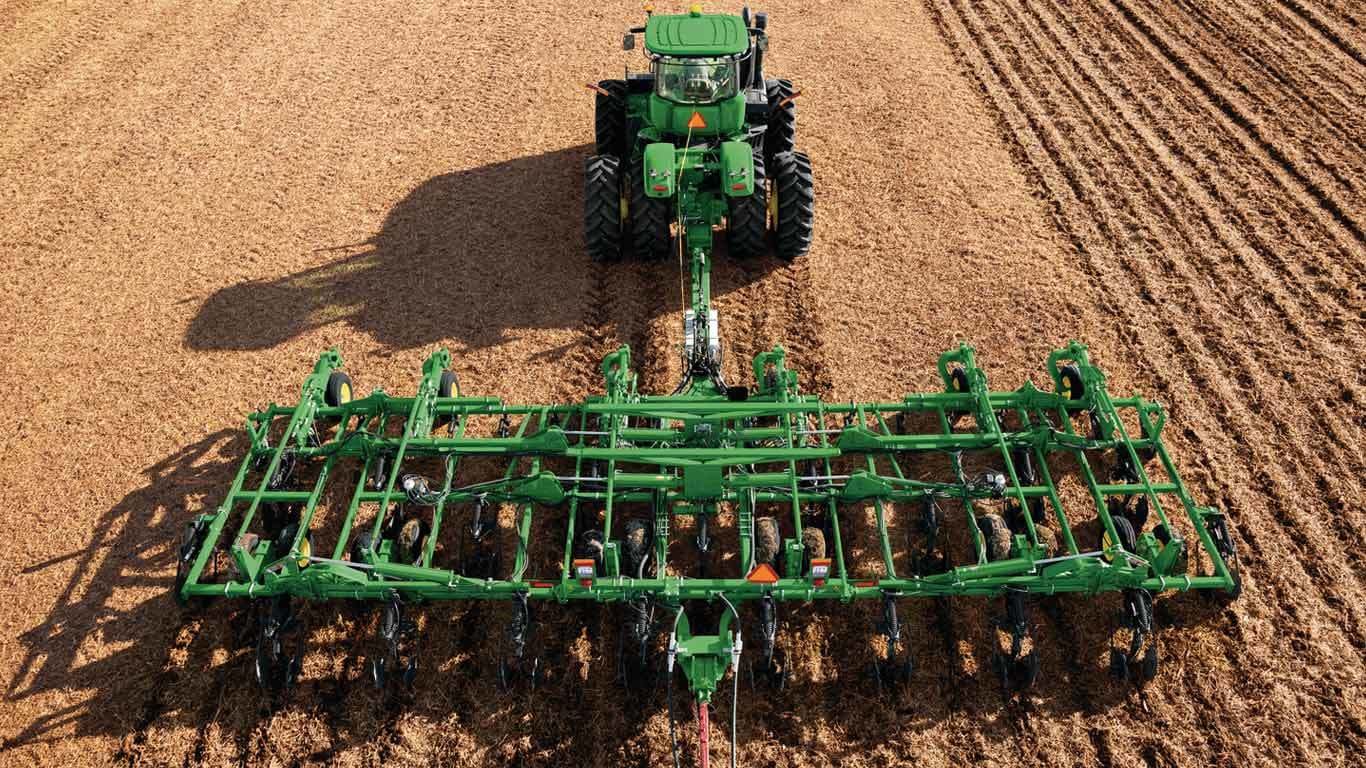 What Can a John Deere Nutrient Applicator Do?
With a John Deere nutrient applicator, customers can prepare their soil for maximum crop production and a bountiful harvest. These machines take the guesswork out of successfully placing nutrients into the soil while allowing operators to maintain best management practices. John Deere also offers models for a wide array of types of applications throughout the year.
John Deere 2430C: Features & Specs
There are several benefits associated with the new model year 2022 John Deere 2430C Nutrient Applicator. Let's take a look at some of the machine's features and see how they can help customers out in the field.
Various Configurations
The John Deere 2430C is available in five different configurations, which all feature 30-inch spacing:
19-row (12-foot centerframe)
21-row (15-foot centerframe)
23-row (15-foot centerframe)
24-row (15-foot centerframe)
25-row (15-foot centerframe).
The individual frame sections of these configurations can be adjusted independently of each other for added convenience. Operators can also adjust the depth setting of individual sections to ensure proper product sealing and fertilizer placement.
TruSet™ Tillage Technology
The John Deere 2430C offers precise depth control to operators, which is essential for the conservation of moisture, fertilizer placement, and soil management. TruSet and single-point depth control come standard on the machine, which ultimately helps producers best use their available tractor horsepower. Operators can also make adjustments while on the move, which increases productivity and efficiency. What's more, individual wheel sensors and electronic circuitry help operators with leveling and depth measurements.
With TruSet Side-to-Side, there is less of a need for concern around accurate nutrient placement. The system is controlled by five sensors, which can help operators make depth control adjustments according to feedback.
Rear Hitch
The John Deere 2430C has a rear hitch that can tow up to 25,000 pounds. Tank hookup is a breeze when the drawbar is extended outwards and side-to-side laterally. Constructed of heavy-duty tubing, reliability does not have to be a concern for customers with high towing capacity demands. Finally, the improved rear hitch design allows operators to use tow-behind attachments, such as field finishing tools, thereby ensuring maximum efficiency.
Adjustable Closing Disks
The closing disk system on the John Deere 2430C does not require any tools to be adjusted. There are also no grease zerks on the closing disks assembly, ultimately boosting productivity while easing serviceability. The 18-inch concave notched blades close the slot and seal the anhydrous in the soil. The closing disks have built-in down-pressure springs, limiting the bounce in rugged field conditions. Additionally, the closing arms have been designed to flex, allowing obstructions to flow between the knife and the blade.
Strong Frame Design
The frame design of the John Deere 2430C provides the reliability customers want in a nutrient applicator. Consistent operating depth, improved nutrient application, and ease of serviceability are all benefits that come with this frame.
If you have any questions about the John Deere 2430C Nutrient Applicator, you can contact your local John Deere dealer.
If you enjoyed this post or want to read others, feel free to connect with us on Facebook, Pinterest, Twitter, or Instagram!
You might also like: