No matter what season a farm might be in, every agricultural producer knows the importance of having the right John Deere equipment on hand for harvesting. Everything from self-propelled forage harvester pickups to flail choppers can be critical to ensuring that farmers maintain the quality of their yield.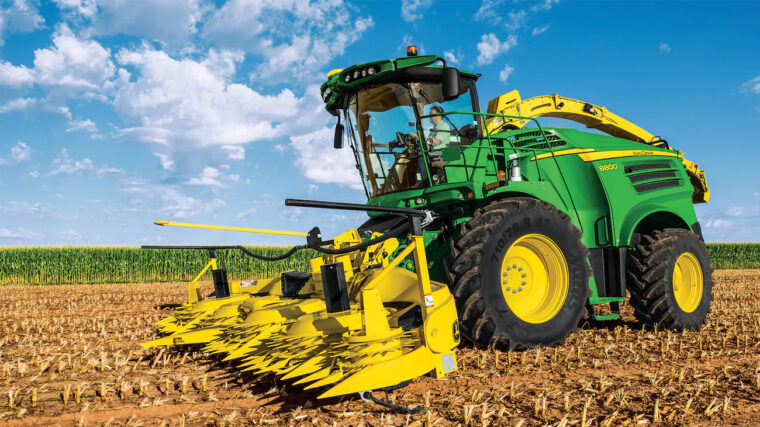 Different Types of John Deere Harvesting Equipment
The many varieties of John Deere harvesting equipment were each created for specific needs. Understanding how each one is used is essential to making the most of the machinery, and of the harvest being brought in. Let's take a look at some of the latest harvesting equipment available to large- and small-scale farmers alike.
Self-Propelled Forage Harvesters
The self-propelled forage harvesters from John Deere are specifically designed to provide more power at lower engine RPM. This is thanks to the JD18X 18-liter engine that comes equipped on select 9000 series forage harvesters. Customers can reap the benefits of 13% higher efficiency, compared to previous models, while maintaining yield quality.
Rotary Harvesting Heads
John Deere makes rotary harvesting heads in a wide variety of drum configurations to help farmers sustain their level of performance out in the field. Each model has fast-turning saw blades that are designed to cut all types of crops.
Self-Propelled Forage Harvester Pickups
The self-propelled forage harvester pickups from John Deere are available in single- and double-windrow widths to meet customers' specific needs. All of them have a low-profile design, and can be used with several different attachments to increase their versatility. The pivoting pneumatic wheels of these pickups are also designed to work on wet ground, meaning customers never have to worry about accidentally tearing up their soil.
972 Flail Chopper
The 972 Flail Chopper from John Deere was designed with productivity in mind, offering users a cutting width of six feet. The double-edged rotor knives can be reversed to help lengthen their lifespan, and the rotor speed can reach up to 1,366 rpm. An auger speed of 300 rpm creates improved delivery of material into the cutter head. The mainframe of the 972 Flail Chopper is also 40% thicker and welded to provide more structural resistance over time.
What Harvesting Equipment is Best?
When it comes time to select the best harvesting equipment, the machines which agricultural producers choose to use should be based on specific factors, including crop type and quantity. The size of the field where the harvesting is taking place should also be accounted for when selecting equipment. Self-propelled forage harvesters, for example, are ideal for handling corn during the harvest season. The 972 Flail Chopper, on the other hand, may be better suited for cotton stalks and grass silage. Identifying specific needs, as well as understanding the features of each piece of harvesting equipment, can help John Deere customers make the right purchase.
Harvesting with John Deere
Farmers always want to ensure that they're getting the maximum return for their hard work during harvest season. This is why it's critical to consider all the benefits that John Deere harvesting equipment has to offer. Whether the goal is productivity, maintaining the quality of the harvest, or something else, John Deere has the machinery to help agricultural producers get the job done. Best of all, customers can feel confident in their purchase, knowing they've made an investment designed to last.
For any questions about John Deere Harvesting Equipment, don't hesitate to contact your local John Deere dealer.
If you enjoyed this post or want to read others, feel free to connect with us on Facebook, Pinterest, Twitter, or Instagram!
You might also like: