Whether your primary tasks involve baling, feeding, or mowing, you need agricultural equipment that can provide both power and efficiency. John Deere has a wide array of utility tractors to help customers with these types of tasks, and the John Deere 6110M is one of them. Thanks to its dynamic design and effective front loader, everything on your to-do list can easily be crossed off with this workhorse.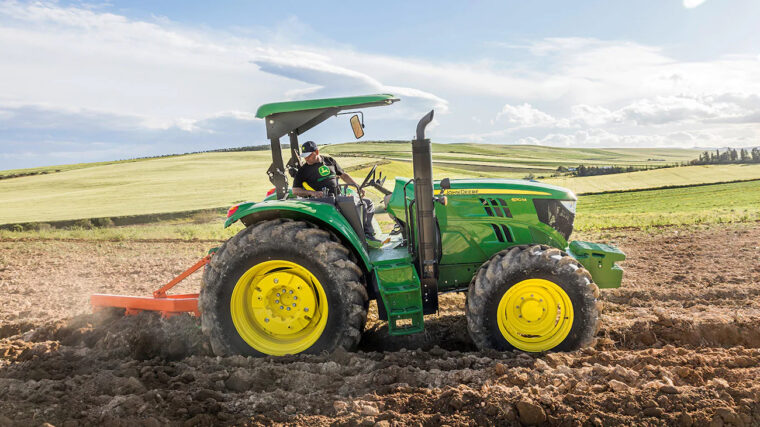 What is a Utility Tractor?
A utility tractor is a mid-sized tractor that can be used with a variety of different attachments, making it a versatile piece of equipment. While their horsepower offerings typically vary, utility tractors are mostly treated as go-to machines for common tasks, including snow clearing, mowing, lifting, and relocating materials.
What is the John Deere 6110M?
The John Deere 6110M is a utility tractor that can make short work of almost any task on the farm, ranch, or worksite. With up to 110 horsepower and a redesigned hood for improved visibility, this tractor is easy to use and delivers both comfort and efficiency for operators.
John Deere 6110M Specs and Features:
Visibility
This utility tractor's hood was redesigned to improve the operator's maneuverability and visibility. Its sloped hood design gives users a view of their front loader, attachments, as well as their front-mounted implements — its maximum front view distance is 18 feet. This is 7.3 feet of additional visibility, compared to past models.
Maneuverability
The John Deere 6110M's wheelbase is 7 inches narrower than comparable utility tractors, which means that it can easily move in and out of narrow areas. Additionally, it features a 14-foot turning radius, which makes it an efficient machine for moving materials around during tasks such as barn cleaning and hay baling.
Reimagined Cab and Premium Comfort Options
The John Deere 6110M cab, comes standard with several premium comfort features, including the compact CommandARM™ console, giving operators control at their fingertips. The cab also features Triple-Link Suspension(TLS™) with a suspended front axle for stability and a smoother ride. With the option of a mechanical or electrical reconfigurable joystick featuring PowrReverser™, operators can easily change the tractor's direction by pushing a button.
State-of-the-Art Ag Tech: AutoTrac™, JDLink™, and John Deere Connected Support™ Included
The AutoTrac™ feature on the 6110M's cornerpost display provides all the guidance operators need as they work. With the JDLink™ system in place, users can remotely manage their fleet with machine data at their fingertips. This technology collects and sends data via a cellular network in real-time. Operators can view their machine information from a phone, tablet, or computer.
John Deere Connected Support gives operators peace of mind when it comes to machine maintenance and repairs. Designed to not only keep every piece of John Deere equipment working at top capacity by recommending maintenance operations at the optimal time, this feature can also connect operators to a maintenance professional when a breakdown leaves the 6110M out of commission. This helps ensure minimal downtime and repair time, which increases efficiency and productivity.
4 Available Transmission Options
The John Deere 6110M has several transmission options available, including PowrQuad™ Plus, AutoQuad™ Plus, CommandQuad™ Plus, and Infinitely Variable Transmission (IVT™).
With PowrQuad™ Plus, operators can use a single range lever with push-button electronic gear shifting. AutoQuad™ Plus comes with either 20F/20R or 24F/24R speeds, and it has four power-shiftable gears. These gears are offered in either five or six fully synchronized ranges. It can also be adjusted to accommodate automatic gear changes within a specific range.
CommandQuad™ Plus has automatic shifting capabilities, as well as AutoClutch™, which provides clutchless braking. It also offers 20F/20R speeds, in addition to four power-shiftable gears in five ranges. IVT™ allows operators to match their speed to their job smoothly and seamlessly.
Front Hitch and Front PTO (Power Take-Off)
With a Category 3N front hitch that can be factory installed, the John Deere 6110M can have a high lift capacity of up to 9,700 pounds. The front hitch allows operators to quickly switch from a folded to a working position, and they can be flexible with their front ballast. Integrated front power take-off (PTO) is also available on this utility tractor.
Engine HP: 122 Max | 110 Rated
The John Deere 6110M has a maximum horsepower of 122, with a rated horsepower of 110. This means that operators never have to worry about lacking the power they need to take on even the most challenging tasks.
John Deere FT4 PowerTech™ Engine
The John Deere Final Tier 4 PowerTech™ engine in the 6110M is designed to consume less fuel and emit lower emissions to reduce the carbon footprint of the operation as a whole. It has an engine displacement of 4.5 liters and works using a single turbocharger.
Available In Cab or Open-Station Configuration
The John Deere 6110M can be designed with an enclosed cab or an open station to suit operator needs. All cabs come with features such as the CommandARM console to make operation more convenient throughout the workday. In addition, enclosed cabs can be configured to feature a panoramic roof.
21-GPM Pressure-Compensated Hydraulics
The 6110M utility tractor comes standard with 21-GPM pressure-compensated hydraulics, but customers have the option of upgrading to a 30-GPM pressure-flow compensated system if needed.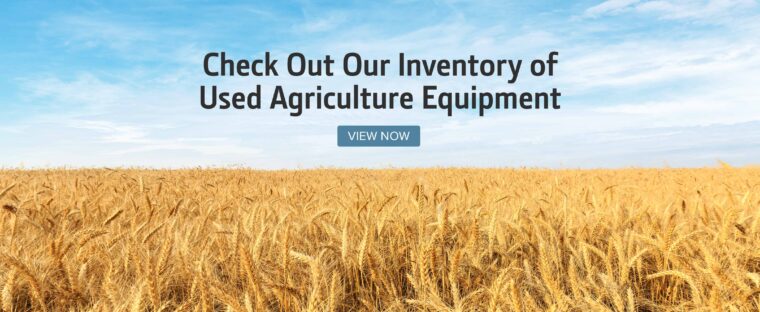 Discover a New Level of Productivity with the John Deere 6110M
With the John Deere 6110M, customers can boost the productivity and efficiency of every workday. This utility tractor is designed to meet a wide array of needs, ranging from hay baling to snow removal. With front axle suspension and multiple cab options, operators can rest assured that they will always have a comfortable ride.
The engine and hydraulics of the 6110M also provide all of the power operators need to tackle everything on their to-do list, even on the longest days. The maneuverability of this utility tractor makes it easy to complete jobs in tight spaces, and the various transmission options ensure that the operator always has control over the speed of the machine. The wide range of upgrades, such as the premium lighting package and Category 3N front hitch, can also transform the 6110M into a utility tractor without limits.
If you have any questions about the John Deere 6110M or any of its features, you can contact your local John Deere dealer.
If you enjoyed this post or want to read others, feel free to connect with us on Facebook, Pinterest, Twitter, or Instagram!
You might also like: