When you're on the hunt for a round baler that can help you streamline your feeding system and increase your baling efficiency, the John Deere 450E might be the ideal solution. As a part of the Zero Series line of round balers, the John Deere 450E features DiamondTough™ belts and an automatic electric-tie option with the BaleTrak™ Pro monitor. This baler also has an adjustable hitch and a vertical forming chamber, which helps maintain bale density. It's available in a net wrap or twine configuration, depending on customers' needs.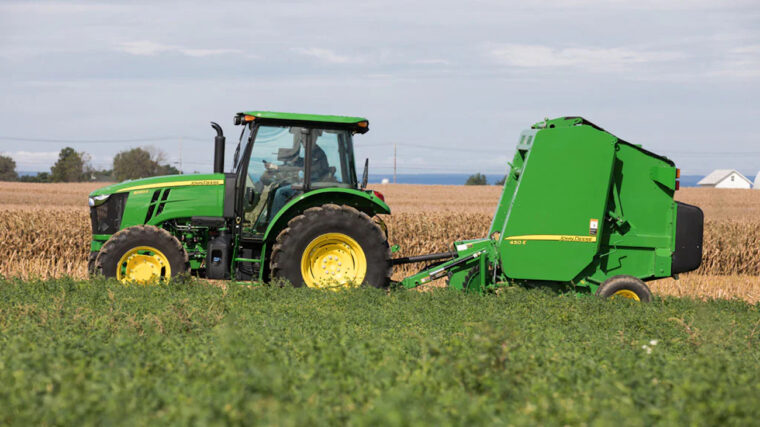 What is the John Deere 450E Round Baler?
The John Deere 450E is a round baler, designed for operations of any size. As a part of the E Series, it is also specifically meant to fit into agricultural producers' budgets without compromising on features. The 450E has a hydraulic system to control bale density, and it features four pickup bars with 72 teeth. Bales are produced with a width of 46 inches and can weigh approximately 1,000 pounds. The wrapping system of the 450E can also be preset to automatically produce bales of a specific size.
What Can the John Deere 450E Round Baler Do?
The John Deere 450E is designed for agricultural producers with operations spanning any size. The objective behind leveraging this machine is to boost productivity while baling. Customers can opt for either a net wrap or twine configuration, depending on their specific needs. With the net wrap configuration, users can expect to see up to a 75 percent reduction in bale wrapping time and an improvement in bale quality. The 450E also has the BaleTrak Pro monitor-controller, which gives users an automatic electric twine option, as well as an edge-to-edge net wrap option. The baler's adjustable hitch can be moved to suit different tractor drawbar heights.
What Are the Important Features of the John Deere 450E Round Baler?
The John Deere 450E round baler has several important features that customers will want to familiarize themselves with before investing in the machine. By understanding the details of this piece of equipment, they can gain a better understanding of how it can potentially benefit their baling operations.
Adjustable Crank Handle
The adjustable crank handle of the John Deere 450E allows operators to position the pickup to the operating height they need to match crops or field conditions. Customers can also use a hydraulic pickup lift cylinder as an attachment to make it easier to transport or clear obstacles. The crank handle acts as a down stop and adapts to both regular and MegaWide™ Plus pickups.
Automatic Electric-Tie Option Using BaleTrak™ Pro Monitor
The automatic electric-tie option that can be used with the BaleTrak Pro Monitor is designed to alert operators when bales are near-full, full, and oversized. The 450E, in particular, allows users to adjust their twine settings directly from the cab with the BaleTrak Pro monitor. Additionally, the number of wraps can be set on the monitor while using the Edge-to-Edge net wrap option.
Adjustable Hitch
The adjustable hitch of the John Deere 450E round baler can match various tire sizes and be secured at different heights. The drawbar height can fall within 13 inches to 22 inches from the top of the drawbar to the ground. The pickup head can also follow the terrain without missing crops. There is no feed opening on the baler, meaning operators don't have to worry about plugging.
Vertical Forming Chamber
As soon as hay enters the forming chamber of the John Deere 450E from the pickup, the belts work to create a densely packed core. Afterward, incoming hay feeds between the bale and lower gate roll, where it is compressed into smooth layers. Bale density is maintained throughout the entire process with the idler arm, which rises with bale growth. This forces oil from the hydraulic cylinder to move through a pressure-relief valve.
Exclusive DiamondTough™ Belts with Plate-Type Splices
The John Deere 450E round baler has a seven-inch-wide diamond-tread design, which helps grip bales to prevent slippage and chaffing. They are self-cleaning and staggered to limit the loss of material. Together, the belts enclose 91 percent of the bale width, which also helps to maintain the quality of the hay. Because of the staggered belt roll design, hay that falls under or behind the belts can be easily fed back into the baler. The design prevents buildup near the front of the machine as well.
DiamondTough belts are crafted through a triple-weave process using nylon and polyester. Their strength can handle heavy shock loads, and boast more tear and puncture resistance. The plate-type fasteners of the 450E are made of stainless steel, and its belt splices limit necessary maintenance. Because the loop area is cold forged, it is highly wear-resistant in the coupling area. The spring steel pin also locks into the splice connection without the need for external retainers.
What Are the Key Specs of the John Deere 450E Round Baler?
The John Deere 450E has several specs that make it one of the most efficient models on the market. Understanding these specs can give customers a better idea of how they can make the most of this baler in their operations.
7 in. Belt Width
The belt width of the 450E is seven inches, which helps limit slippage and chaffing. Additionally, its diamond-tread design helps with faster bale starts.
Hydraulic Density Control
One of the highlights of this round baler is its idler arm, which rises as bales grow. This helps transport oil from the hydraulic cylinder through a pressure-release valve, which is essential to maintaining uniform bale density.
Four Regular Pickup Bars
The four regular pickup bars on the John Deere 450E round baler are designed to handle everything from high-moisture crops to heavy windrows of hay. With a low-profile pickup, the machine allows for adequate ground gauging and seamless crop retrieval. Side flares are also included to prevent hay from blowing off of the baler's pickup ends.
1,000 lb Weight
This round baler can create dry bales weighing up to 1,000 pounds. They are formed with a width of 46 inches.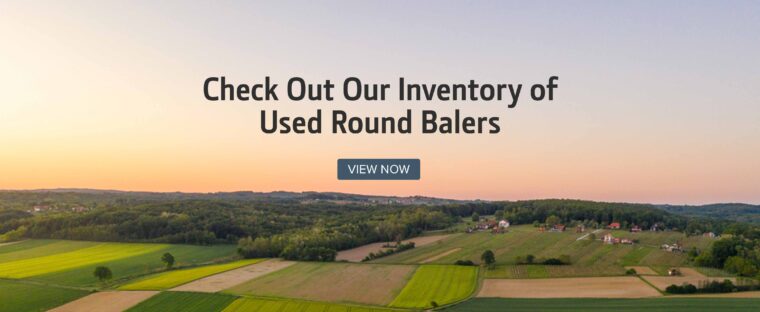 Commonly-Asked Questions About the John Deere 450E Round Baler
Many customers have questions about the John Deere 450E round baler, given its numerous features and capabilities. However, knowing how its features operate can give you a better idea of how it will fit into your daily routine.
How Much Does a John Deere 450E Round Baler Weigh?
The John Deere 450E weighs a total of 3,750 pounds at the time of shipping.
How Much Horsepower Does a John Deere 450E Have?
In order for a tractor to use the John Deere 450E for baling, it must have a minimum of 55 horsepower. One tractor selective control valve (SCV) is also necessary if the baler is being used with electric twine wrap. Two tractor SCVs are needed for hydraulic twine wrap, and three tractor SCVs are required if the baler uses hydraulic twine wrap with a hydraulic pickup lift.
Where Can I Get My Own John Deere 450E Round Baler?
Customers can easily learn more about this baler and how it can become a part of their operations by contacting their local John Deere dealer. A dealer can also answer any questions customers may have prior to investing in this machine, whether they pertain to specific features or types of work out in the field. In addition, the 450E has several specs, it can be beneficial to talk to an expert to get a better understanding of all of this machine's capabilities.
If you have any questions about other balers manufactured by Deere, you can contact your local John Deere dealer.
If you enjoyed this post or want to read others, feel free to connect with us on Facebook, Pinterest, Twitter, or Instagram!
You might also like: