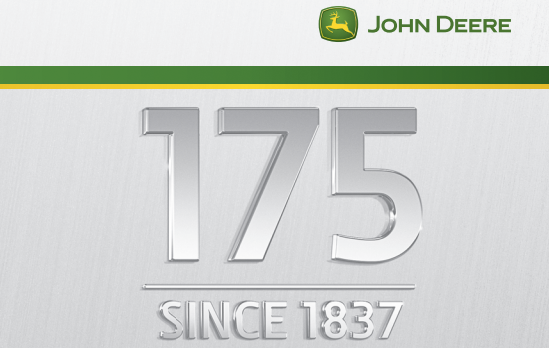 John Deere Company History
John Deere company history began in 1837 when a blacksmith named John Deere set out to create a company built on integrity, quality, commitment, and innovation. The core values he inset drove John Deere & Company to become more than just a manufacturer of agricultural equipment, but an industry icon that is known around the world. His core values continue in the company today, determining everything from the quality and work, to the treatment of the customers.
This year, John Deere company history reaches its 175th anniversary. 175 years of growth, changes, and hurdles that the company has pushed through. What began in a blacksmith shop in Grand Detour, Illinois has grown to become one of the world's most admired businesses.
The history of John Deere is a fascinating story, and one you can fully explore on a timeline on the official John Deere website, but let's take a moment and look at some of the key periods that have made John Deere what it is today.
1804
John Deere was born in Rutland, Vermont
1836
John Deere moved to Grand Detour, Illinois in order to escape bankruptcy in Vermont.
1837
Deere opened a shop to repair and manufacture small tools, as well as a polished-steel plow that allows farmers to cut through the sticky Midwest soil.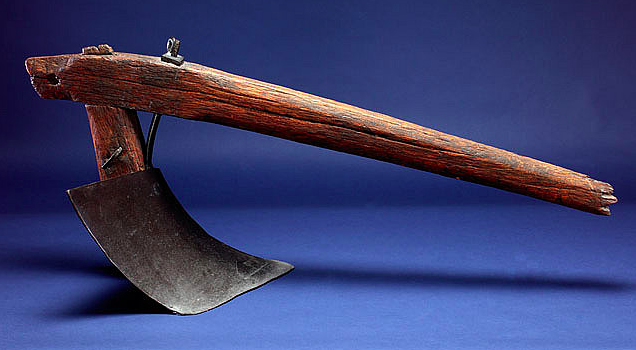 Source
1843
Deere entered a partnership with Leonard Aldus and purchased land for a new factory.
1848
The company moved to Moline, Illinois and ended the partnership with Leonard Aldus.
1858
Due to a financial panic, John Deere sold his interest in the company to his son, Charles Deere, and son in law, Christopher Webber.  His son Charles also took on most of his father's managerial roles.
1868
After 31 years as a partnership or single proprietorship, the concern was incorporated under the name Deere & Company
1886
John Deere died at the age of 82 and the presidency was passed to his son, Charles.
1912
The company began to expand into the tractor business by experimenting with its own tractor models.
1918
Deere & Company bought Waterloo Gasoline Engine Company, continuing its expansion into the tractor business.
1923
The company launched the John Deere Model "D" tractor, the first two-cylinder Waterloo-built tractor to bear the John Deere name.
1933
With business almost at a standstill, the company decided to carry debtor farmers as long as necessary, greater strengthening farmer loyalty.
1943
Deere made military tractors, ammunition, aircraft parts, and cargo and mobile laundry units during the war.
1949
Deere's first diesel-powered unit, the Model "R" Tractor, entered production.
1956
Deere & Company bought the German tractor manufacturer Heinrich Lanz AG.
1958
The John Deere Credit Company, financier of domestic purchases of John Deere equipment, began operations.
1966
Total sales surpass $1 billion for the first time.
1971
"Nothing Runs Like a Deere" advertises snowmobiles, a new product of the John Deere Horicon Works. The slogan has lasted far longer than the snowmobile line, and is still used today.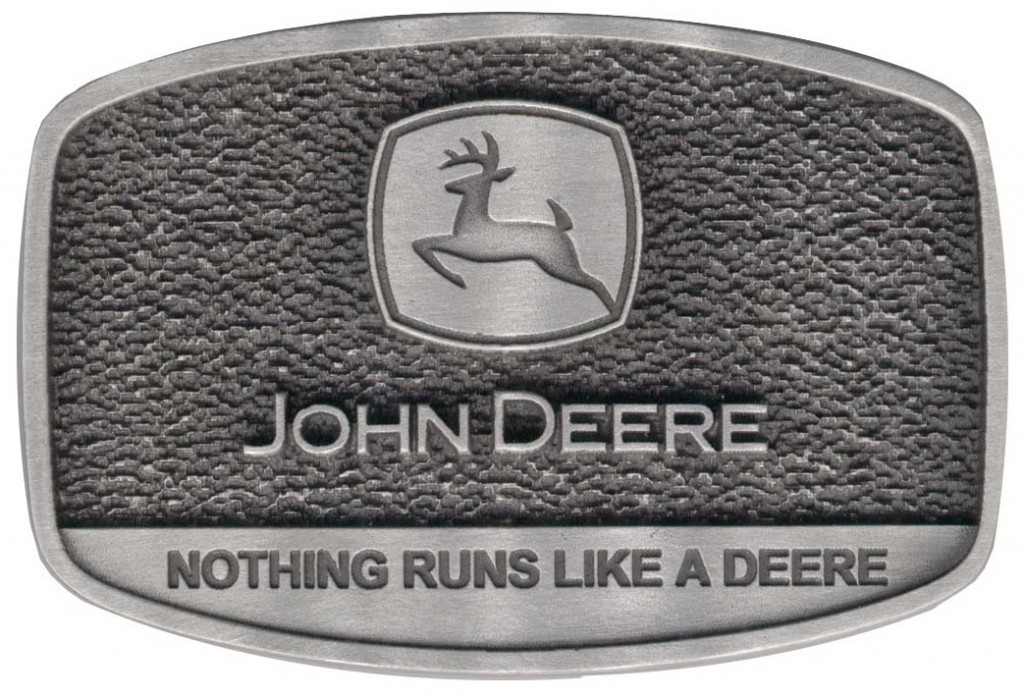 Source
1986
A 163-day labor strike in the United States severely impacted production. Employment at year's end totaled 37,481, down 43 percent from the 1979 high of 65,392. For the remainder of the century, employment remained below 40,000.
1991
Lawn-and-grounds-care equipment operations in the U.S. and Canada became a separate division. Since 1970 they had been part of the farm-equipment operations.
1996
Four mid-priced lawn tractors and two walk-behind mowers branded "Sabre by John Deere" exposed company products to a broad new market.
2002
Business Ethics magazine named John Deere one of its 100 Best Corporate Citizens for 2002. Deere is also voted the most trusted Illinois company.
2004
Record full-year earnings of $1.406 billion were more than twice the level of 2003 earnings.
2006
Growing global market presence helped drive earnings to record $1.69 billion; Chairman & CEO Robert W. Lane named "CEO of the Year" by Industry Week magazine.
2009
A new global operating model combined the Worldwide Agricultural Equipment Division and Worldwide Commercial & Consumer Equipment Division into a single unit called the Agriculture and Turf Division.
Now that you're all caught up on John Deere's rich 175 year history, take a moment and let us know what surprised you the most. Was it that they originally made small equipment and plows before diving into the tractor business?  Or that the slogan "Nothing Run Like A Deere" originally came from advertising snowmobiles?  Leave a comment below with your favorite part, or let us know on Twitter or the MachineFinder Facebook Page!
Sources:

http://www.deere.com/wps/dcom/en_US/corporate/our_company/about_us/history/timeline/timeline.page?
http://www.deere.com/wps/dcom/en_US/corporate/our_company/about_us/history/past_leaders/john_deere_founder_biography.page?
http://www.greenfunstore.com/John-Deere-History_ep_45-1.html
You might also like: