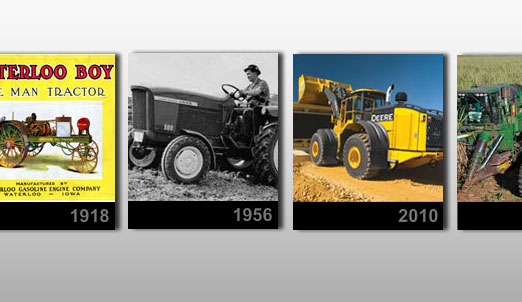 The transformation of the John Deere Company from a single plow salesman into a worldwide business was not one that occurred overnight, and the emergence of the brand over the course of the past 175 years has impacted many sectors of the U.S. economy.
John Deere fashioned a polished-steel plow in Grand Detour, Illinois, in 1837, and his company has been making innovative products to fill the needs of businesses in several sectors ever since.
The evolution of the John Deere brand allowed the company to expand into other industries aside from the agricultural sector, as the firm now produces machinery for businesses and people operating in forestry, construction, golf/turf and residential areas.
Pitchcare Magazine reported that John Deere has had a significant impact in the golf and turf management industries, as course managers and grounds crew managers around the world rely on the use of equipment from the company to maintain their facilities.
According to the news source, key members of the amenity turf industry were taken on the "trip of a lifetime" to celebrate the company's 175th anniversary. The group was led on tours of John Deere facilities around the U.S., where they were able to see production of the equipment, historical displays and the site of the annual John Deere Classic golf tournament.
The group was informed of upcoming improvements to the many types of equipment that John Deere provides for the industry, along with being given a reminder of the founder's credo for the company – "If we don't improve our products, somebody else will and we will lose our trade."
This adherence to innovation is what has kept the company moving forward for such a long period, and the continued expansion of John Deere has led to many new products for each sector that it operates in.
Throughout 2012, the official 175th anniversary year, the company will hold a number of events and the more than 60,000 employees who work for John Deere will take part in the festivities.
John Deere's CEO Samuel Allen noted that the company is going to engage in citizenship activity that would have a positive impact on communities across the U.S. Since employees are scattered across the country, the brand will be represented by Americans of all walks of life.
You might also like: