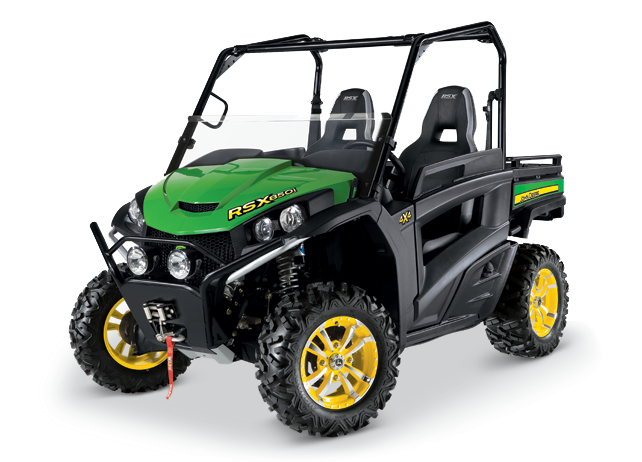 John Deere recently announced the release of a brand new Gator vehicle, as the company is looking to provide its customers with a model that built upon the advances made by previous offerings.
The company looked to combine advanced off-road performance, incredible comfort and significant power and maneuverability into one vehicle, and they succeeded with the all-new Gator RSX850i.
According to a company release, this new offering was engineered to be faster, more powerful and more agile than any of its predecessors.
However, the new vehicle will not stray from the quality that customers have come to expect from John Deere Gators, as this line of successful utility vehicles has been around since 1992.
"The Gator takes a huge evolutionary step forward with the launch of the new Gator RSX850i," said David Gigandet, marketing manager, Gator utility vehicles. "Gators have always been known for durability, utility and safety. The RSX maintains all these qualities at its core, but the incredible power, exhilarating speed and precision handling are what set it apart in our portfolio. It's the Gator fully evolved."
Continuing with its tradition of innovative practices and collaborative research, John Deere worked with engineering consultants for Formula One and NASCAR to create an all-new vehicle.
The RSX comes in three specific models, as each version of the Gator provides a specific function and allows John Deere customers to choose the particular product that suits their needs.
The three models from John Deere are the Gator RSX850i Sport, the RSX850i Trail and the Base RSX.
The Sport model was specifically designed for harsh desert and rocky, sandy terrains. Because of this specification, it includes sport seats, alloy wheels with Maxxis tires, a PreRunner bumper, rails for cargo boxes, a sport steering wheel and FOX® 2.0 Performance Series shocks to optimize performance.
The Trail Model Gator from John Deere was developed for people who will be hunting, fishing and exploring back country trails. This model features sport seats, alloy wheels with Maxxis tires, winch, front brushguard, 2 inches front receiver hitch with recovery loops, rear bumper and cargo box rails.
The Base RSX can be modified to need and taste with factory installed options. All three of the new models from John Deere can be specified further, as there are over 70 available aftermarket attachments.
You might also like: