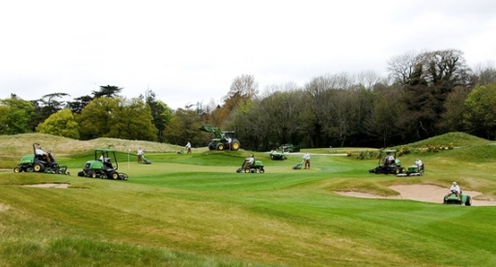 Though golfers often appreciate the quality of the course, they rarely understand the amount of care that goes into these green, grassy paradises.
John Deere equipment plays a pivotal role in the upkeep of many courses around the world, as its numerous golf and turf products help grounds keepers keep their fairways in line and the greens in top shape.
Products like E-Cut Hybrid Mowers, Surround Mowers, Bunker Rakes and specialty products like the Select Sprayers all serve their role on the course. Each model plays its own role in the maintenance of these courses, and this is why select golf tournaments are played on these links.
The John Deere Classic was held at TPC Deere Run, a course that is open to the public and located in Silvis, Illinois, in the Quad Cities region. This has been the site of the tournament since 2000 and hosts a number of other events throughout the year.
Golf Week Magazine ranked this course in the top 5 for Illinois and it was also featured in Golf Digest's 100 Greatest Public Golf Courses. It is recognized throughout the golf community as a pristinely kept facility, and golfers like Steve Stricker enjoy coming to the site to play the John Deere Classic. Stricker won the tournament three times and noted he loved playing at the course.
Fun facts about the course
•The course was built on the site of a former Arabian horse farm
•Former PGA professional and Illinois native D.A. Weibring preserved the natural, rolling landscape of the site to create the course
•It is framed by oak trees and is accented by natural small ponds and deep ravines
•The golf shop is rated in the top 100 in North America
•The site was also the previous home to Native American settlements, coal mining and farming
•Archaeological evidence has shown Native Americans lived on the land as far back as 5,000 years ago
•Each hole is named after a part of the land's rich heritage
You might also like: