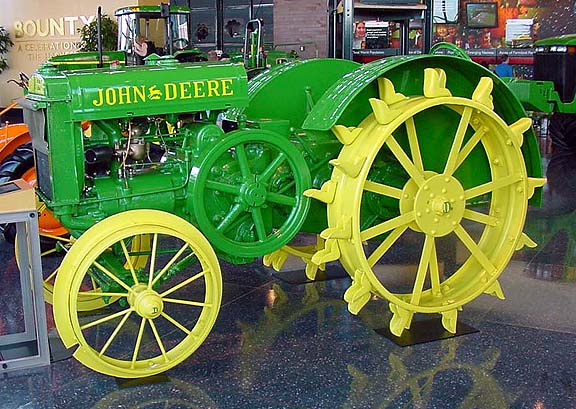 Amid the old John Deere tractors and weathered farmers who have used the machines for decades were tales of how the company's products have evolved through ages, which was precisely the aim of the John Deere Thresher's Reunion.
According to the Waterloo Cedar Falls Courier, the Cedar Valley Engine Club recently held its Thresher's Reunion at its fair grounds outside Charles City to allow farmers from several generations to share their stories about the green machines. Marvin Wilson, a Rockford resident, stood next to his 1923 John Deere D – the same tractor his grandfather bought for him – when he spoke.
"Every tractor has a story," the 86-year-old farmer said.
Wilson added that his grandfather, Alex Wilson, was a part of the National Cattle Congress in Waterloo, where he brought his wife and four children to purchase the now-iconic Waterloo Boy tractor. However, after learning the ins and outs of the John Deere D, Alex Wilson changed his mind about the Waterloo Boy.
Wilson recounted a story about how he chipped his tooth on that very tractor one day in 1937, an event he says he remembers well.
Wilson told the media outlet that when he was only 11 years old, he was out with his father in the field picking corn with a John Deere B with a John Deere 10 pull corn picker in tow through deep snow. His father then asked Marvin to get ahead and pull him with the D, however things went awry as he went to hook the tractor up, he said.
As he connected the two machines, the tractor's front wheel slid forward, causing Wilson to fall head first into the steering wheel and chip his tooth – a physical mark he carries that reminds him of his early years on the farm.
The Thresher's Reunion isn't the only John Deere-based event going on in Iowa this week. A separate WFC Courier article reports that John Deere enthusiasts, employees, collectors and the entire farming community are welcome to the John Deere Fall Fest, which begins on September 6 and runs through September 8.
The event will focus on the 175th anniversary of John Deere, as well as the 100th anniversary of the famous Waterloo Boy and the 40th anniversary of the company's Generation II line of tractors.
Photo Courtesy Of: http://johnnypopper.com/cgi-bin/jdstatsf.cgi?D
You might also like: