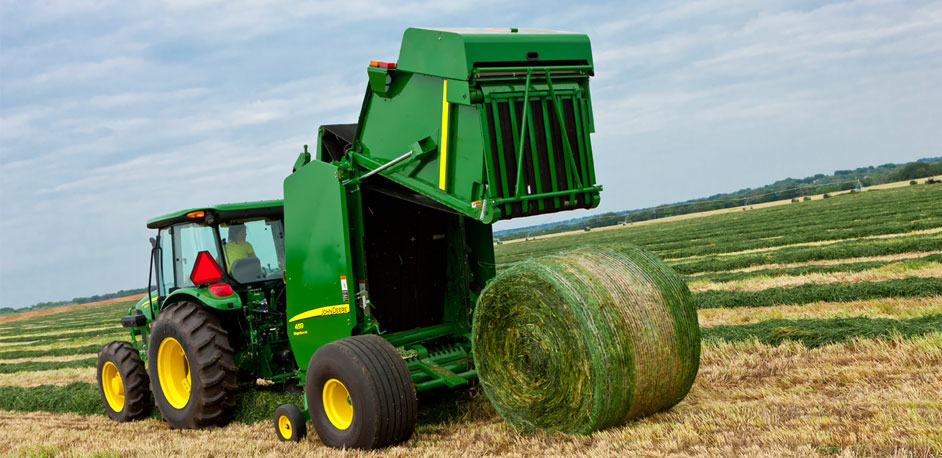 John Deere announced on August 23, 2012, that it had released its new 9 Series Round Balers in a lineup that includes 12 new models that were built tougher than earlier machines, to ensure durability during all hay or forage operations.
The new fleet expands on the acclaimed reliability of Deere's 8 Series Round Balers, providing producers with new machines for the 2013 season. The new models, all of which are larger than their predecessors, were outfitted with larger cams and bearings, Diamond chains and other improvements that increase the machines durability, in turn resulting in less downtime and improved productivity due to less maintenance.
Laura Cobb, senior marketing representative at John Deere Ottumwa Works, said the new models give customers many more options than the previous fleet of balers, as they can perform a wider range of forage and silage baling duties.
"We've also added silage-special balers to the Class III and Class IV baler line-up, giving customers options for larger bale sizes in silage, especially new five-by-six-foot bales," she said. "For the 469, 559 and 569, we've made them faster and more durable, with faster gate cycles, heavier chains, and larger, stronger shafts, bearings and pickups. In addition, we've added adjustable tongues, extended lube drivelines and larger tire options for the 459 and 559 balers."
The new balers feature stronger chains, larger shafts and bearings and more powerful pickups, helping increase their durability, but Deere didn't forget about operator convenience in the new models, either. The 9 Series features redesigned gull-wing doors for easy access, while ISOBus electronics – such as GreenStar 3 integration and monitoring control – make it easier than ever for operators to ensure responsive baler/tractor operation.
"In the field, customers will appreciate the additional strength and reliability of the new 9 Series Round Balers, no matter which model they use," Cobb adds. "They'll have more optional features to choose from to customize theirbaler to the type of crop they have and the size of bale they want to handle. As a result, we've made it easier for customers to produce tight, uniformly sized and shaped bales faster than ever before."
The new 9 Series is riding on the success of Deere's 8 Series, which took the market by storm with its Diamond Tough triple weave belts, MegaWide Pick-Ups and square-wire MegaTouch teeth that can take on the toughest crops. In addition to the 8 and 9 Series Balers, Deere has also seen success with its Small Square Balers.
You might also like: