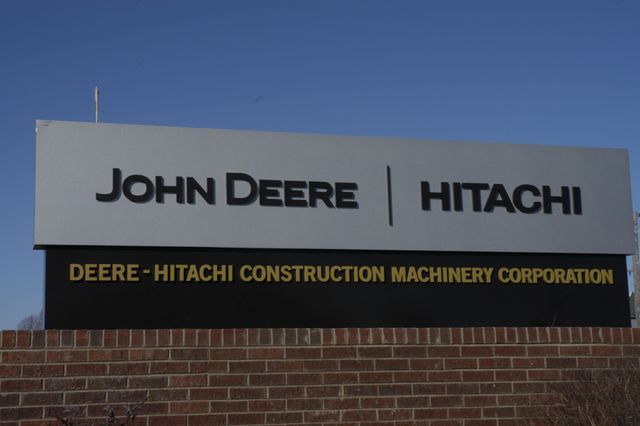 John Deere Hitachi
John Deere-Hitachi Construction Machinery Corporation, a 50/50 joint venture between John Deere and Japan's Hitachi Construction Machinery that operates in the U.S., recently announced it is planning a $97 million expansion at the Forsyth County plant in Kernersville, North Carolina.
According to Area Development, the new project is expected to create 340 jobs by the end of 2016.
"This investment will have a significant positive impact on the State of North Carolina, providing additional employment opportunities for Deere-Hitachi as well as many of our North Carolina-based suppliers," noted, Al Seeba, Chairman and CEO of Deere-Hitachi. "John Deere-Hitachi has been manufacturing in the state since 1988, and we are pleased to partner with state and local officials to help make our vision a reality."
The new facility will give the company the option to manufacture new excavators used in the mining and constructionindustries, and also to meet the growing demand for the company's line of excavators. The plant already has a workforce of 743 employees, and contains upgraded design and support functions, as well as updates to manufacturing, information systems and training and support programs. Together, these upgrades are expected to help the company give customers more value.
The expansion was made possible by the Job Development Investment Grant and the One North Carolina Fund. Governor Bev Perdue said the firm was awarded $510,000 from the One North Carolina Fund, which was created to help the state bring in new industry players and fund expansions that the governor deems critical to the growth of the state's economy.
"Companies like Deere-Hitachi recognize that North Carolina is a great place to thrive because of our top-notch business climate, incredibly well-trained workforce, and central location with access to customers and transportation channels," Perdue said. "When the company was ready to expand, North Carolina was the perfect choice."
John Deere has grown beyond the farm, and for years has produced a line of excavators that includes models specific for any kind of work at any type of job site. No matter where the construction is taking place, John Deere excavators offer superior muscle, control and productivity while offering efficient, cool-running engines and enhanced hydraulics. The features found on John Deere excavators make them the most reliable excavators Deere has produced to date.
Models include the 0-6 metric ton compact excavators or the 6-40 metric ton construction class excavators.
You might also like: