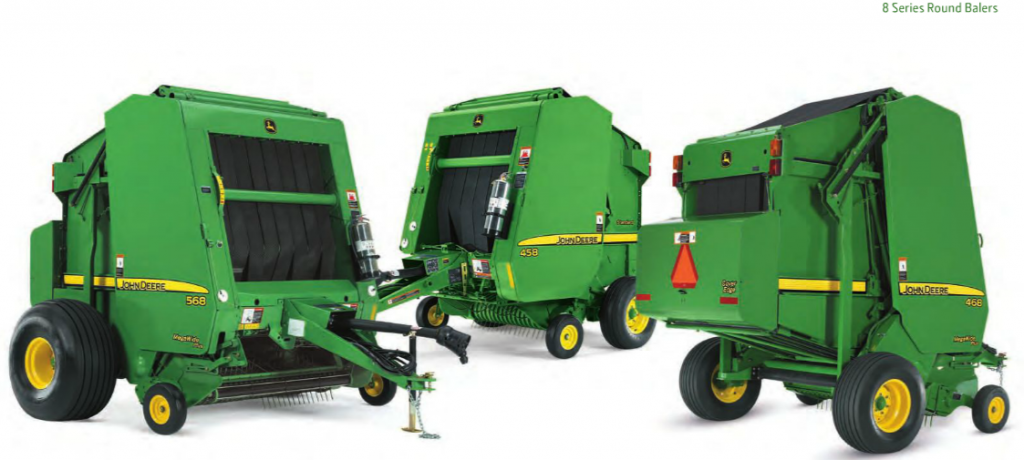 Not every hay harvest guarantees ideal haymaking conditions for baling, but the John Deere 568 baler is loaded with intricately designed features that promise to produce a high quality hay bale in any condition.
If you find yourself faced with large and ropey windrows or rained-on and slippery hay, don't stress. The John Deere 568 is part of the 8 Series round balers that are designed to get the job done in even the toughest of conditions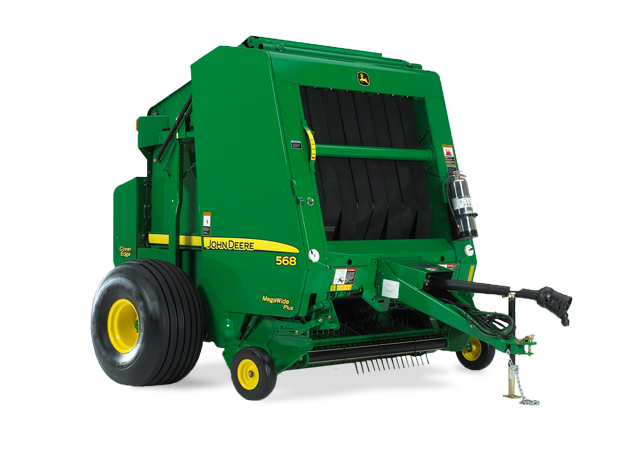 More hay. More quickly: The MegaWide™ Plus pickup and MegaTough™ Plus pickup give the JD 568 teeth a wider capacity to pick up windrows that have been scattered from the pile. This increased capacity improves baling productivity because it means more bales per hour. The heavy duty teeth of the JD 568 round baler are designed to pick up hay in tough conditions and hold up for several years.
Uniform Bales: As the toothbar pulls hay into the baler's vertical chamber, the belts immediately begin forming tight, dense, and smooth layers of hay. The large capacity of the chamber and the tight spinning belt prevents hay loss and retains the hay's quality once it's baled. The finished product is then ejected from the baler by a spring-loaded push arm that prevents the bale from rolling back into the gate.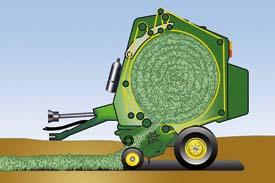 Complete Operator Control: A standard feature of the John Deere 568 baler is the BaleTrak™ Pro monitor-controller that allows the operator to monitor and control important functions of the baler right from the cab. Operators can control and monitor bale size, twine and net wrap specifications, gate opening and closing, PTO speed, error alerts, and much more.
The overall goal of the John Deere 568 round baler is to produce a high quality, dense, strong, and nutritious bale that will feed a large number of animals. Every feature of this machine works in harmony to make your round bale haymaking efforts as efficient, productive, and successful as possible.
If you enjoyed this post read more like it on our Facebook page!
Photos courtesy of Deere.com
You might also like: