This harvesting season, how will you ensure you maximize field time while improving productivity and capturing the greatest amount of crop possible? With John Deere 600R Rigid Platforms, you can be sure you'll end up with outstanding crop material handling in small grain and rice.
But how?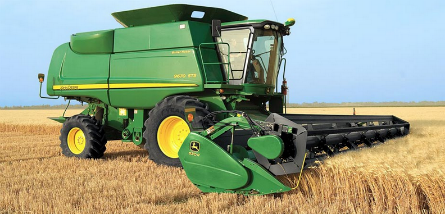 The JD 600R Series, which includes the 622, 625, and 630 Rigid Platforms, features a number of highlights that can help operators make the most of their harvesting season. With the heavy-duty epicyclic knife drive gearbox, for instance, operators have access to an enhanced knife drive system that increases drive capacity; among other features, a 3.5-inch knife stroke improves the cutterbar's ability to cut in adverse conditions (i.e., large-stemmed crops or weeds) without plugging. In addition, 4-inch double cut knives provide both increased cutting capacity and harvesting speed.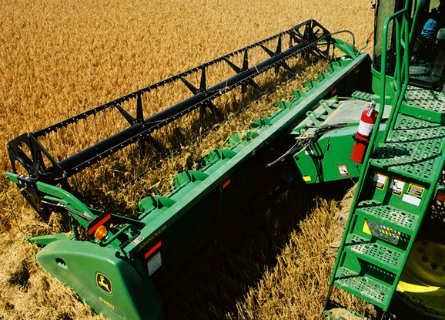 When it comes to crop material handling, the large diameter (26 inch) auger provides up to 30% greater capacity than previous models. The auger accepts a larger mat of crop material underneath the auger, providing greater control of the crop. This results in a smoother, more consistent crop flow into the combine, for increased harvesting productivity and minimized losses.
Lastly, a single-point connection located on the head and combine allows easy hookup from the ground without the use of tools, which saves time when moving from field to field and when changing header types. In one motion of the lever, operators can connect the electrical circuits, hydraulic circuits, and header retaining pins.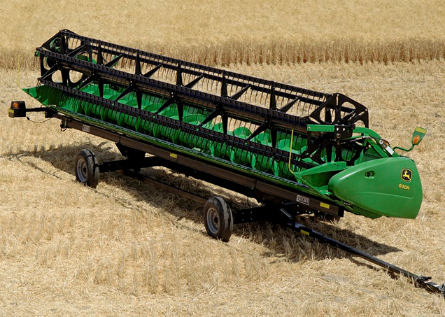 Looking to improve your harvesting results this season? There are several features of the John Deere 600R Rigid Platform Series that make these models high-performing pieces of agricultural cutting equipment. How does your JD 600R Rigid Platform handle small grain and rice?
If you enjoyed this post read more like it on our Facebook page!
You might also like: