As the end of summer nears, farmers across the country are getting ready for their annual harvest, specifically in regard to corn and soybeans. While this time of year can be exciting, it also brings about a seemingly endless to-do list that can be thrown off by even the smallest bump in the road. Despite potential hiccups or less than ideal weather conditions, though, it is important that farmers remain vigilant in their goal of achieving a successful harvest season. 

To get the most out of this season, while also laying the groundwork for the next crop season, farmers should take certain factors into consideration. 
When is Harvest Season?
This season is perhaps one of the most important for farmers, as it is finally time for these individuals to reap the fruits of their labor, so to speak. While harvest time can vary depending on the crop, we are going to cover two major areas of focus for farmers across the country right now: corn and soybeans.
When Is Corn Harvested? 
Timing for corn harvest will largely depend on the variety of corn, as well as its intended use. For example, some corn used for silage may be harvested toward the end of August, but corn planted for animal feed will first need to "dry down". In this case, the corn can either be harvested and placed in a dryer, or it can remain in the field until it reaches approximately 15% moisture. 
Generally speaking, corn harvest typically lasts from August through November before fall fertilizer application begins. 
When Are Soybeans Harvested? 
Similar to corn, the timing for soybean harvest will vary based on a number of factors, including the variety of soybean, weather conditions, and whether they are single or double-crop soybeans. Single crop beans – typically planted earlier – can be harvested starting in late September. Double-crop beans, on the other hand, may not be harvested until late November or early December, which is when they reach approximately 15% moisture. 
Tips for Achieving a Successful Harvest
As previously mentioned, harvest season may not always go according to plan, especially when uncontrollable factors, like the weather, come into play. That said, there are still a few things that farmers can do to get the most of the current season, while also making the next crop season run as smoothly as possible. 
Ensure Consistency of Crop Residue
Crop residue from the combine should be spread evenly and along the entire width of the header. If this does not happen, the equipment will create a thick blanket of residue in certain areas while leaving others bare. And when it comes time to plant the following spring, farmers may find themselves facing several challenges, especially in no-till situations.
Areas of heavy residue can cause difficulties for the planter, as it will struggle to cut through and place seeds at the same depth. Furthermore, these seeds will likely have trouble growing through these thick areas, resulting in uneven emergence. In regards to lack of coverage, these bare areas will be left vulnerable to snow and rain, potentially resulting in soil crusting and erosion. Farmers can avoid these issues and maximize their investments by utilizing equipment that ensures consistent spreading of crop residue.
Reduce Soil Compaction

By working to minimize soil compaction during the harvest season, farmers can avoid issues related to water ponding and root stunting when planting in spring. One way to do this is by either leaving the grain cart on the edge of the field or purchasing an extender so it can drive over tracks already established from the combine ahead of it. While soil compaction can be difficult to manage after the fact, simple actions like these can help avoid the issue altogether.
Take Soil Samples
Farmers that want to use what they've learned from the harvest season and apply it to the following planting season know that soil sampling is the key to success. By taking this step post-harvest, producers can enjoy free access to the field to ensure they can gather as much information as they need to plan out next year's course of action.
What is Used for Harvesting?
In addition to following the tips noted above, farmers should also ensure they have the right equipment and technology on their side to truly get the most out of their hard work. John Deere has a range of harvest equipment designed to deliver consistent grain quality throughout the season. This includes the company's range of X-Series, S-Series, and T670 combines, all of which work to help producers toward their goal of maximizing productivity, whether they are working with corn, wheat, canola, or soybeans. With the right equipment, producers can ensure that they are able to keep up with changing conditions and are being as efficient as possible.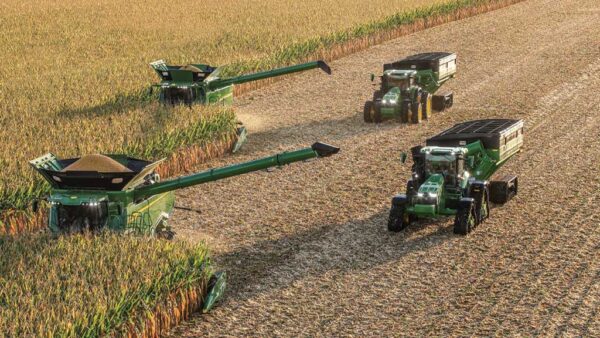 Considering the number of options and factors that operators must think about, we have put together a comparison chart of John Deere combines, broken down by series and model, to help you find the one that's right for you and your field.
X-Series Combines
John Deere X-Series Combines may be new, but they are already gathering excitement from farmers across the country. This series delivers an average of 45% more harvesting capacity across crops without leaving a negative impact on grain quality. What's more impressive is that all of this is accomplished while still using 20% less fuel! These combines are commonly used for high-moisture corn and tough-threshing small grains. 
Want to hear what farmers are saying about this new offering from Deere? Check out this post!
Below are specifications for current models within this series, including the X9 1000 and X9 1100. 

S-Series Combines
No matter the conditions or the operator, John Deere S-Series Combines will deliver consistent grain quality each time. Thanks to the inclusion of the Active Tailings System, 400-bushel grain tanks, high-performance cleaning system, and spacious premium cab, farmers can feel confident in the work they are putting in throughout the harvest season. Similar to the X-Series Combines, the S700 Series models are most commonly used for high-moisture corn and tough-threshing small grains. 
Below are specifications for current models within this series, including the S760, S770, S780, and S790.

T670 Combine
The John Deere T670 Combine is designed to offer maximum capacity while harvesting small grains. This is achieved via one of the largest active separation areas in the market, as well as features like single-point feederhouse latching, a mass-flow sensor, and reel resume in-cab control. While this combine model is most commonly used for wheat, canola, and barley, operators can choose to add the corn package to expand their harvesting capabilities  
Below are specifications for the T670 Combine.

Want to know what goes on behind the scenes to manufacture these pieces of John Deere harvest equipment? Watch the video below!
John Deere Headers & Platforms
To extend the capabilities of the harvest equipment noted above, farmers can opt for a number of headers and platforms designed to improve grain quality. These include: 
Drapers
Deere's high-performance drapers ensure that no crop is left behind. Operators can choose between rigid or hinged-frame models that cover a variety of widths, ranging from 25-ft to 50-ft models. John Deere Draper models include: HD50R, HD45R, HD40R, HD35R, RD45F, RD40F, RD35F, RD30F, 740D, 735D, 730D, and 725D.
Corn Heads
To amplify the capabilities of its combines, John Deere offers a range of corn heads that are designed to keep up. With models ranging from 6 rows to 18 rows in both rigid and folding configurations, operators will no doubt find the header that will get them through the harvest season, even when working with high-yielding corn. John Deere Corn Head models include: C6R, C8R C12F, C12R, C16F, C16R, C18F, and C18R. 
Auger Platforms
Auger platforms from Deere are designed to deliver fast, efficient cutting for higher harvesting speeds. The 600 Series HydraFlex™ Platforms, which range from widths of 20 feet to 35 feet, are perfect for matching the high-capacity of the S-Series Combines, largely thanks to the inclusion of various performance-boosting features. John Deere Auger Platform models include: 620F, 622F, 625F, 630F, and 635F.
Belt Pickup  
When working with the John Deere BP15 Belt Pickup Platform, farmers can feel confident that they are putting more grain in the tank while they cover more acres per day. Thanks to a variety of features, this piece of equipment delivers smooth, complete gathering of windrowed grain each time.
Get Better Results with John Deere Harvest Equipment
Whether it's time to harvest corn, soybeans, wheat, or anything in-between, John Deere will help farmers get the most out of their season. With a range of combines, headers, and platforms to choose from, farmers can rest assured knowing that they have the support they need to improve productivity and maximize profits. Furthermore, by following the tips noted above, these individuals can ensure the best harvest results possible for years to come.
You might also like: