After all the crops have been planted and been given time to grow, it's time to harvest and cash in. Crop harvesting can involve long days in the field, in machines, or at the desk analyzing field data to make sure the right moves are being made at the right times, in an effort to maximize yields.
This is where John Deere Ag Management Solutions come in, as they provide support in this tasking process from the inside and outside of the machine. Let's take a look at four Ag Management Solutions that are specific to making the harvesting season a bit simpler.
Harvest Monitor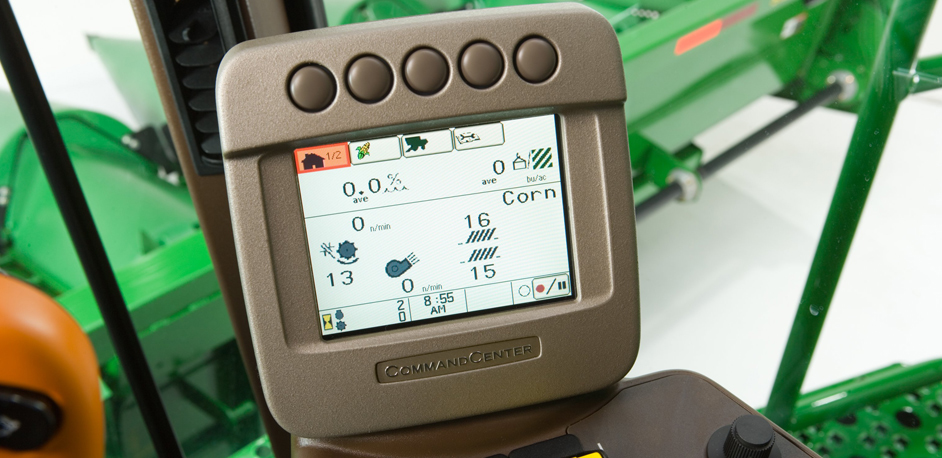 When you're in the field, it's a necessity to keep track of your crops' condition and performance during the harvest. With the Harvest Monitor, harvesters can analyze crop moisture content, dry yield and productivity on the CommandCenter. With this information readily available, harvesters can take a step towards minimizing input while maximizing productivity, even on marginal ground.
This feature has three components:
A monitor integrated into the CommandCenter which allows harvesters to make adjustments to their machines on the go with user-friendly, one-touch adjustability.
Instant yield sensors calculate grain mass, which is done by simply weighing a reference trailer load and reconciling it against the value on the machine.
An advanced moisture sensor averages three measurements to give a very accurate reading. Response time is faster which is critical when capturing accurate harvest data.
AutoTrac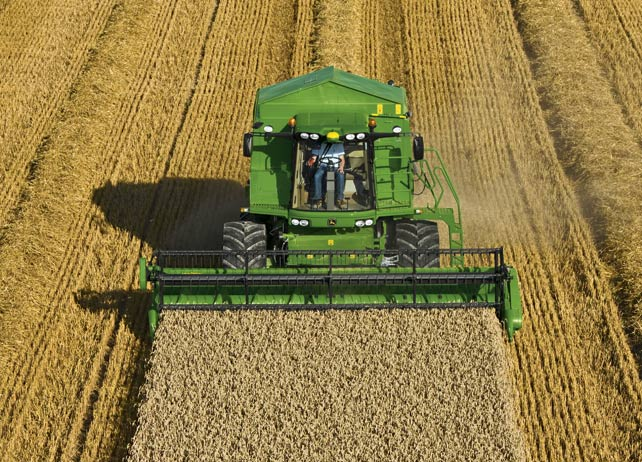 While harvesting crops, operators often wish they had more hands. With the help of the AutoTrac steering system, harvesters can steer their machine virtually hands-free. The satellite-based AutoTrac system matches each pass with the exact width of the platform, maximizing productivity, making life that much easier for the driver. Whether the harvester is out in the field past sunset or in intense fog, the AutoTrac system will ensure fields are evenly harvested in a time-efficient manner.
HillMaster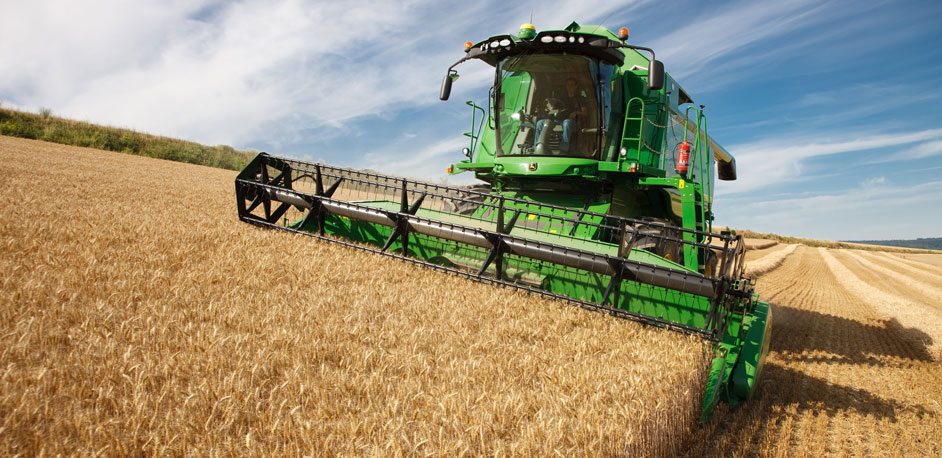 In a perfect harvesting world, fields would be completely flat with no existing obstacles. However, hills are often times part of harvesting life and can even cause performance losses from grain sliding to one side of the cleaning area. However, the HillMaster aims to make managing these nuisances a bit more stress-free.
The harvester will get level land performance even on slopes up to 22%, thanks to HillMaster slope leveling along with the SlopeMaster system, which maintains level land capacity on slopes up to 7%. The system recognizes changes in slope and automatically oscillates the entire combine body up to 15% to compensate with no loss in performance.
The grain tank can be completely filled with fewer unloading stops, plus, you won't have to fight gravity all day since the cab remains level. This allows the combine operator to focus on harvesting with less stress and fatigue.
Harvest Smart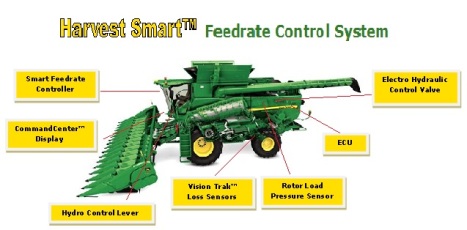 Looking for a more consistent feedrate in hilly terrain, varying crop densities, and changing field conditions? Achieve all of your goals John Deere's Harvest Smart feedrate control system. The Harvest Smart system calculates the best field speed for any condition and then automatically adjusts the combine speed on the go. This allows the harvester to achieve a consistent feedrate into the combine and obtain maximum productivity.
With this feature, the harvester can control the feedrate for either maximum throughput capacity or grain-loss parameters by simply selecting "Capacity" or "Smart" modes. Harvest Smart will adjust the combine's ground speed until either the capacity limits (in capacity mode) or loss limits are reached (in Smart Mode).
Maximize efficiency on the combine while reducing operator input with the Harvest Monitor, AutoTrac system, HillMaster, and Harvest Smart to return the largest crop or grain yield possible this year.
If you enjoyed this post read more like it on our Facebook page!
You might also like: