As summer vacation comes to a close for the little ones, they might be looking for the next activity or toy to play with during their final sun-filled days of summer.
John Deere riding toys are the perfect solution, allowing children to join Mom or Dad outside in true Deere fashion by peddling, pushing, or driving their way alongside them on their mini models. Riding toys range in size, color, and style, offering a little something for children of all ages. So without further delay, let's have a look at all Deere has to offer!
Battery Operated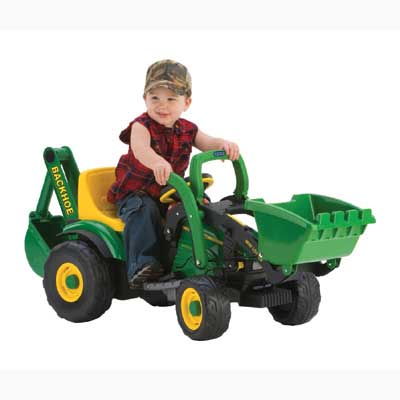 Powered by either 6 or 12 volt batteries, kids can control mini-tractors that come with various attachments, allowing them to dig or tow like Mom or Dad right from their seat. The tractor pictured above comes with a working loader and bucket, activated electronic ignition and engine sound effects, push button horn and blinking lights.
Bikes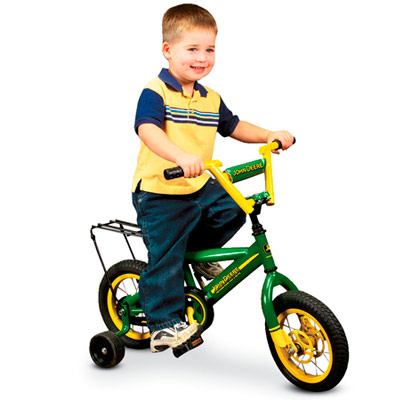 John Deere bicycles are available for boys and girls of all riding levels, from training wheels (pictured above) to a stylish green and yellow BMX. Let your kids cruise around the yard or neighborhood in style, showing off their true Deere fandom.
 Pedal Powered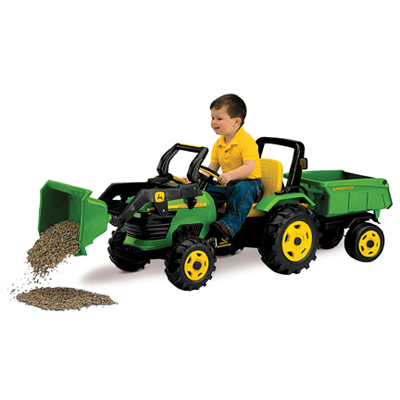 You could call these pedal-powered machines a hybrid between the battery operated toys and bicycles. With similar frames available as the battery operated tractors, the kids can pedal their way around the yard while scooping, carrying, and dumping small amounts of dirt or other material. The heavy-duty bicycle chain that powers these toys are safely enclosed inside the frame for safe, fast, and smooth pedal action.
 Push Powered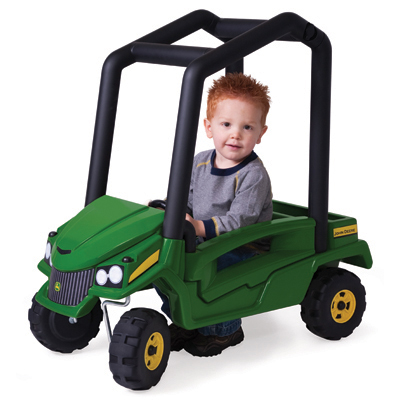 For the real little ones, these push-powered toys are perfect. Whether they're energy-filled and want to push their own way around the yard, or have had a long day on their feet and need to be pushed, these toys are perfect for little John Deere fans. Each toy has a wide-wheel base for increased stability for riders as young as 18 months!
 Lights and Sounds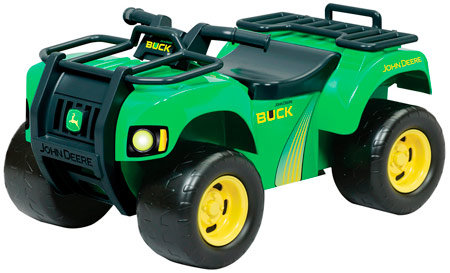 The tots will love to scoot around on this authentic John Deere ATV, complete with blinking turn signals, realistic start-up sounds, and swiveling front and rear gear tracks. Rear stabilizers make this vehicle both safe and rugged.
 Sit N' Scoot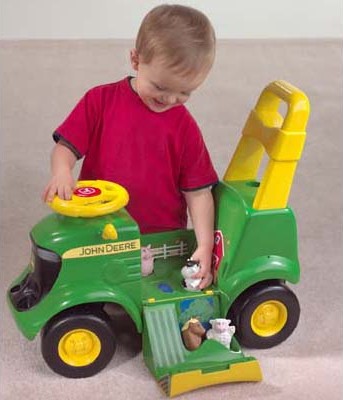 With the John Deere Sit N' Scoot, they can scoot around much like they would on a push-powered toy, but pull over for playtime when they get tired. The seat flips out to reveal an educational activity playset area, making it a three-in-one item.
These John Deere riding toys are sure to be a hit around the neighborhood, and most importantly, will entertain the kids for hours! To find more ways to keep the kids entertained, check out the John Deere toys page.
If you enjoyed this post or want to find more like it, connect with us on Facebook or Google+!
You might also like: