As the cotton harvest begins, growers and ginners alike are always searching for ways to reduce operational costs while improving efficiency during long days in the field. There are many factors that play into a successful harvest; however, in this post, we will specifically focus on four John Deere products that will likely lead producers to a successful cotton harvest.
7760 Cotton Picker: Whether you're a cotton grower, ginner, or both, the advantages the 7760 presents are quickly realized. As a producer, the end goal is to minimize operating time and costs, and that's what the 7760 does by streamlining common harvesting operations into one piece of equipment. This machine comes with everything most John Deere's are known for: a high-efficiency pick from the PRO-16 and PRO-12 VRS Row Units, a turbocharged 530 hp diesel engine, and an operator-friendly cab.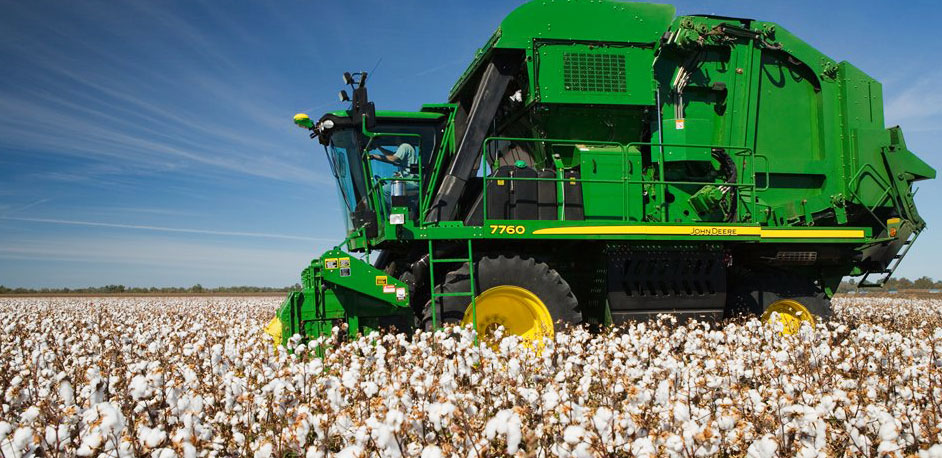 What separates this machine from others is its ability to harvest virtually non-stop thanks to the rear module handler and enough wrap included for 120 modules, eliminating the need to stop and dump, making the operator's day more productive and operations more efficient.
7660 Basket Cotton Picker: This model is for those that are not yet ready for the 7760, but still need a machine that can complete the harvest with speed and productivity. The 373 hp 9.0-liter PowerTech Plus engine provides operators with enough power to support the 6-row machine in heavy-yielding cotton and tough conditions.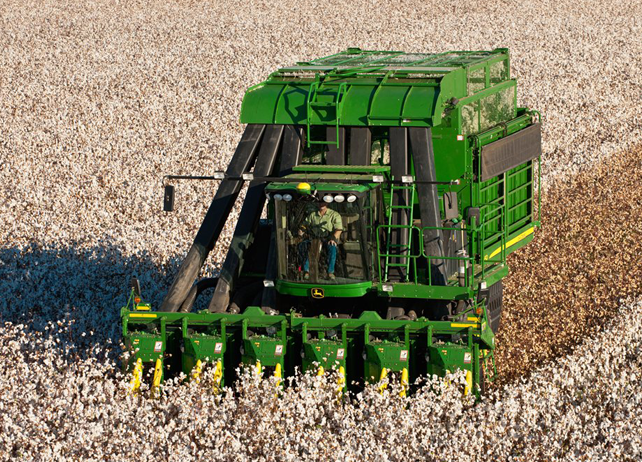 The Manual RowSense guidance system allows operators to pick at top speed (5.0 MPH) with comfort and ease, while the Row-Track handles on-row steering.
7460 Cotton Stripper: The 7460 features a 6.8-L turbocharged PowerTech engine which provides 190 hp and the ability to pull in a full 8 rows of high-yielding cotton. The 120 gallon fuel tank is a 26% upgrade from previous models, allowing operators to remain in the field for longer periods of time.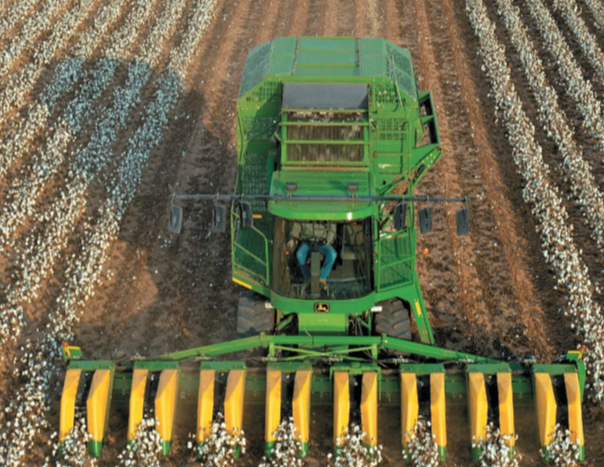 Every 7460 Stripper comes with Electronic Header Height Control (EHHC), which automatically adjusts the height of the row units to stay close to the ground, so operators don't miss out on harvesting any of their year's work.
Harvest Identification, Cotton: Lastly, but certainly not least, cotton harvesters can utilize Deere's Harvest Identification system to keep tabs on each of their modules. Available on the 7760 Cotton Picker, the system reads the RFID serial numbers embedded in the module wrap and documents 11 of the most important data points during module formation to improve traceability of cotton modules as they move from the field to gin lot and through the ginning process.
The information is then sent to the Application Controller 1120, which collects the provided information and displays the module count (as well as serial number), storing as a file on the GreenStar display. This information will allow operators to track modules back to the field once at the gin to better understand harvesting data such as lint yield.
Each of these Deere products offers unique ways to simplify the cotton harvest, lowering costs and improving efficiency. Feel free to share this post with friends or read more like it by connecting with us on Facebook or Google+!
You might also like: