With the New Year among us and spring off in the not-so-distant future, we wanted to showcase one of John Deere's two latest 2014 sprayers. The John Deere R4038 Sprayer is designed from the ground up with the latest advances in technology, the smartest cab in its class, higher application rates and smooth-running comfort for day-long projects.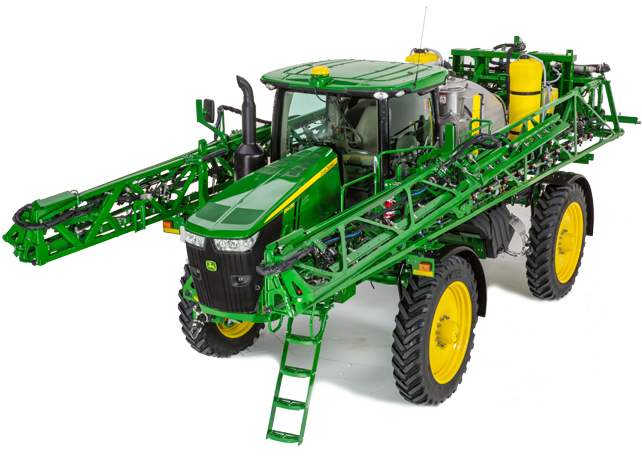 Let's take a more in-depth look at some of the features of the R4038 that make it a dynamic piece of equipment that can bring productivity to new levels.
Technology: Solution tank mixes continue to become more complicated as time goes on. With help from the integrated direct injection system, operators of the John Deere R4038 Sprayer have up to 511-L (135-gal.) of additional carrying capacity for raw chemicals as well as the injection of up to two separate products directly into the boom.
The usefulness of this sprayer doesn't end at the conclusion of spraying season, as operators can keep their sprayers working for them by converting them to dry nutrient applicators with help from the Highway Equipment Company's New Leader NL200G4 Crop Nutrient Applicator. The transformation can be completed in as little as four hours, requiring the removal of the wet solution skid and the installation of the dry spinner spreader.
Higher Application Rates: Thanks to a redesigned, wider (120-foot) flat-fold boom, the operator of the R4038 can cover the field with fewer passes. Swing link suspension provides improved stability to the boom while remaining a consistent height above crops, delivering a precise spray pattern.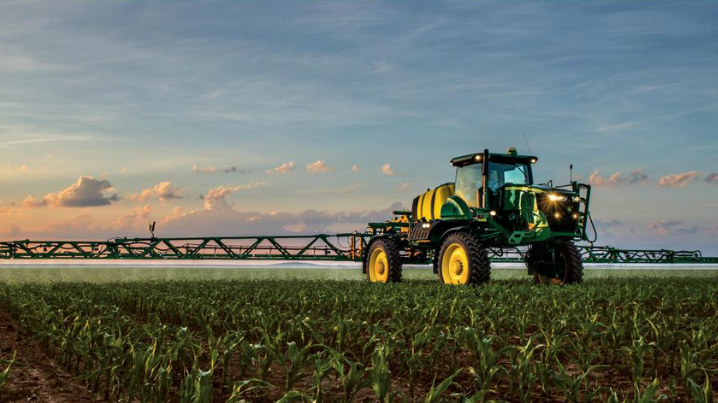 Also, the standard-flow system (standard solution pump and single flow meter) delivers 30 percent higher flow rates than previous models, providing up to 170 gal. of output per minute. The optional high-flow system, which comes complete with a high-flow pump and dual-flow meters, delivers up to a 60 percent increase from previous models, equating to approximately 225 gal. of output per minute.
Comfortable and Smooth Ride: With field speeds up to 25 mph and road speeds up to 35 mph, the R4038 gets the job done in a time-efficient manner without jeopardizing operator comfort. While being surrounded by comfort inside the CommandView II cab, operators will also notice a smoother ride thanks to the field-proven dual strut independent wheel air-ride suspension. This suspension system also leads to improved balance and further increases machine maneuverability, leading to a comfortable, productive day on the field.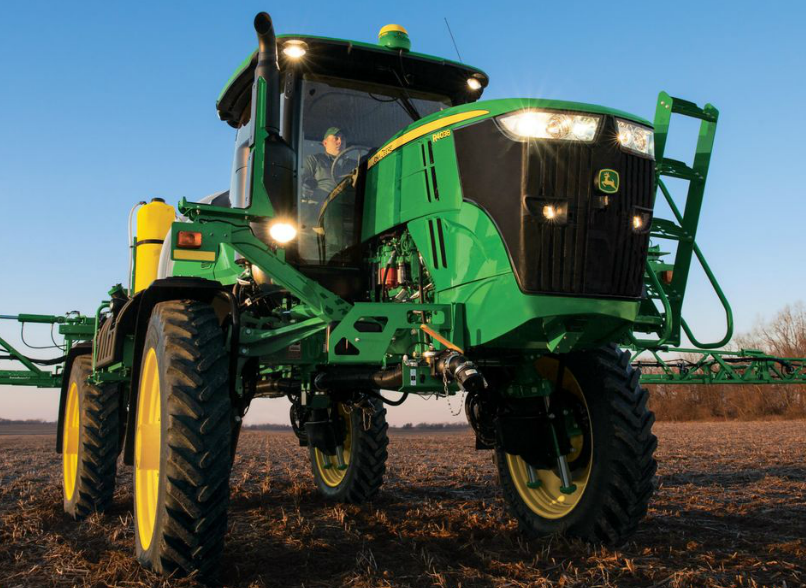 Several new features on the John Deere R4038 make it a versatile sprayer that will minimize the number of passes and time required in the field, leading to a more comfortable, efficient day's work. If you enjoyed this post and would like to see more like it, feel free to connect with us on Facebook or Google+! 
You might also like: