If you're working with a sprayer from the John Deere 4 Series, there is a wide array of sprayer attachments you could use to enhance your overall experience. Whether you want better sprayer nozzle performance or new flotation tires, there are attachments out there for you.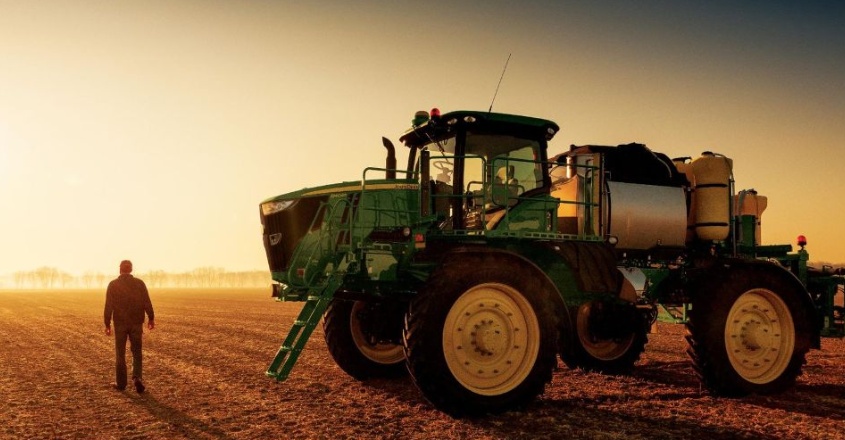 Let's take a look at some of the sprayer attachments you can use with your John Deere 4 Series equipment and how they can help you out in the field.
QuickLub Automatic Lubrication System
With the QuickLub® system, you'll be able to stay out in the field longer without needing to stop, increasing your overall productivity. This kit automatically meters the right amount of grease to the chassis and boom. It purges contaminants, delivering a solid grease seal for extra protection and efficiently lubricating wear surfaces.
Flotation Tires
Flotation tires extend the use season and help you get into the field earlier, ultimately boosting your efficiency. They work especially well in burn down and pre-emerge operations when fields are soft or wet.
Underframe Shields
When these shields are mounted to the underside of the chassis, you'll be able to adequately protect your crop from entanglement in vehicle components. The shields are mounted on hinges, making for quick and easy access to other components on a whim.
Fencerow Spray Nozzle Kit
This kit is specifically designed to help you increase your spraying coverage along fencerows. The XT nozzle helps you cover an additional 16.5 feet, increasing your productivity and efficiency out in the field. Activating it is as easy as flipping a switch within the cab. The spray nozzles for the kit are sold separately.
Boom Air Purge Conversion
With boom air purge conversion, air is forced through the boom to help clean it out during product changeover. It can be easily activated with the GreenStar display and works seamlessly with the R4030, R4038, and R4045 sprayers.
Direct Injection
With direct injection, operators have the ability to accurately inject product into the carrier flow without having to mix products in the solution tank. In turn, this means there is no need to rinse the tank prior to switching products, saving time and ultimately increasing efficiency. Direct injection works with the R4030, R4038 and R4045 sprayers.
If you have any questions about the John Deere sprayer attachments or the individual sprayers, you can contact your local John Deere dealer.
If you enjoyed this post or want to read others, feel free to connect with us on Facebook, Pinterest, or Twitter!
You might also like: