The John Deere Store has a deep-rooted history and provides fans with just about everything they could ever imagine desiring. Whether you are a long-time fan or an up-and-coming one, there is something for you to appreciate at this store.
CAUTION: If you choose to visit the John Deere Store, you are entering at your own risk, as your family will probably never want to leave!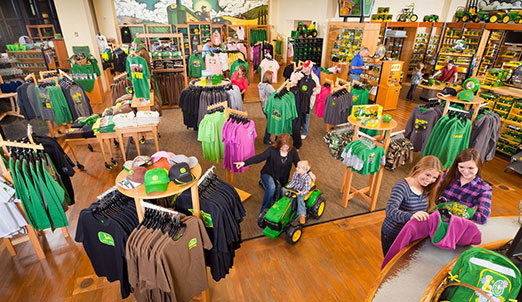 Located right near the Pavilion, the John Deere Store offers agriculture fans a huge selection of clothing, toys, collectible items, videos, book and much more, making this attraction an absolute must-visit.
Let's take a deeper look at all that the John Deere store gifts it's loyal fans with.
John Deere Classic Products
Drench yourself in green and yellow with John Deere Classic apparel. This line of clothing delivers the perfect souvenirs for the many people who have attended or watched one of the largest events in the Quad Cities, The John Deere Classic. Including plenty of golf clothing and accessories, this gear will appeal to pretty much anyone who is interested in the sport and provides fans with the ultimate chance to represent Deere green on the greens.
Farm and Construction Toys
Give your kids the gift of big fun in a small package. The store has one of the all-time greatest collections of die-case ERTL toys around. For those of you who don't already know, ERTL is a prominent brand for providing children with agricultural and heavy equipment models scaled to smaller sizes. Put this gift on your list for that John Deere collector or aspiring farm or construction machinery operator.
John Deere Store Library
What would one find in the John Deere library? Well, there's an entertaining selection of books, videos, calendars, and posters to choose from. All of these products pass along the rich history of John Deere and his company while offering a look into agriculture over the years.
John Deere Kids for Preschoolers
The John Deere store is on a mission to help educate kids because the company believes that children are never too young to learn. With the excellence of ERTL and innovation of John Deere, the two companies have joined forces to create John Deere Kids. This line of toys balances education and fun for kids, bringing Johnny Tractor and his friends to life for preschoolers everywhere. This gives you yet another reason to make a trip to the store!
Licensed Clothing
Show your love for the brand by sporting clothing that incorporates the famous green and yellow colors. The store stays stocked with a wide variety of t-shirts, hats, sweatshirts, polos and other offerings for you to represent the iconic brand. Whatever piece of clothing it may be, this apparel allows fans to represent their dedication to the land while looking sharp. And remember, all John Deere licensed clothing comes with a lifetime guarantee of compliments.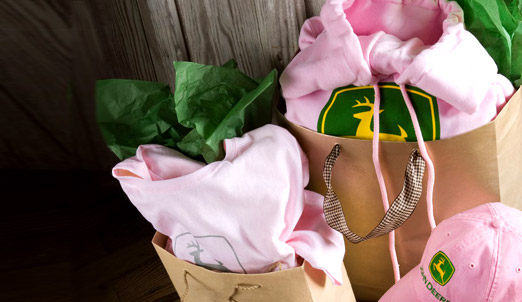 Visiting the John Deere store is a must for a true agriculture enthusiast. It's the perfect opportunity to do a little shopping for that special Deere fan in your life, and who knows – maybe that person is you. Make sure to put this on your bucket list! If you enjoyed this post or want to read others, feel free to connect with us on Facebook or Google+!
You might also like: