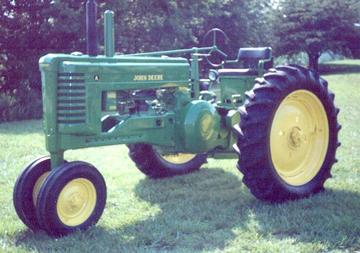 The value of historic and vintage items often depends on the person who is selling the product and who is looking to add it to their collection. Though many of the popular antique shows on television have warped the way that people think about the sale of memorabilia, some individuals remain in the industry because they want to share their favorites with others.
Certain brands have always acquired more attention, and this is likely due to their prominence within the given industry in which they operate. Products like Fender guitars, Marvel comics and John Deere tractors have all been cemented in the minds of people as American classics, and these items tend to bring people to antique stores more than others.
One antiques store in Glenn, Michigan, has a steady stream of customers because of the products that it offers, and some of these iconic items are from the John Deere company.
According to the Holland Sentinel, the store, the Farmhouse Chic Prim Antique Shop, has something for everyone, but the 1948 John Deere tractor acquired a lot of attention from prospective buyers.
"We sell everything from soap to tractors," Missy Rewa, the co-owner of the store, told the news outlet. "We have something for everyone. If we don't have it here, we'll find it for you."
Shops like these are able to stay in business because of the high number of people who enjoy seeing their childhood favorites in person, and though they may want to purchase these items, sometimes just getting a second glance is enough to turn their day around.
John Deere equipment tends to inspire these types of feelings in people from both agricultural and non-farming backgrounds, and the interest associated with these machines and memorabilia can be seen in antique tractor parades or on websites that sell the company's old products.
Because of the company's long-standing place in American agriculture, and the celebration its 175th anniversary this year, the sentiment surround the brand is unparalleled within the industry. Farmers have either used or know someone who has used John Deere equipment, and this is not likely to change anytime soon.
Though the innovative company is constantly rolling out new models of its famous equipment, there will still remain a large number of its fans that take pride in the older models they have restored.
Photo Courtesy Of: http://www.tractorshed.com/contents/tpic988.htm
You might also like: