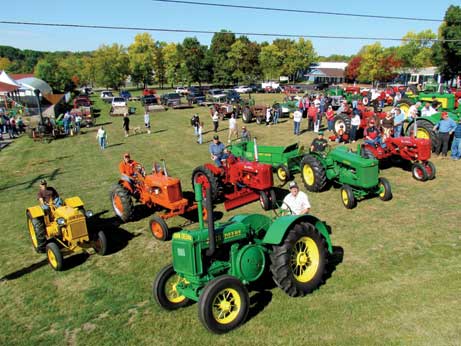 John Deere Tractor Show
Last Saturday, a huge crowd gathered on a green lawn under an autumn Michigan sky to take part in the annual ACE Hardware Antique Tractor Show in Rockford, where tractor enthusiasts gather every year to show off their machines that span decades, the Rockford Squire reports.
According to the media outlet, this year's show brought in record attendance, which resulted in more than 40 antique tractors parking in rows on the event's grounds. Participants ranged from local farmers to collectors who travel the country to show off their most prized machines and scout out potential new buys. Each tractor had been fully restored and polished, leading many experts to take up-close looks at the machines' parts.
Chuck Newton, a Rockford resident who has helped put the show on for the past 15 years, said this year's attendance could have been the largest ever – a thrilling thought for the man behind the festival.
"This might well be the largest antique tractor show in Kent County," he told the media outlet. "Pete Kruer has hosted this show since he moved ACE Hardware from downtown Rockford to his spacious grounds here on Northland Drive. Our group loves Pete, he takes good care of us just as he does of his own antique tractor and his famous red '53 Chevy pick-up truck."
These events resulted in six winners for different categories, which included Best in Show, Most Original, Oldest Tractor, Honorable Mention, Honorable Mention for Equipment and Furthest Away. John Deere tractors took home the most wins, ranking first in Best in Show, Oldest Tractor and Honorable Mention for Equipment.
Eldie Ellenbaas took home the Best in Show prize for his 1937 John Deere Model D, which according to Tractor Data, ran from 1923 to 1953, making it the longest-running John Deere tractor in the company's history. The Oldest Tractor award went to Todd Simcoe, whose 1936 John Deere BI earned the title by one year.
Simcoe's tractor could very well have won the title of rarest tractor, if it had been offered. The tractor was only assembled from 1936 to 1941 in Waterloo, Iowa, and in those five years, only 183 units were manufactured. The number of existing BIs in the world has likely dropped over the generations, making Simcoe's machine a truly prized possession.
Photo Courtesy Of: http://rockfordsquire.com/2012/10/04/ace-was-the-place-for-antique-tractors-last-saturday/
You might also like: