Last week, we continued our journey through John Deere riding mower history, looking at the 1980s, a decade that seemingly mended the past with the future. The 80s marked Deere's lawn and garden break-in to diesel, the introduction of the "R" and "S" Series, and a few key changes to existing models.

Today, we will look at some of the most critical upgrades and introductions of the 1990s, a decade that furthered Deere's growth in the industry and provided customers with more lawn and garden tractor versatility than ever before. Without any further delay, let's go back in John Deere riding mower history once again!
Exponential Growth: By the time the 90s rolled around, Deere's production of lawn and garden equipment was growing exponentially, both in numbers and functionality, compared to the previous decades. Deere sold its 2 millionth lawn tractor (a LX188) in 1992 and followed that up with its 3 millionth sale (a LT133) in 1998. Numbers of sales weren't the only things growing at the time, as the company also introduced a few landmark models that are critical to John Deere riding mower history. Let's look at some of the details surrounding these memorable 1990s models.
LT Series: Coming off the Horicon, Wisconsin assembly line in the late 1990s, the LT Series (133, 155, and 166) quickly established itself as one of the most popular John Deere mowers to date. The series provided operators with high-quality wide cuts and held a greater amount of fuel compared to competitive models in its range. Its adjustable operator seat provided ample comfort for owners that spent long days on their equipment and the new Xenoy (plastic-like) material kept the body in better condition compared to previous steel-hood models.
LX Series: Beginning in 1990, production of this series lasted 16 years, offering a number of different models. The LX Series will likely be remembered for its versatility as each model was compatible with several sizes of mower decks depending on the operator's needs. Outside of mowing capabilities, the LX Series was also great for a variety of other projects around the yard. Most notably, the LX Series riding mowers were compatible with snow blower attachments that latched on to the front of the machine, allowing operators to make easy work of pesky winter storms.
GT and GX Series: The GT and GX Series were in production for the majority of the 90s and were quite similar in style and functionality. Both series offered landowners ideal pieces of lawn and garden equipment, especially those with plots of land up to about 4 acres in size. Both series can connect to a vast selection of implements like snow blowers, front blades, baggers, carts as well as a number of rear attachments like aerators, utility carts, and more. The GX and GT Series were great for property owners that demanded a little more power and size for their weekend activities.
Now that we've highlighted most of the upgrades and new additions to the John Deere riding mower line in the 90s, here are a few charts showing the complete list of mowers by model, year, and serial number.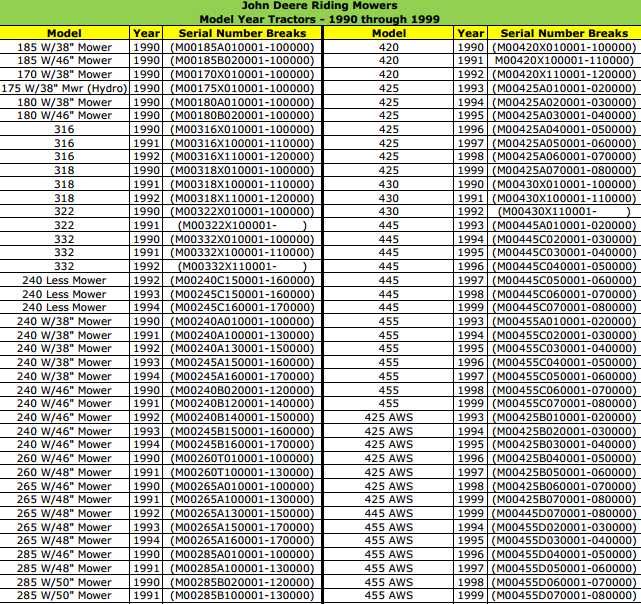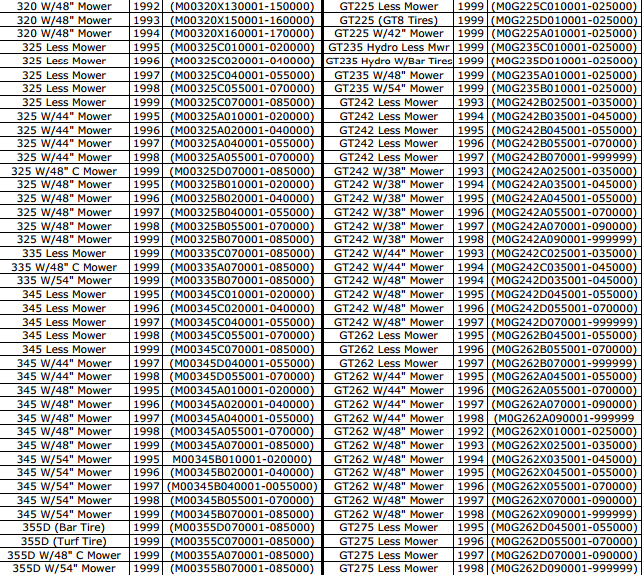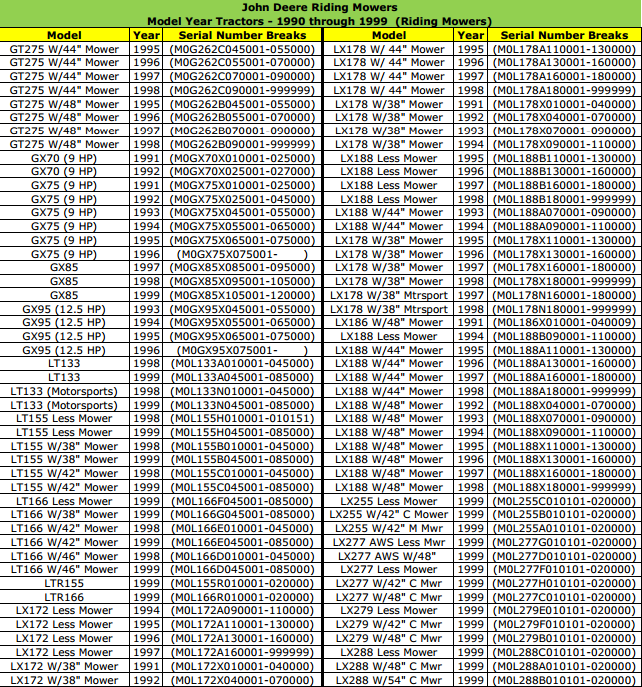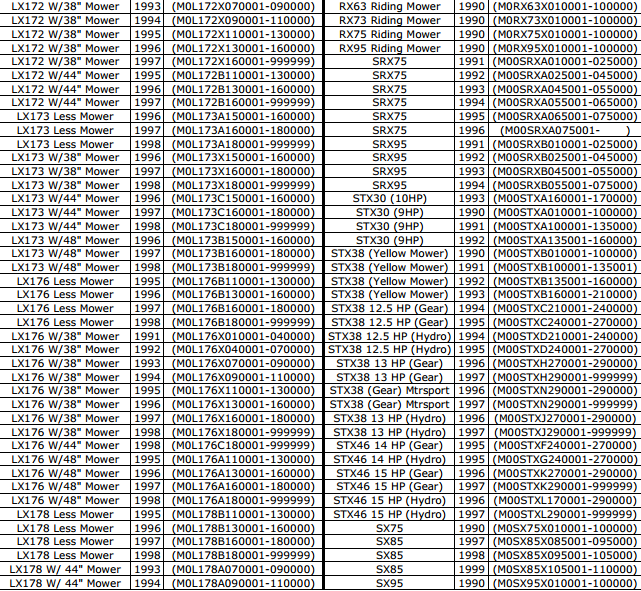 Be sure to come back to our blog next week as we finish off our John Deere riding mower history series! If you enjoyed this post or want to read others, feel free to connect with us on Facebook or Google+!