In 2013, John Deere announced that 7R series tractors would be made available with a newly innovated e23 transmission. This was a noteworthy milestone for operators, as it would give them the ability to preset their working speeds and become even more effective throughout their daily tasks. A system with 23 forward and 11 reverse speeds that is fully equipped with Efficiency Manager, helps operators save on fuel and keep engine RPMs at the most efficient speed by automatically shifting up and throttling back.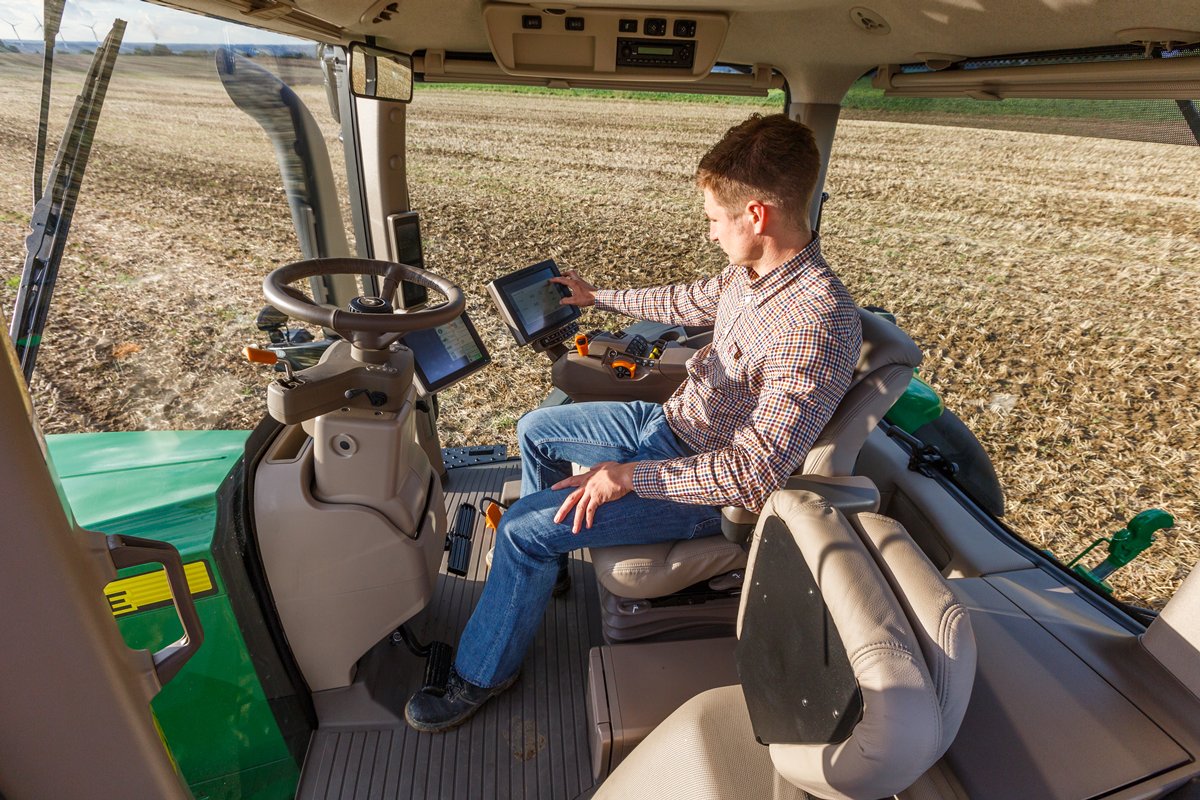 In an effort to help operators better understand the many beneficial features incorporated in the John Deere e23 transmission design, we have put together a video gallery further explaining the product.
Navigation
With access to regulate machine efficiency at the tip of their fingers, it's important for operators to learn the useful navigations of the transmission page on John Deere's Generation 4 CommandCenter. This video will help operators improve and control their daily routine by learning how to navigate around the transmission settings page on the Generation 4 CommandCenter.
Full AUTO Mode
Consistency and efficiency are two highly valued aspects of farming operations. This video highlights the usability of the John Deere e23 Transmission in Full AUTO mode with specific features that allow operators to set a desired ground speed, and then have their tractors determine the most efficient way to maintain that set speed. In Full AUTO mode, the modules available to the operator are max speeds and set speeds and the efficiency manager is always on.
Custom Mode
Have you ever wondered exactly how the John Deere e23 Transmission functions in Custom mode? Custom mode operates in a similar manner to Full AUTO mode, but it allows operators to customize their tasks. This video will look further into the functionality and features behind this customization.
Manual Mode
Operators can incorporate higher levels of customization and control in their daily operations by implementing the John Deere e23 Transmission Manual mode. This video looks at the helpful features of e23 Transmission in Manual mode that give operators the ability to choose a gear and continue to maintain full throttle control of the tractor. By activating the Efficiency Manager with Set Speeds, operators can also improve their fluid efficiency in Manual mode and have their tractor automatically power the throttle and adjust engine RPMs.
Hopefully these videos have helped realize the many benefits that can be achieved from using John Deere's e23 transmission. We wish you the best of luck on your journey to even more consistent, efficient and controlled farming operations! If you enjoyed this post or want to read others, feel free to connect with us on Facebook or Google+! 
You might also like: