When you have a wide array of jobs to tackle out in the field, you want a row crop tractor you can rely on for the long haul. The John Deere 7210R has multiple features that any agricultural professional will appreciate. This tractor comes with a powerful engine, several front hitch options and an e23™ transmission for all of your working needs.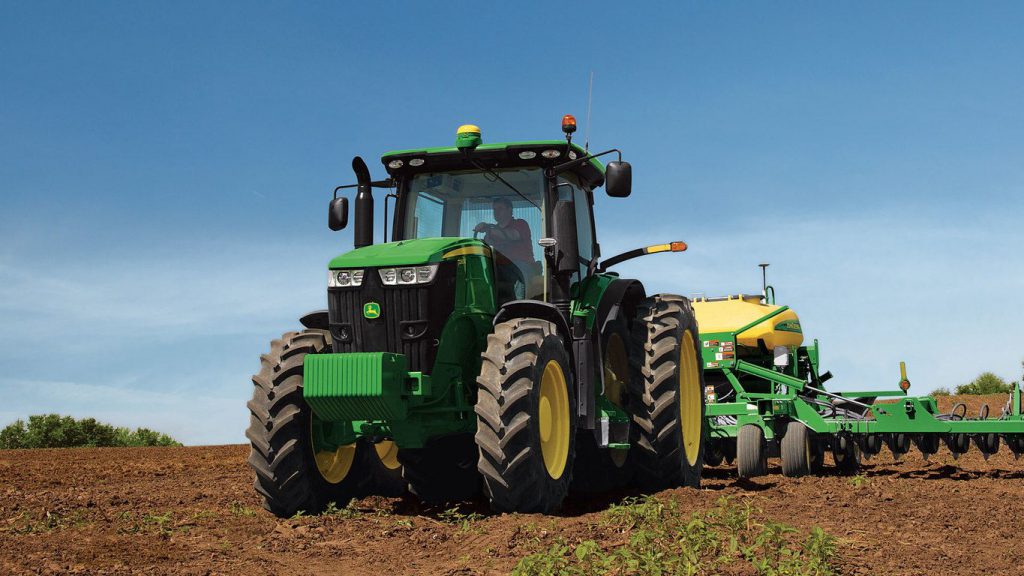 Let's take a look at some of the other highlights of the John Deere 7210R.
PowerTech™ PSS 6.8-Liter Engine
The 7210R row crop tractor comes with a PowerTech™ PSS 6.8-liter engine with dual turbochargers. It delivers up to 210 horsepower, meaning it can take on even the most rugged, challenging terrain. The PowerTech PSS engine of the John Deere 7210R is designed to help operators efficiently work through all harvesting conditions. Finally, it has an engine governor that is isochronous and has convenient speed management.
Generation 4 CommandCenter™
The John Deere 7210R comes with the Generation 4 CommandCenter, which allows operators to keep an eye on the inner workings of the machine directly from the display. The CommandCenter offers intelligent warnings, context-based help, and custom-defined views.
CommandView™ III Cab
The CommandView III cab provides the utmost visibility to the operator for efficiency and safety on the job. It comes with a ComfortComand™ seat with air suspension, plenty of behind-the-seat storage, and a passive noise reduction system. Additionally, it is designed to provide maximum comfort and visibility for the operator. The seat has air suspension which provides extra back support, and the cab itself has a passive noise reduction system. There are also 12-volt outlets for power, a hitch control lever lock, and a tilt/telescoping steering wheel.
Triple-Link Suspension Plus
With Triple-Link Suspension (TLS™) Plus, the John Deere 7210R has a fully integrated, self-leveling front suspension system. It uses a hydro-pneumatic self-leveling system to ultimately improve productivity and the overall ride. Overall, TLS Plus is designed to increase field and transport productivity. 
Cooling System
All 7R Series tractors come with an increased front area (IFA) cooling system. It uses a pull-style fan to improve overall cooling efficiency. In addition, it reduces fan noise when a large amount of power is being used, or while heavy loads are being utilized.
360-Degree Lighting
The John Deere 7210R's cab lighting pattern provides 330 degrees of illumination, while the remaining 30 degrees comes from the hood lighting—this gives the operator the chance to work day and night. It also means that all areas are illuminated efficiently when it's needed most, providing more uptime and productivity to operators. The cab has 12 lights that are integrated into its cab roof. It also has 4 adjustable beltline and rear fender field lights, high and low-beam headlights, and lastly 8 field, spot and road lights which are located on the bonnet grill. 
E23 Transmission
The e23 transmission of the John Deere 7210R allows for smooth shifting while the tractor is in operation. It is easy to use, and it has the power to handle sudden, high-torque power loads on a whim. It provides improved fluid efficiency and overall productivity.
If you have any questions on John Deere 7210R or any of its features, contact your local John Deere dealer.
If you enjoyed this post or want to read others, feel free to connect with us on Facebook, Pinterest, Twitter, or Instagram!
You might also like: