Today's golf courses are often times judged from the moment golfers lay their eyes on them. From the tees, to the fairways, to the greens, one thing needs to remain constant: cut quality. Through careful attention to detail on the assembly line and technological innovation, John Deere Golf A Models are designed to provide quality that is a cut above the rest.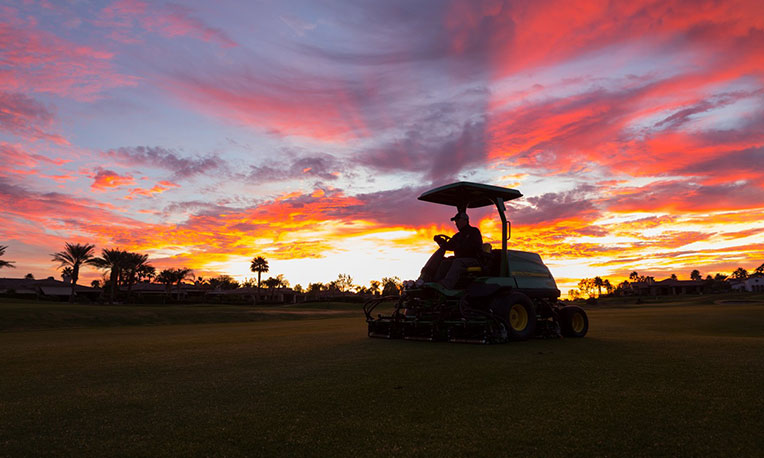 From start to finish, these pieces of turf equipment are designed to get the job done efficiently. To show some of the qualities of these mowers that make pristine conditions a reality, we've put together a series of videos. Enjoy!
As part of the production process for John Deere Golf A Models, a new, cutting-edge assembly line was built in the company's TurfCare facility, located in Fuquay-Varina, NC. This video provides a behind-the-scenes look into how these products are built to new standards, using the latest in state of the art methods and tools which are a result of the new configuration of the facility.
TechControl Display on the John Deere A Model mowers puts the power of controlling the course in the superintendent's hands. The display is password code protected, meaning the commands that are entered can not be changed by unapproved operators. Superintendents can put in a wealth of commands, including mow speed, turn speed, engine speed, and service diagnostics and reminders to ensure all of their operators are working according to the preset commands.
Keeping the A Models in pristine condition is made possible thanks to the convenient maintenance and serviceability functions on board. The TechControl Display (above) delivers machine diagnostics to operators while sitting in their seat and all daily engine checks are easily accessible by raising the hood. When the hood is raised, operators will have instant access to engine oil, coolant and hydraulic fluid levels. All the A Models feature a radiator screen that can be easily removed for cleaning.
Every A Model mower includes front and rear step locations, allowing operators to enter and exit the machines with ease. The ROPS comes standard with a handle to assist entry and exit and the CommandARM is adjustable, allowing for a clear sight line to the cutting units. Additional features include a padded arm rest, cup holder, and 12-volt charging port.
On all John Deere A Models, five systems work together to provide superior cut quality. Watch this segment to learn more about each of these segments.
Hopefully, this video gallery provided an inside look at what makes the John Deere Golf A Models a superintendent's best friend and go-to piece of equipment to provide a quality cut. If you enjoyed this post or want to read others, feel free to connect with us on Facebook!
You might also like: