Have you ever thought about how massive golf courses keep each and every inch of their fairway and greens looking perfect? It all comes down to the golf course equipment, of course. Utilizing John Deere golf equipment, such as a Gator UTV, all sizes of landscaping crews can curate this look easily. From hauling materials to mowing, John Deere golf course machines can become your go-to for golf course projects.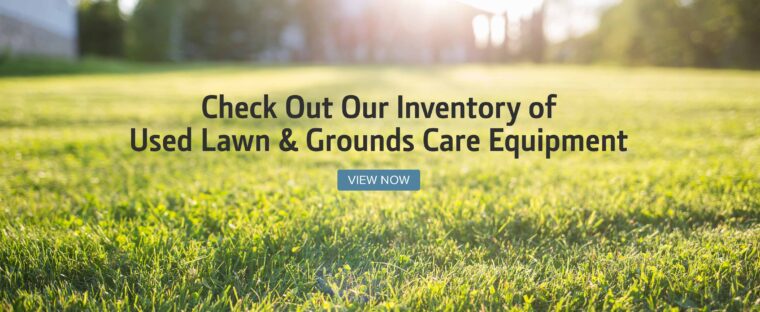 Which John Deere Machines are Used on a Golf Course?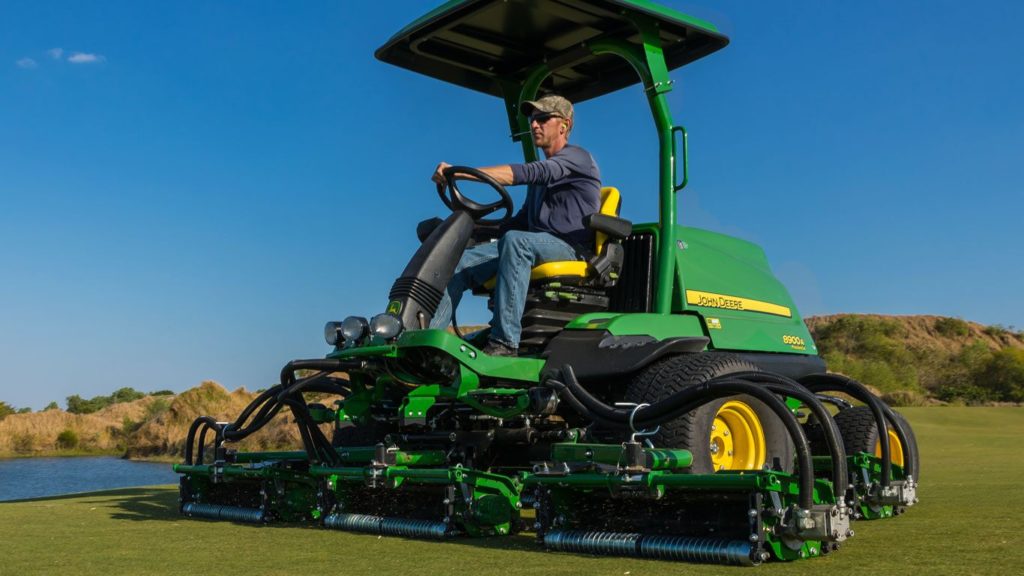 John Deere golf course turf equipment are all-purpose machines that can help take your greens to a whole new level. Let's take a look at some of the machines available and how they can help make your turf management a bit easier.
ProGators
The John Deere ProGator™ UTV is utilized for courses that have larger hills, as well as slopes, and all other kinds of uneven terrain. This machine is a powerful model of Gator, yet it easily drives over obstacles. With a heavy payload capacity, ProGators can haul very large loads.
For jobs that need heavy landscaping equipment, like aerators or seeders, this model of UTV can help. It has the ability to transport cargo without putting any strain on the machine's frame. Additionally, thanks to their hydraulic disk brakes and the front and rear-end suspension, there is no disruption to the ProGator when it comes to maintaining speed and stopping quickly.
Fairway Mowers
Paired with careful planning around turf management as well as manpower, John Deere fairway mowers are the perfect sidekick, keeping courses looking great and players feeling great. These fairway mowers feature an electric reel drive system. This machine's hybrid system is powered by an alternator, providing consistent performance without batteries.
Riding Greens Mowers
Riding greens mowers from John Deere make maintaining a golf course easy and enjoyable. This machine is designed to provide precision for the operator. With riding greens mowers from John Deere, users can have peace of mind knowing they are using some of the best mower technology on the market.
Rough Trim and Surround Mowers
Rough trim and surround mowers serve their machinery role on the course. Each model of this machine plays its own role in maintaining different parts of a course, which is why select golf tournaments are played on links that use these mowers.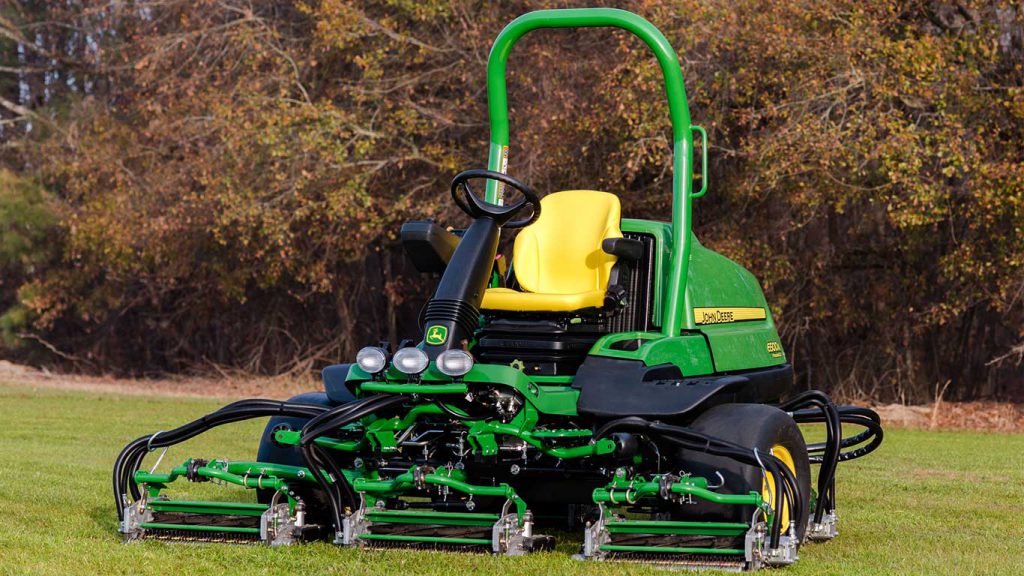 What Type of John Deere Lawn Mowers Do Golf Courses Use?
When maintaining the top golf courses in the world, the margin of error is tiny. Less than perfect turf conditions can harm a course's standing, which may result in a ripple effect on overall business. Let's take a look at some of the John Deere lawn mowers that can keep these courses in top shape.
6080A E-Cut™ Hybrid & PrecisionCut™ Fairway Mowers
The 6080A E-Cut hybrid fairway mower uses a 24.7 horsepower diesel engine. For this reason, it provides power and boosts the overall efficiency of the machine. In terms of 6080A specs, it provides an 80-inch width of cut, meaning operators can tackle a large area in a small amount of time.
6500A E-Cut™ Hybrid & PrecisionCut™ Fairway Mowers
The 6500A E-Cut™ hybrid fairway mower uses a 24.7 horsepower diesel engine with a three-wheel smooth tire configuration. This machine features 22-inch QA5 cutting units, providing a 100-inch width of cut, which is slightly larger than that of the 6080A model.
6700A PrecisionCut™ Fairway Mower
The 6700A fairway mower model has similar technologies to the A Model family. It is designed with budget control in mind, having a powerful 24.7 horsepower diesel engine, as well as three-wheel smooth tire configurations, and enhanced comfort features.
2653B PrecisionCut™
The 2653B PrecisionCut™ trim and surrounds mower has full-time 3WD hydrostatic traction systems which direct hydrostatic oil flow to the wheels with traction when in tough terrain. This means if an operator's wheel starts to slip, the hydrostatic system can supply fluid to the other two wheels, providing additional traction power.
7400A and 7200A PrecisionCut™
The 7400A TerrainCut and 7200A PrecisionCut mowers have similar features to other John Deere Golf fairway mowers. They are both equipped with large eHydro and wheel motors which increase displacement and improve performance in traction as well as hill climbing.
8800A TerrainCut™
The 8800A TerrainCut™ rough mower has 21-inch rotary decks to allow for superior contour-following abilities as well as improved cut quality. Its strong construction is a crucial part of the durable deck. There is also a tough frame surrounding the deck which is designed to protect the deck's shell.
9009A TerrainCut™
The 9009A has five 27-inch rotary decks which all have a 9-foot cutting width. In addition, the machine also has a shell deck with a deep design.
180 PrecisionCut™ & E-Cut™ Hybrid
The 180 E-Cut™ Hybrid walking greens mower offers unparalleled abilities for following contours and steering around. The machine's signature ball joint mounting system can rotate in any direction. The frequency of the clip can also be adjusted with a simple dial, which can be mechanically locked to prevent additional changes.
220 PrecisionCut™ & E-Cut™ Hybrid
The 220 Hybrid is easily maintained and has capabilities that make troubleshooting more simple. It also has improved comfort, control, and quick-release functionalities to disengage traction.
260SL PrecisionCut™
The 260 SL PrecisionCut Mower ensures maximum comfort and control with its adjustable, loop-style handlebar. The machine also has dual traction rolls which help provide straight tracking as well as excellent maneuverability. It also includes a range of roller options, such as grooved, smooth, and spiral-shaped rollers.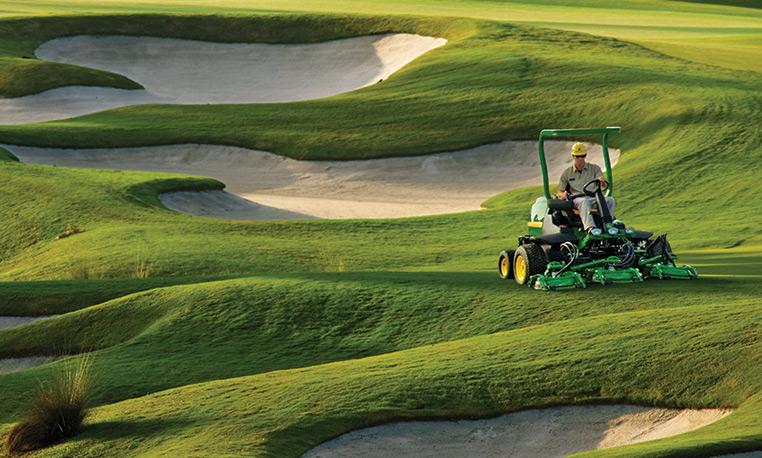 Which John Deere Machines Do Golf Courses Use to Aerate?
Golf courses usually use aerators which feature rotating spoons or tines that poke holes into the ground. These are typically hauled by lawn tractors.
How Does Golf Course Equipment Differ from That Used on Other Types of Sports Fields?
Turf managers are typically those responsible for turf maintenance on all athletic fields and golf courses. In order to do their job properly, they must consider the different requirements for each type of field and grass. Since there are different kinds of turf needed on a golf course, this can make the job much more complex compared to other sports.
How Do You Maintain a Golf Course?
At the beginning of any season, groundskeepers and golf course superintendents begin preparing the tee boxes, fairways, and greens for a great year of play. However, without the necessary machines, this process can not be completed properly. Let's take a look at the different steps needed to keep a golf course looking great year round.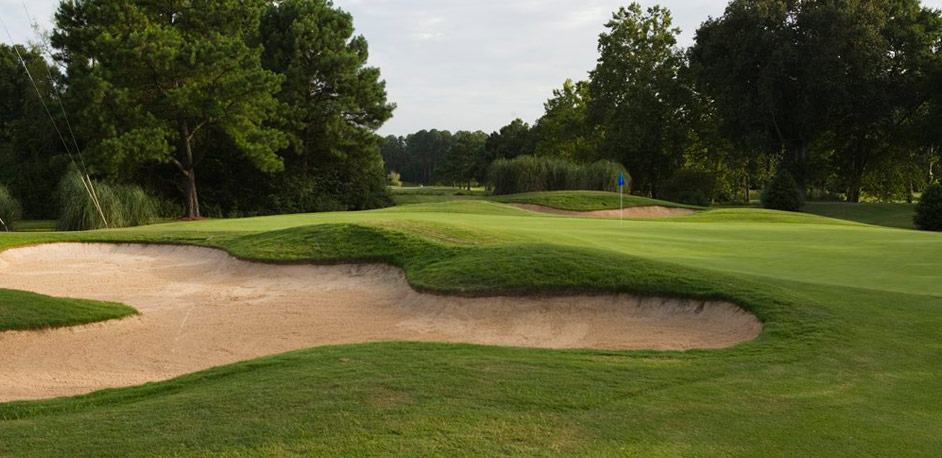 Mow Greens and Fairways Properly
When mowing the grass of a golf course, it is crucial to consider the different types of grass as well as the local climate. If it is rainy, you will need more irrigation in order to keep surfaces dry. If you are in a drier climate, you will need more water to make sure the grounds don't dry out. Monitoring turf density also helps assess mowing heights.
Roll the Turf Regularly
If you use turf, it will become healthier when it has been mowed and rolled regularly. Rolling the turf frequently doesn't cause compaction but rather can help get smoother, faster greens.
Cultivate Greens Frequently
Cultivating greens creates high-quality putting surfaces on your course. Aerification can help build firmness and smoothness on your green. It can also help result in well-drained, faster-putting surfaces, perfect for a great round of golf.
Promote Turf Growth by Applying Regulators
Turf growth regulators help build high-quality putting greens by aiding in the process of improving a putting green's surface density. This often results in a smoother surface overall.
Water Turf Properly
Using deep irrigation as well as hand watering in specific hot spots on the golf course can help reduce a putting green's surface irrigation. You'll want to water the greens separately around any putting surfaces. These items can help improve turf's health, while also increasing the earth's firmness, reducing any plant succulence, and conserving water overall.
What John Deere Machines are Used to Cut Greens on a Golf Course?
Many golf courses are worked on daily with golf course maintenance equipment. This helps them maintain their high-quality status year after year. Let's take a closer look at some of the most important machines for cutting greens on a golf course.
2700 Triplex Mower
The 2700 PrecisionCut™ and E-Cut™ hybrid triplex mowers help maximize your crew's productivity while also enhancing cut quality. An essential feature of 2700 model mowers is the TechControl™ system. In this system, you can input commands which control the operator's performance. This might include the clip frequency, turn speed, clean-up pass speed, and even how fast the cutting units can be raised and lowered.
2500B & 2500E Riding Greens Mowers
The 2500 model riding greens mowers can be found in gas and diesel versions. Diesel engine users will not need to worry about noise because the engine was created to operate quietly. There are also different tire options that are designed to handle a variety of conditions.
2750 Triplex Mower
The 2750 Triplex mower was built with customer needs in mind. The main focus was the difficulty customers face when finding quality labor with tight operating budgets.
2550 Triplex Mower
The 2550 Triplex mower is great for users who are looking to optimize mowing performance. The 2550 E-Cut Hybrid mower uses an electric reel drive system, while also being designed to reduce fuel consumption as well as sound levels.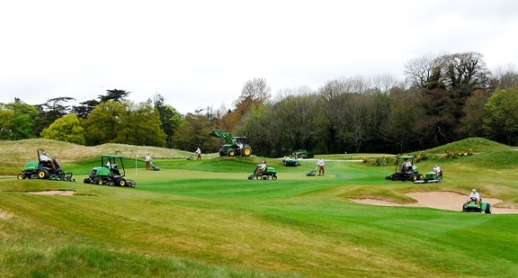 How Do Golf Courses Keep Grass So Short?
In order to keep grass on green so short, superintendents oftentimes need to use special mowers. On golf courses in particular, it's important to use reel mowers, instead of the classic rotary mower. This is because the reel spins and cuts grass with precision. The two most important considerations when mowing are cutting height and frequency. Considering these two items can help ensure a smooth surface for players. Similarly, sand topdressing is also crucial to ensure the turf grass surface is smooth and firm. This starts when sand is shoveled onto putting greens as needed.
What Do Golf Courses Spray on Their Grass?
Some golf courses, but not all of them, utilize different sprays in order to maintain their grass. These may include grass paint, which is a colorant used on turf that coats the surface of the grass, then adheres and dries.
How Does Golf Course Equipment Impact the Maintenance and Playability of a Course?
Maintenance equipment is crucial for a golf course. This includes everything from mowers and aerators, to spreaders and even sprayers. The playability and desirability of a course are largely dependent on the equipment which maintains it. If no maintenance equipment is used, in the long term, it can have a massive impact financially since the desirability of the course will be reduced.
What Safety Measures Should Be Taken When Operating Golf Course Equipment?
Here are some safety measures that are crucial to operating a golf course:
Move behind cover to avoid golf balls hitting you: As a crew member, you'll want to make sure you are out of the way of balls in play. Another option is to move into an area that is relatively far away from the landing zone.
Use a ball barrier: A ball barrier consists of two posts that have netting strung tight between them. Additionally, personal protective equipment, like a hard hat, help reduce risk of injury.
Avoid working in dangerous carry zones: Whenever golfers begin to approach, you'll want to move beyond the carry zone.
Keep a distance: Stay at least 45 feet away from people and animals when using equipment. Try to also stay away from the carry zone.
Identify hazards: Creating safety plans and implementing different safety rules is needed to make sure golfer and worker safety.
What are the Latest Advancements in John Deere Golf Course Equipment Technology?
TechControl Display is an advancement made for the John Deere A Model mowers that give power to the superintendent. The display on this modern technology is password protected, so any commands entered can't be changed by any other operators. Superintendents have access to a wealth of commands, like mow speed, speed of turning, and even service diagnostics. There are also reminders that can help ensure all operators are working to the preset commands.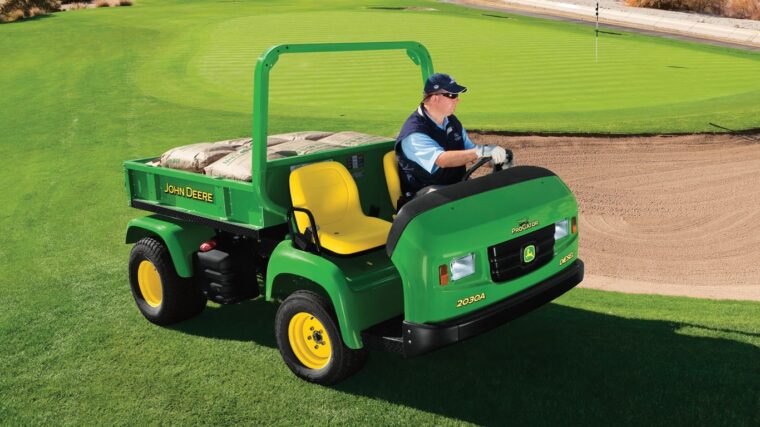 What are Some John Deere Attachments That Can Be Used on Golf Courses?
While there are many machines and attachments that help get the job done, we have put together a list of some of these parts you might want to consider adding onto your John Deere golf machinery.
Grass Catchers
Grass clippings can tarnish the result of the fairway look you're going for. Those working on courses can attach grass catcher systems to their mowers in order to reduce the amount of clippings on the surface of the greens. This system allows the contour to remain consistent – maximizing the amount of grass that is passed through the catcher.
Precision Tines
Using precision tines can help to aerate fairways, greens, rough and tee boxes. Superintendents can also make sure they are aerating with precise core integrity as well as hole depth.
Rotary Turf Brush
Turf brushes can be added to machines in order to improve striping as well as cut quality on turf grasses. When rotary turf brushes are at the right height of the cut, it creates a design that makes consistent engagement across cutting widths.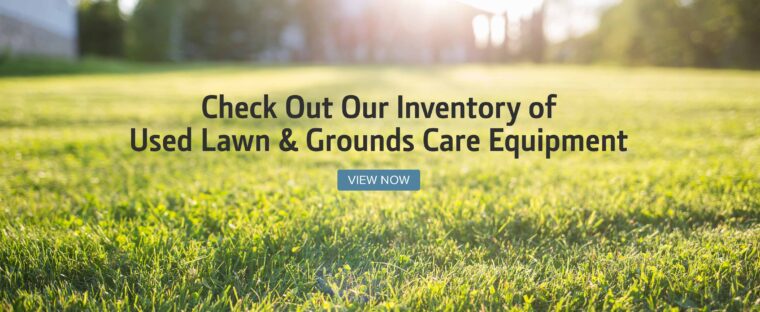 Where to Find John Deere Golf Course Equipment
As we've seen, John Deere golf equipment has a wide range of features. If you have any questions about John Deere golf equipment or would like to know more about how you can get your own, you can contact your local John Deere dealer.
If you enjoyed this post or want to read others, feel free to connect with us on Facebook, Pinterest, Twitter, or Instagram!
You might also like: