John Deere has unveiled its latest additions to the 6000A Series – the 6080A and 6500A E-Cut Hybrid Fairway Mowers. These models feature high-performance electric reel drive, which reduces the potential for hydraulic leak points to maximize productivity and reduce downtime.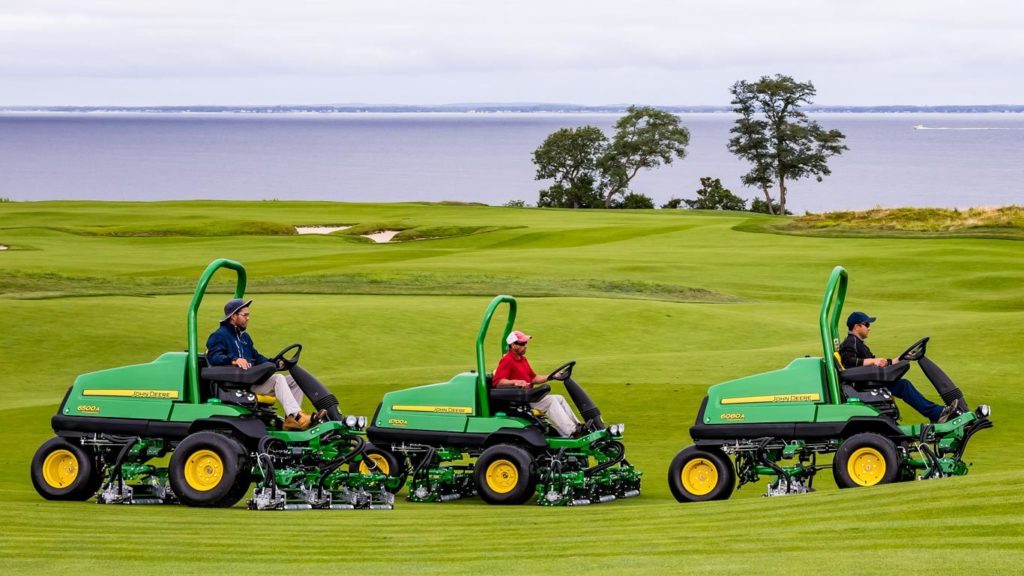 "We're excited to bring the E-Cut Hybrid mowing system to the 6000A Series of fairway mowers," said Brad Aldridge, product manager, John Deere Golf. "Powerful and full of premium features at an economical price point, the 6080A and 6500A combine the proven E-Cut Hybrid technology with the popular 6000A Series model design."
The 6080A and 6500A Hybrid Fairway Mowers feature a proven electric reel drive system. Because all the hydraulic are removed from the reel circuit, there is a reduced chance of a leak. The hybrid system is powered exclusively by an alternator, which provides consistent performance without batteries to maintain.
Let's take a closer look at some of the highlights of these two mowers and what they can do for you while you're maintaining your fairway.
Powerful Engine
Both the 6080A and 6500A models feature 24.7 horsepower diesel engines. This means that they have enough power to get through even the toughest grass and maximize productivity along the way.
Smooth Tire Configurations
These models have smooth tire configurations on a durable fairway mower chassis for premium performance and maximum comfort. They also feature LoadMatch, which offers the same cut quality that is available on the A model line, even while working on hills.
Transmission
The 6080A and 6500A have eHydro transmissions, which removes linkages between the pedals and hydrostatic pump. With a mowing speed of up to 8 miles per hour, both models boost productivity by allowing operators to mow more area in a shorter amount of time.
TechControl Display
With the TechControl display, turf managers and technicians can input commands, such as mow speed, turf speed, transport speed, and service timers, all while harnessing on-board service diagnostics. With diagnostics in full view, operators can keep a close eye on how their machine is operating and spot any looming problems on the go.
Wet Disk Brakes
The 6080A and 6500A also include internal hydraulic wet brakes, which eliminate the need to make linkage adjustments and grease points in the brake system.
If you have any questions about the 6080A, 6500A, or other types of golf equipment, you can contact your local John Deere dealer.
If you enjoyed this post or want to read others, feel free to connect with us on Facebook, Pinterest, or Twitter!
You might also like: