This year, John Deere air seeding equipment has been upgraded to help you keep your profit margins high and reduce your operational costs over time. All of its 1910 Air Carts have received new SectionCommand to minimize overlaps and skips.

In turn, there will be less seed and fertilizer waste for producers, giving users peace of mind. Let's take a look at some of the new features of John Deere air seeding equipment.
Large Tires
John Deere air seeding equipment now has larger tires, which are designed to provide greater flotation. These tires also offer more stability on hillsides, meaning the contours of the land are no longer challenging on the job.
Hydraulic Meter Drives
Hydraulic meter drives on the 1910 Air Carts provide drive power to meters through all speeds. This provides variable-rate functionality for map-based prescriptions.
New SectionCommand
Why does new SectionCommand matter? You'll notice the impact when you see more positive numbers in your ledger.
SectionCommand is now available on all 1910 Air Carts to control output from all meters on the cart in up to eight sections. It allows users to reduce seed and fertilizer input costs by minimizing overlaps and skips in the field. Application rates ensure row-to-row accuracy is not compromised, and gate detection lets users know whether gates are opened or closed for the utmost convenience.
Conveyance Control
2015 John Deere air seeding equipment now comes with a wireless remote that allows users to control the conveyance arm movement and elevation with little effort. This results in less physical labor, and the remote can work anywhere near the cart. For those who want a bit more control, there is a tethered remote that can be operated from ground level near the front of the meter.
KSi Conveyors
All 1910 Air Carts now have low-profile hoppers for the 10-inch auger or 12-inch conveyor. This makes it easier to fill carts from the semi hopper bottoms.
LED Lights
When the sun goes down, it instantly becomes more challenging to get work done around the farm. Now, the 1910 Air Cart line has LED lights for better vision all around. This means no more fumbling around in the dark once nightfall comes.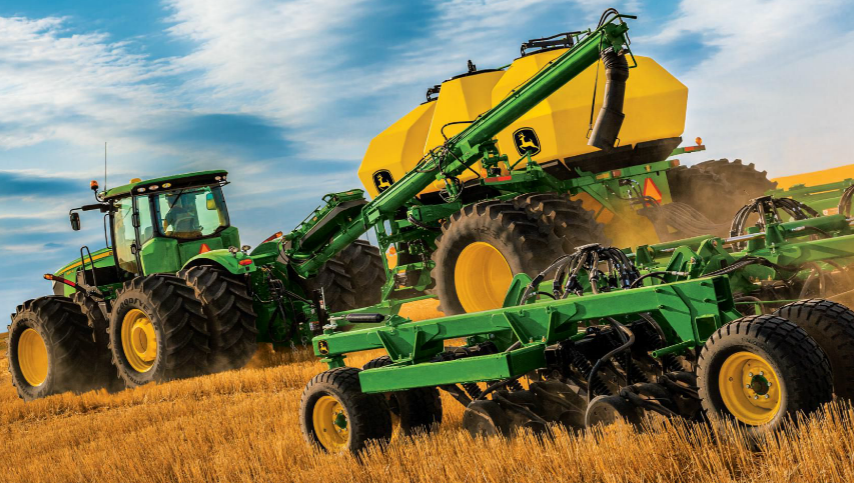 Whether you're looking to increase production or reduce wasted expenses, 2015 John Deere air seeding equipment can help you achieve your agricultural goals.
If you enjoyed this post or want to read others, feel free to connect with us on Facebook or Google+!
You might also like: