A compact utility tractor doesn't have to come at the expense of performance or capability. With John Deere's 3E Series Tractors, you will be able to handle all of your basic chores without having to compromise. Incorporating up to 38 engine horsepower, standard high capacity hydraulics, four-wheel drive, hydrostatic transmission and more, the 3E series is one remarkably capable compact tractor.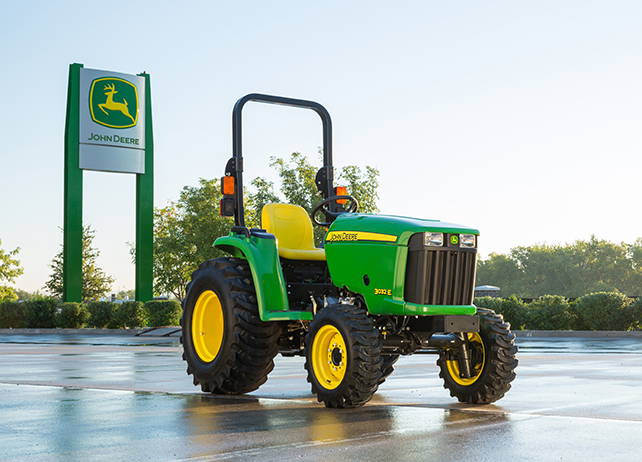 We've put together an overview of some of the key features that make the John Deere 3E Series a fully capable lineup.
Easy-to-Use Hydrostatic Transmission 
Available in the 3032E and 3038E models, the easy-to-use hydrostatic transmission (HST) dramatically increases tractor performance. With a two-range hydrostatic transmission in a die-cast aluminum case, engine power is transmitted to the drive wheels through a closed-loop pump and motor arrangement. Operators are able to perfectly match the speed of the tractor to the job with no clutching for fast and easy direction changes and Twin Touch foot pedals allow for quick and easy forward and reverse operations and transmission oil cooler for a longer transmission life. The HST transmission also includes several safety features.
Excellent Serviceability
Because routine service and maintenance are fundamental to performance, productivity and longevity of tractors, features of the 3E series tractors work to make the servicing process easier equipment owners. The excellent serviceability of John Deere 3E Series Tractors helps to improve productivity while reducing unnecessary operating costs. With easy access to most regular service points, operators will be able to cut down service time. Tractors come equipped with extensive onboard self-diagnostics that are compatible with the John Deere service advisors system to help operators make better machine maintenance decisions.
Powerful Diesel Engine
Key features of the John Deere 3E Series engine include effective cooling and long life, direct fuel injection, aluminum alloy pistons, timing gears and injector drive gears, auto-bleed fuel system, high-capacity lubrication system, key start and shutoff, easy access to engine check and much more! The 3032E compact tractor incorporates liquid-cooled 3TNV88C-NJT Yanmar diesel engine, providing 31.2 hp, while the liquid-cooled 3TNV86T-NJT Yanmar diesel engine provides 37.3 hp to the 3038E.
These engines utilize the latest technology to optimize fuel economy, improve operator control and accuracy and reduce potential impact on the environment. The common rail system (CRS) works to enhance fuel economy and reduce costs compared to engines not using CRS. The electronic control unit (ECU) provides top fuel control and accuracy to make operators' jobs just a little bit easier by continuously monitoring engine conditions and adjusting fuel delivery accordingly. The engines also incorporate an after-treatment system, which operate automatically for passive filter cleaning, active filter cleaning and parked filter cleaning.
Comfortable and Convenient Operator Station
Operators of all sizes will have plenty of room in this comfortable and convenient station. A clean and simple design with color-coded controls, HST and brake pedals, and an extremely comfortable seat all enhance the operating experience. The uncluttered design also incorporates a flat operator platform for easy entry and exit from the tractor and folding Roll-Gard rollover protective structure and retractable seat belts to increase safety.
Revolutionary iMatch AutoHitch
John Deere 3E Series Tractors integrate iMatch AutoHitch to allow operators to easily hook up and change PTO-driven implements. A revolutionary system like this is a game-changer for operators, as it allows them to change from a compatible rotary cutter to a compatible rotary tiller without ever leaving the operating station. With no tools and little experience needed, this feature ensures a quick and easy change of implements and attachments on the compact utility tractors.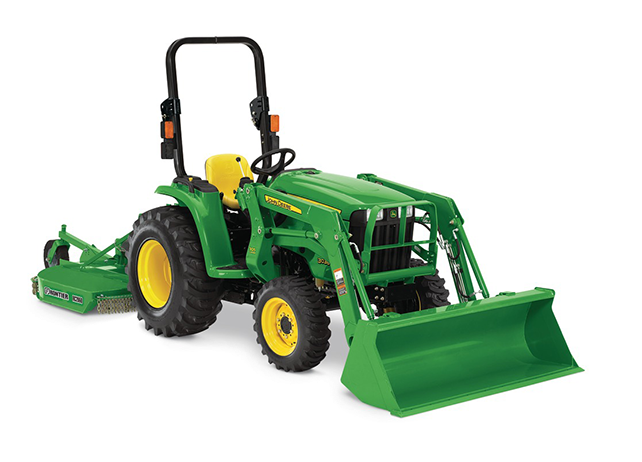 We're certain that the quality of these machines won't surprise you, however, the price may. The 3E series tractors were innovated and designed with the notion that, if you excel in the areas that matter most, you'll surpass expectations as well. The easy-to-use hydrostatic transmission, exceptional serviceability, powerful and efficient diesel engine, comfortable and convenient operator station and revolutionary iMatch AutoHitch are just a few features of these machines that will exceed your expectations.
If you enjoyed this post or want to read others, feel free to connect with us on Facebook, Twitter or Google+!
You might also like: