With spring here and summer around the corner, John Deere t-shirts are the perfect items to show off your love for everything agriculture. Whether you're a fan of John Deere tractors or you have a passion for farming, John Deere t-shirts can help you exhibit your pride.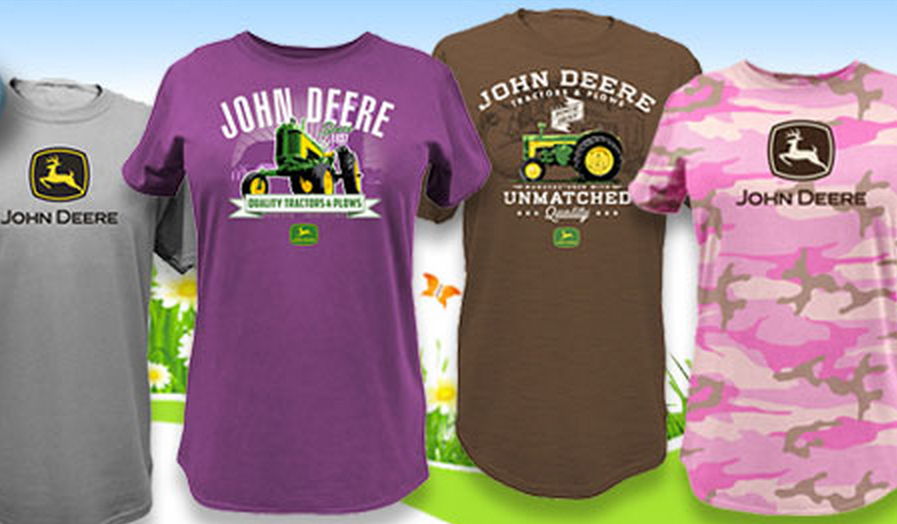 Best of all, they are ideal for everything from lounging to working outdoors. Here are some of the most popular Deere shirts for both men and women.
Composed of 100 percent cotton, this t-shirt features the John Deere construction trademark logo. Men's fit.
The tee showcases a leaping deer behind the John Deere logo with a stunning backdrop.
This shirt features a simple John Deere logo on the front with a large row crop tractor on the back, sitting in front of shadowed trees.
The "Earth Shattering Performance" illustration on this t-shirt makes it ideal for John Deere enthusiasts who want more than a standard logo. Men's fit.
This brown tee includes a classic representation of a John Deere tractor. Men's fit.
John Deere fans who want to catch attention will want to buy this t-shirt, which depicts an "off-roading" tractor.
This John Deere t-shirt includes the classic phrase that brand enthusiasts have been saying for years.
This plain and simple t-shirt is all a John Deere fan needs to show his pride.
This tee is perfect for those who want a powerful slogan on a simple shirt.
Looking for something comfortable to wear to bed? This tee will suit all of your needs.
Horse lovers and John Deere lovers alike will appreciate this tee, which has a beautiful depiction of the animal.
Tractor enthusiasts will want to have this John Deere t-shirt in their collection.
This tee has a catchy phrase and a unique V-neck design for comfort.
Passionate about the great outdoors? This John Deere t-shirt includes an illustration of an elegant deer on the front.
For those who want a little more sparkle in their lives, this shirt is a must-have.
This John Deere t-shirt is the perfect retirement gift for the agriculturist in your life.
Women who appreciate the camo pattern (or the color pink!) will love this John Deere t-shirt.
This tee's fitted design makes it extremely comfortable casualwear.
Women who want to stand out will love this shirt, which comes in a vibrant green hue.
Whether you need to expand your wardrobe or find the ideal gift for a John Deere fan, there is a John Deere t-shirt out there for you.
If you enjoyed this post or want to read others, feel free to connect with us on Facebook, Twitter or Google+!
You might also like: