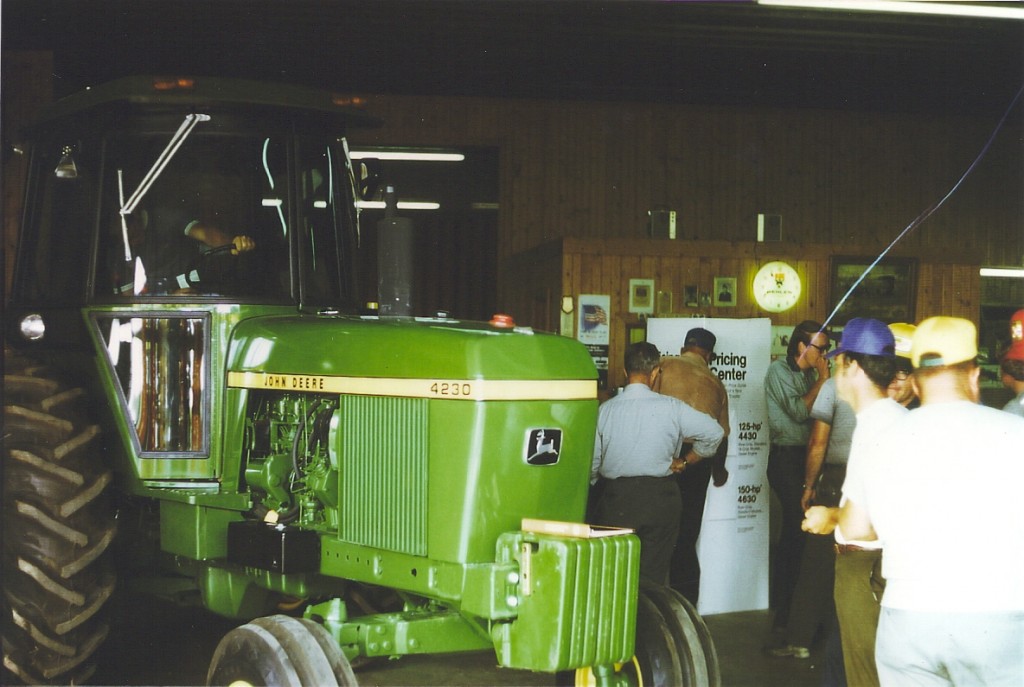 New JD 4230 tractor unveiled at Colgan Co. John Deere in Wyoming, IL on Saturday, August 19, 1972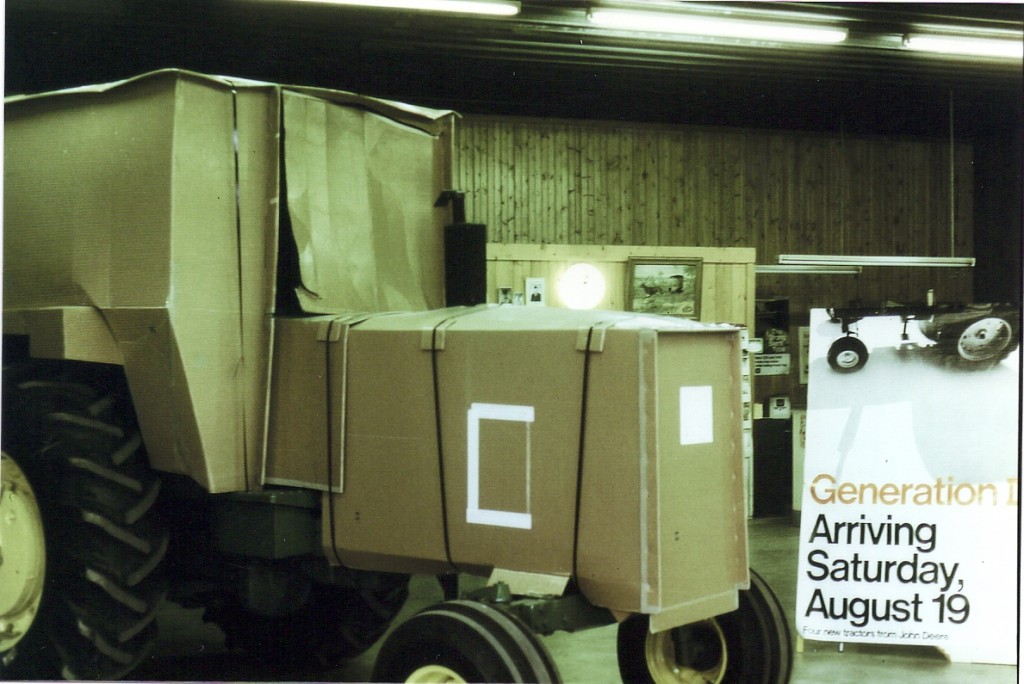 August 1972: new JD 4230 tractor about to be unveiled at Colgan Co., a Deere dealership in Wyoming, IL
What were you doing back in mid August 1972?
I was only six years old and doubt I was paying much attention to the Nixon vs. McGovern presidential race that summer. More probably I was out in the driveway dribbing a ball pretending I was Walt Frazier or Earl Monroe. That's just a guess on my part. My memory isn't quite that good. But I can tell you without a doubt, what was going on in front showrooms of John Deere dealerships around the country.
The unveiling of the "new" John Deere 4230 tractors was taking place, specifically on Saturday, August 19, 1972.
How do I know this? Because we have visual proof. Check out the photo above. That pic and pics below were shared with me by Tim Colgan a salesmen with KSR Equipment, LLC, a Deere dealership in Lacon, IL. I bumped into Tim at a big machinery auction June 9th in Davenport, IA. We got to visiting about all that's changed in the equipment biz over the years and Tim mentioned having photos at home of the 1st JD 4230 tractor delivered to his father Joe Colgan's Deere dealership, Colgan Co. John Deere, back in 1972.
Tim, you just gotta email me those pics.
Tim was kind enough to comply. What a hoot. Check out the JD 4230 in the picture above. All boxed up and waiting to be revealed to folks at the Colgan Co. John Deere store in Wyoming, IL back on August 19, 1972. Pretty high tech unveiling, wouldn't you say? Things were simpler 38 years ago. Here's another pic of that JD 4230 unveiling at Colgan Co. John Deere in Wyoming, IL: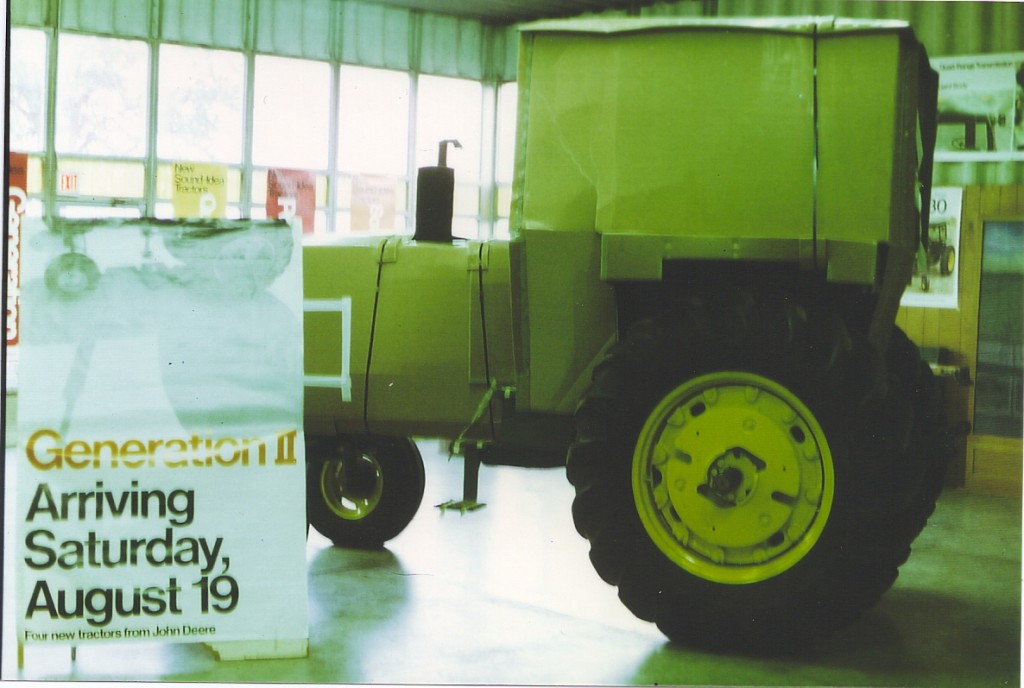 Tim said every Deere dealer had an open house that day to remove the cardboard for a look at the first "round cab" tractor. Colgan Co. John Deere was in the family from 1947 through 1987. Tim father's Joe Colgan is now 96 years old and enjoys talking about the "good old days" when equipment came in on railroad cars. Old Joe still has a book of sales with owner and serial numbers of from the late 1930's when approximately 90 John Deere A, B and G tractors were being sold each year. Farmers were trading in horses to buy their new A's and B's.
Here's a picture of Joe Colgan back from the early 1970's on his John Deere 1010 tractor working his JD 45 combine with son Marty. That's a massive 10-foot platform on that #45 combine.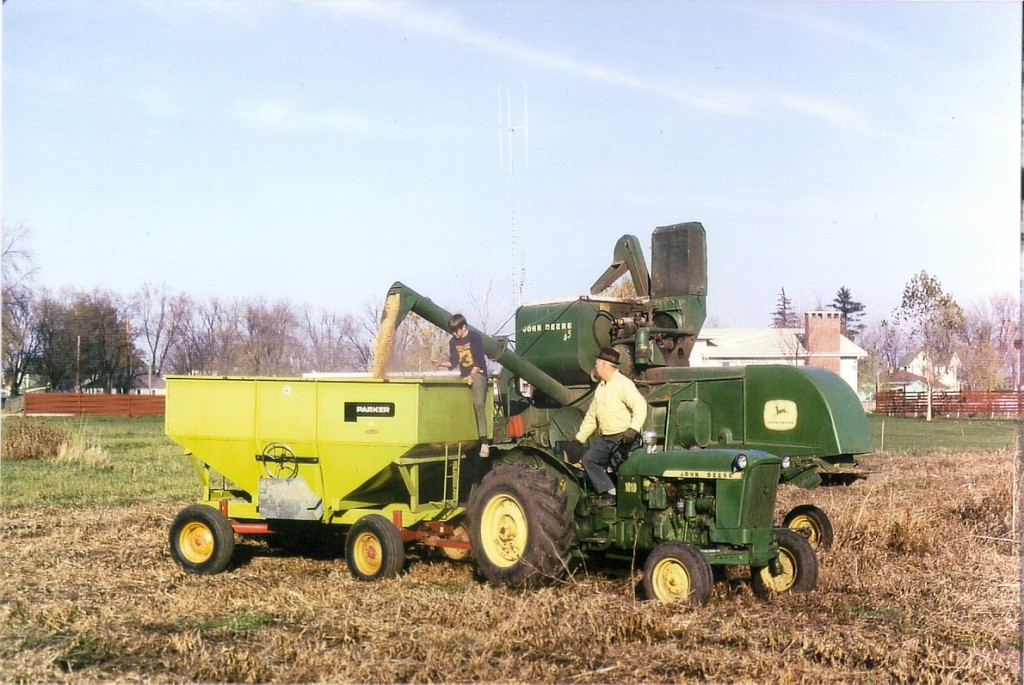 Joe Colgan, Deere dealer from Wyoming, IL, working his JD 1010 tractor and JD 45 combine with son Marty back in the early 1970's
Thanks again Tim for sharing these cool pics. Kind of fun to hop in the time machine every once in a while to see and feel what the past was like. August 1972? A different era indeed.
Related Information
About Machinery Pete: Greg "Machinery Pete" Peterson has been working in the agricultural industry for 21 years and details agricultural equipment prices and trends at his website, Machinerypete.com. Greg also writes columns for Successful Farming magazine, Implement & Tractor magazine, Agriculture.com web site and also appears on the Machinery Show on RFD-TV.
You might also like: