Fields that require application attention are not limited to large, square shapes. Often times, producers find themselves out in smaller, odd-shaped fields with crops that are starving for application. Primarily with this thought in mind and adhering to customer feedback, John Deere recently announced the R4023 Sprayer along with a number of other agriculture, turf and farm products.

Let's take a closer look at some of the key features that make the R4023 a welcomed addition to Deere's 4 Series Sprayer family.
Tank Capacity
While the 600-gallon (2300L) tank capacity is less than what's found on the other 4 Series models, its smaller size is more convenient for the smaller fields that call for more compact equipment. However, the 600 gallons still allow for a full day of work out on the field.
Boom
The R4023's 80-ft. boom width is two-thirds the size of the other 4 Series models, with the ability to fold up to a 60-ft. width for fields that provide a smaller window. The 3D design of the boom provides the needed strength to uphold fore-aft loads generated by a number of starts, stops and turns. It also supports the strength needed during folding and unfolding operations.
Transport
This more compact sprayer can be easily hauled from one destination to another on a trailer. Additionally, after the application process has been finished for the day, it can be easily kept inside smaller storage structures.
Integrated Technology
Balancing the right sprayer adjustments all day can be a challenge. The sprayer-specific CommandARM is tied directly to JDLink Connect and other sprayer features like SprayStar, John Deere Section Control, BoomTrac Pro and Boom Return to Height.
Soft Shock Option
For those that operate in tougher field conditions (no-till or strip-tilled), the R4023 is built to absorb the forces that are commonly generated. This option allows operators to spray accurately up to 20 mph.
Auto Leveling
This standard feature allows the sprayer to maintain an optimal inflation pressure in the air springs so it can ensure control regardless of the field conditions.
Axle Options
With wide or narrow options, operators can choose the tread spacing that best fits their operation and crops. The options are also made available to reduce compaction.
Comfort
The various features inside the cab of the R4023 will keep the operator comfortable all day. The leather, heated, ventilated seat offers nine different adjustment options and premium back support. Sound suppression enhancements have been made to reduce sounds produced by the equipment. If these sound-proofing enhancements aren't enough, operators can turn on the stereo system that includes 4" x 6" speakers and a subwoofer or connect to BlueTooth to make a call on the go. The GreenStar 3 2630 Display provides a crystal clear view of the high precision features. Other cab elements include a 12-volt power port, electronic right side adjustment mirror, a front pull-down sunshade and three cup holders.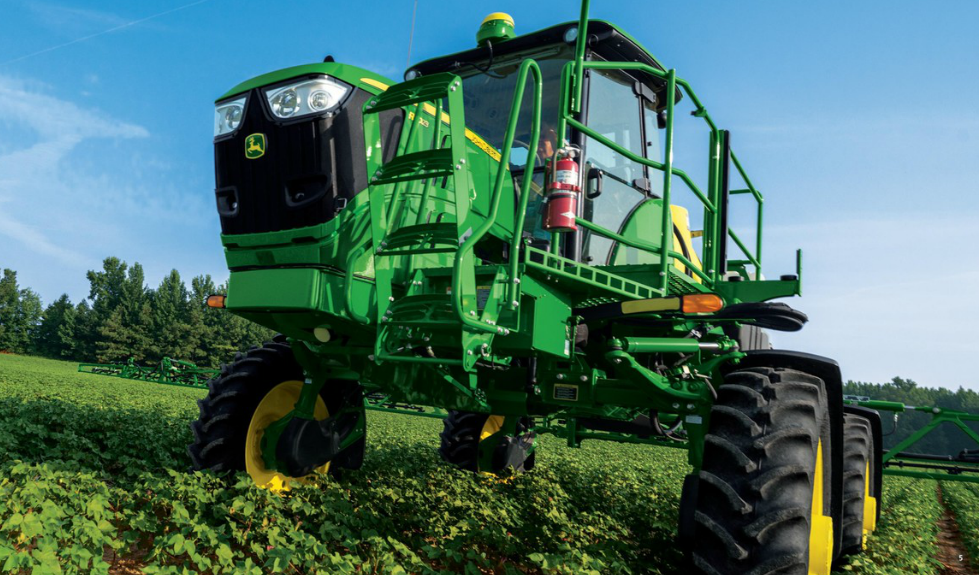 The John Deere R4023 provides a nice alternate option to the others in the 4 Series. Hopefully this post highlighted some of the key features that make it a valuable sprayer for smaller fields. If you enjoyed this post or want to read others, feel free to connect with us on Facebook, Twitter or Google+!
You might also like: