Whenever harvesting season arrives, you'll want to make sure that you have the right equipment to get the job done quickly and efficiently. Luckily, John Deere has a wide variety of harvesting machinery to make your work a little easier. The John Deere 630F has the capacity and strength you need to look forward to the harvest.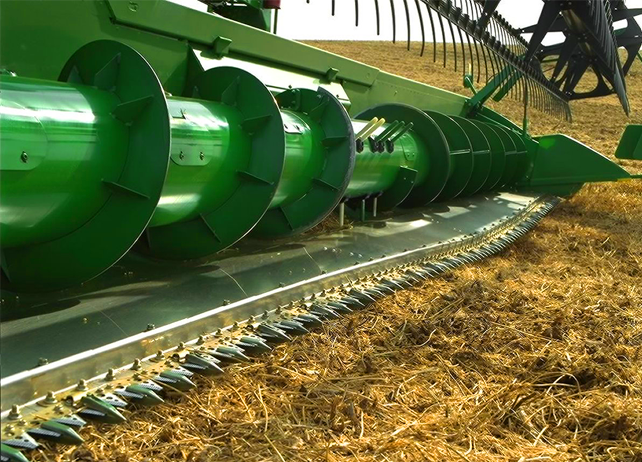 Let's take a look at some of its highlights:
HydraFlex Float System
The HydraFlex float system of the John Deere 630F is designed to ensure the cutterbar maintains a consistent cut height on all ground conditions. It is hydraulically controlled, and the float range does not decrease while the operator increases pressure on soft terrain.
Increased Drive Capacity
The epicyclic knife of the John Deere 630F is heavy duty, and it produces little vibration while it's in use. The 3.5-inch knife stroke makes cutting extremely efficient, and knife speeds can reach up to 490 rpm.
HydraFlex Cutterbar
These cutterbars have low-profile, flat feed plates composed of a durable stainless steel designed to stand the test of time. Their flexing capability makes them ideal to use on the most uneven terrain. Additionally, the cutterbar can be hydraulically locked to harvest small grains.
Perma-Glide™ Divider Point
The Perma-Glide Divider Point of the John Deere 630F is composed of a solid polyethylene material that will not rust over time. It can be easily adjust with a 24-mm wrench, and its front portion can be removed to create a shorter-length crop divider.
Stubble Lights
Stubble lights that are mounted to the platform of the John Deere 630F allow operators to see the height of the cut while harvesting at night. This provides more opportunity to get the job done, even after the sun goes down.
Pickup Reel
The John Deere 630F features a low-profile pickup reel that allows it to gently enter crops, reducing shatter loss throughout the harvesting process. It features durable nylon pickup fingers and steel bats to reduce crop wrapping and snagging.
Third Floor Stripper Attachment Option
Operators have the option to use a third floor stripper attachment on their John Deere 630F, which can improve material handling. Specifically, the stripper may make it easier to harvest crops such as double-crop soybeans after wheat or in high-residue no-till soybeans after corn.
Centered Auger Fingers
The four auger fingers of the John Deere 630F are centered around the auger itself, which improves crop sweep. The fingers come into contact with the crop four times per revolution.
If you need a machine to help you prepare for the upcoming harvesting season, see what John Deere has in store by contacting your local John Deere dealer.
If you enjoyed this post or want to read others, feel free to connect with us on Facebook, Twitter or Google+!
You might also like: