New and exclusive features like the Floating Crop Divider and Contour Basecutter Height Control technology have been incorporated in 2015 3520 Sugarcane Harvesters to reduce soil content and cane loss. To leverage these features on the field, it's necessary for operators to understand how to set them up and adjust them accordingly.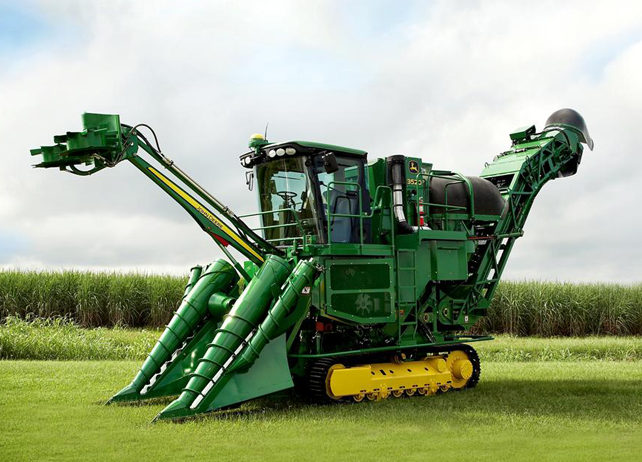 For this reason, we've put together a video gallery explaining the set up process for key features in Deere's 3520 Sugarcane Harvesters. Before you know it, you'll be reaping the benefits of lower soil content, reduced cane loss, and minimum soil disturbance. Enjoy!
This video goes over the Contour Basecutter Height Control system, known as the CBHC. Contour Basecutter Height Control settings allow operators to change, view and capture target height, increase or decrease basecutter position, display set point and more. Watch this video and learn more about the process of setting up your system and how to adjust key features.
This video explains how to setup and adjust the Return to Cut feature on the 3520 Sugarcane Harvester. When you are entering the field, this feature will bring you down to the basecutter height that you have set and then allow the operator to take control from that point. Enjoy this video and learn how to enable the feature and leverage it during your operations.
What about the End of Row features on the 3520? The feature allows operators to access end of row settings for Floating Row Dividers and Contour Basecutter Height Control. Watch this video to learn more about the End of Row set up and adjustment process.
If you're looking for more information about how to configure, activate and adjust the Floating Crop Divider System on the John Deere 3520 Sugarcane Harvester, we highly recommend checking out this video. The Floating Crop Divider System is an optional feature and may not be installed on all sugarcane harvesters, but it sure is useful.
We hope you enjoyed this video gallery and have a better understanding of how to set up your machine's features. If you enjoyed this post or want to read others, feel free to connect with us on Facebook, Twitter or Google+!
You might also like: