If you're on the hunt for a sugar cane harvester that will help you reduce cane loss while providing smooth, uniform feed, Deere has the equipment you need. The John Deere CH570 Sugar Cane Harvester is designed with top-of-the-line technology and features specifically designed to help you tackle all of your sugar cane challenges. With everything from Deere's harvester activity monitor to a hydrostatic base cutter, the CH570 can revolutionize how your average work day.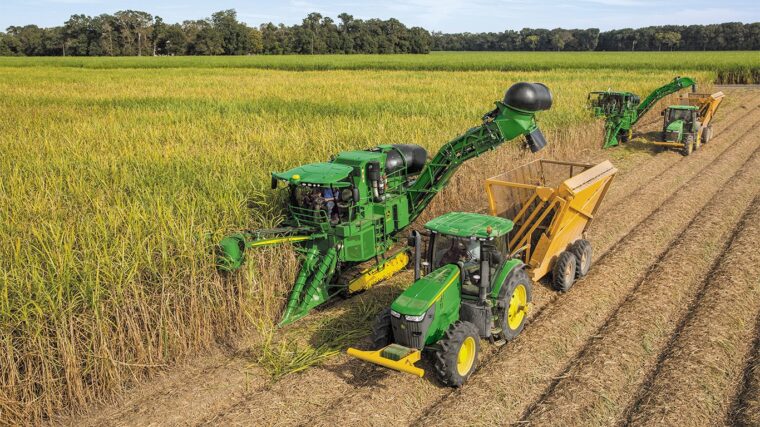 What is a Harvest Monitor?
Harvest Monitor from John Deere is designed to gather and analyze harvest information for agricultural producers. With this data, sugarcane producers can make more informed decisions to reduce overall harvesting costs while improving their routine practices out in the field. Harvest Monitor also ensures that producers are getting smooth, uniform feed for high-quality sugar cane. Damage is ultimately reduced during harvesting while boosting productivity.
How Does the John Deere CH570 Sugar Cane Harvester Work?
The John Deere CH570 Sugar Cane Harvester has several features that are specifically designed to boost efficiency for agricultural producers. With an efficient front end, operators get uniform feed every time, which reduces cane losses and helps maintain soil content. The John Deere-exclusive floating crop divider and contour base cutter height-control technology further limits losses while giving operators more control in the cab.
What Are the Key Features of the John Deere CH570?
There are several features of the John Deere CH570 that can make daily work easier for sugar cane harvesters. Let's take a look at some of the highlights, as well as how they can potentially improve crop yield while reducing damage out in the field.
Harvest Monitor™ with SmartClean™
Harvest Monitor, an industry-exclusive technology from Deere, is designed to collect and analyze harvest information to help operators make more insightful decisions. The goal is to improve overall farming practices while reducing the overall bottom line. SmartClean allows operators to benefit from automatic control of the primary extractor fan speed. This provides a profitable balance between cane cleanliness and reduced loss.
Large, Premium Cab
The cab of the John Deere CH570 has 30% more space and all of the comfort operators need to get through the work day. Reduced noise levels, in addition to improved air conditioning and overhead vents, make for a more comfortable ride. The cab itself can be accessed from the right or left, and it comes standard with windshield and side glass wipers.
Hydrostatic Base Cutter and Chopper
The hydrostatic base cutter and chopper of the John Deere CH570 are both on one high-pressure hydrostatic circuit, which is driven by a piston pump to maximize efficiency. The base cutter's center-driven design only has four gears, which reduces wear and tear by better balancing the load. It comes with large, 24-inch disks that help the harvester move easily through muddy conditions.
John Deere-Exclusive Floating Crop Divider
The floating crop divider technology of the John Deere CH570 allows the machine to follow the profile of the ground without plowing. This allows operators to reap the benefits of lower soil content, reduced cane loss, and minimal soil disturbance. The precision of the contour base cutter height control is amplified with a pressure signal to the existing position input. This ensures that operators are always cutting their cane at the desired height, resulting in higher yield and cleaner cane.
Efficient Cleaning System
The cleaning system of the CH570 includes a primary extractor fan that is the largest in the industry. It has four blades measuring five feet in diameter, and the fan itself cleans at lower speeds to reduce horsepower consumption and cane loss. The fan speed can also be adjusted directly from the cab to adapt to varying cane conditions.
How to Use the John Deere CH570 Cane Harvester for Your Farm
There are several features that make the John Deere CH570 Cane Harvester a worthwhile piece of equipment for every sugar cane producer. Ranging from the Harvest Monitor with SmartClean to the comfortable cab, this machine has everything an operator needs to revolutionize their work day while boosting productivity and sustaining their overall bottom line.
Ready to improve harvesting yield with the John Deere Harvest Monitor technology? Contact your local John Deere dealer today to explore what Sugar Cane Harvesters are near you.
If you enjoyed this post or want to read others, feel free to connect with us on Facebook, Pinterest, Twitter, or Instagram!
You might also like: