Farmers everywhere know that in order to maximize yields, they must take specific steps before and during the planting season. While it typically depends on weather conditions, it is best if larger crops such as corn or soybeans are planted between mid-April and mid-May. Each farmer is different in terms of how they plant, with each practicing a range of techniques and employing various types of agricultural equipment to get their land where they need it to be for the current season and for seasons to come.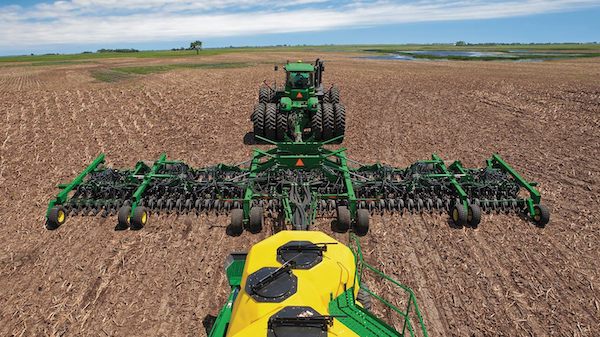 How To Prepare for Planting Season
In order to maximize yields, farmers will have to take the necessary steps before the planting season begins. Considering specific planting measures will be important to growing crops properly, as well as being as efficient as possible. Let's take a look at some of the checklist items that will help your soil be its best this season.
Prepare the Land for Planting
Farm owners can also consider tillage or chemical "burn down" before planting crops to help kill weeds in the seedbed. If this is not done, the weeds could crowd out the crop and steal necessary moisture and nutrients. Taking precautions to effectively prepare fields helps reduce stress, while also helping to kick off the planting season the right way.
Farmers typically utilize one of three different types of tilling when preparing the soil. Conventional tillage uses moldboard plows, followed by multiple secondary tillages, and then later relies upon mechanical cultivation once the crop is up.
Common farm preparation practices include reduced tillage. This is accomplished using a chisel plow, and conservation tillage, allowing for more than 30% of residue coverage to remain on top of the soil. This method helps limit the negative effects that tilling can have on land.
The Importance of Soil Testing
According to the University of Nebraska-Lincoln's Institute of Agriculture and Natural Resources, taking soil samples in spring is essential to determine the concentration of sulfur, potassium, phosphorous, micronutrient, and lyme. By testing soil early enough in the process, producers can take the appropriate action and make adjustments as needed. If proper adjustments are made, you will have perfect soil conditions for growing all kinds of crops as it helps to kill weeds within the seedbed that could negatively influence planting operations. 
Taking extra steps such as this will allow producers to engage in the optimization of crop production. When testing soil, producers should also make sure to consider moisture lines. This helps to determine planting depth, which can impact growth and seed-to-soil contact.
Preparing Equipment
It's important to prepare your tractor before you head to the field. Ideally, you do not want to have to worry about how compaction may negatively impact your yields as you prep your soil for spring.
Have the right ballast:

This may be a lighter ballast than what you had during the fall season.

Adjust tire pressure:

You will want to ensure that you have tire pressures as low as you possibly can according to tire recommendations. 10 PSI or less is ideal.

Choose higher floatation wheels:

This reduces the impact of your tracks during your tillage operation.

Reduce PSI on a track machine:

This can go a long way when it comes to reducing the impact of compaction and depth.

Upgrading to an IF tire:

Making this change can reduce the impact of compaction even more.

Utilizing VF tires:

Using these tires can help you achieve a tire pressure below 10 PSI.
Taking soil samples in spring is essential to determine the concentration of sulfur, potassium, phosphorous, micronutrient, and lyme in your soil.
Agricultural Equipment for Planting
Before the planting season begins, farmers should plan their next moves carefully so they can ensure they are getting the most out of their field. The same goes for making sure they have the proper equipment going into planting season. Let's take a look at some agricultural equipment that can be beneficial during this time.
Tillage Equipment
Tillage equipment helps producers prepare for the growing season as efficiently as possible. This could include anything from disks to plows, to field cultivators, variable-intensity tillage tools, and more. Additionally, producers can opt for TruSet™ Tillage technology, designed to help increase productivity in short tillage windows by making on-the-go depth and down-pressure adjustments from the cab – in only six seconds.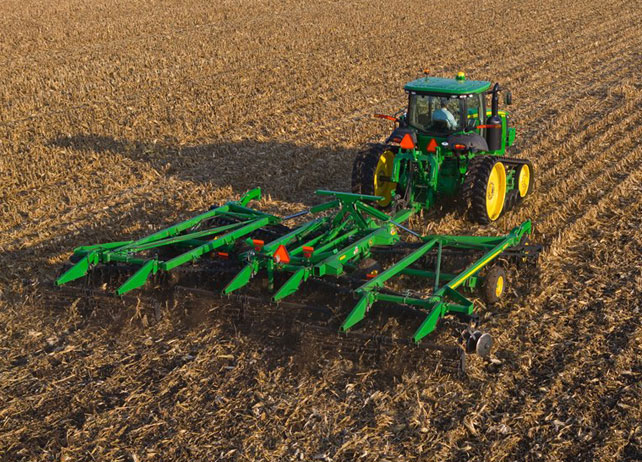 Drawn Planters
These planters are designed to cover more acres with flexibility and productivity, even in no-till situations. 
A great example of this kind of machinery is the John Deere 1795. This specific vehicle can not only improve crop yield but also improve overall efficiency during the planting season. Let's take a look at some of the most prominent features of this vehicle: 
ExactEmerge Row Units:

Each cartridge of these units comes with a sensor that helps to deliver more seeds per second. This means more productivity and efficiency during the workday.
SeedStar 2 Monitoring System:

The SeedStar 2 Monitoring System provides everything from seed population coverage maps to field documentation, which can be viewed all on one display. SeedStar 2 also uses an intuitive icon as well as a folder-based operator interface, which helps improve ease of use. It monitors items such as row failure, fertilizer pressure, row population, and vacuum level.
Pneumatic Closing Wheels:

The pneumatic closing wheels can be adjusted to 25 different positions using the GreenStar 3 2630 Display. It is set up with two sections – outer wings and the center frame. This provides up to 76% more consistent force applied at the closing wheel – by consistently applying force at the seed trench, operators can improve emergence. This even emergence can have an impact on potential yield, as well.
John Deere Connect Mobile: Connect Mobile is designed to document and display row-by-row performance of the John Deere 1795, putting all the data directly in one place. It has an easy-to-use interface that provides information on the actual population, target population, singulation, applied downforce, and several other factors as operators work.
Vacuum Automation:

Operators can set the desired vacuum level with ease on the John Deere 1795. They can also allow the monitor to do the rest of the work by adjusting the hydraulic flow. Previously, the vacuum level would need to be maintained by manually adjusting the hydraulic flow through each selective control valve.
RowCommand:

RowCommand™ helps operators by managing seed output, reducing yield drag, and improving harvest capabilities on ProShaft™ driven row-units. This gives users more control over input costs and overall productivity on the job.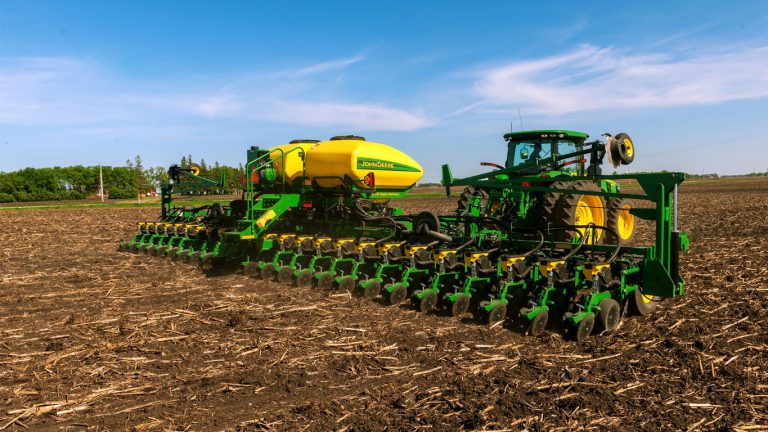 Mounted Planters
Producers who are looking for an affordable option may consider these pieces of agricultural equipment as they are great for planting in conventional and reduced-till conditions. There are also different sizes of mounted planters to choose from. If, for example, you have a larger farm, there are larger planters that can help you to make the most of the narrow window for planting.
DB & DR planters
For producers who manage large acres, DB planter options may be the right fit. DR planters, on the other hand, feature Stack-Fold technology, which aids in maximizing flexibility and overall productivity. Both of these machines can be good options for farmers, depending on the size of the land you are looking to plant on.
Air Drills
John Deere Air Drills, specifically the N500F and P500, are designed to handle tough no-till conditions with ease and provide consistent seeding rates from row to row. If you don't have the option to till, this will help you maximize crop yield on your plot significantly. 
https://youtu.be/p02vZxEC6fI
Box Drills
This box drill option features productive seedbox capacities, allowing for longer intervals between refills. This helps to decrease downtime when you are planting, so you can get it done faster than ever before.
Commodity / Air Carts
Calibration for these machines can be managed from the cab of the tractor, enabling producers to cover more ground each day. This is yet another machine that helps to reduce the amount of time spent in the actual field.
Maximizing Yields During Planting Season
Every grower has different needs when it comes to planting technology and parts. There are also a variety of different options when it comes to planters, parts, and attachments that can help you along the way. Even though there are many different options in terms of agricultural equipment, this still means it's necessary to consider a variety of techniques each and every planting season. Let's take a look at some of the different considerations for the planting season that revolve around agricultural methods and techniques.
Reduce Seed Costs
When planting, you should consider only putting seeds where you want them to grow. RowCommand is a helpful solution designed to meet this specific need. The system helps to manage seed outputs, reduce yield dragging, and improve harvesting capabilities on different vehicle units. This integrated technology helps in reducing seed waste from placing crops in unwanted areas and maximizes yields in the areas that you want. Similarly, by controlling input costs and improving productivity during planting, producers can experience better performance in the field.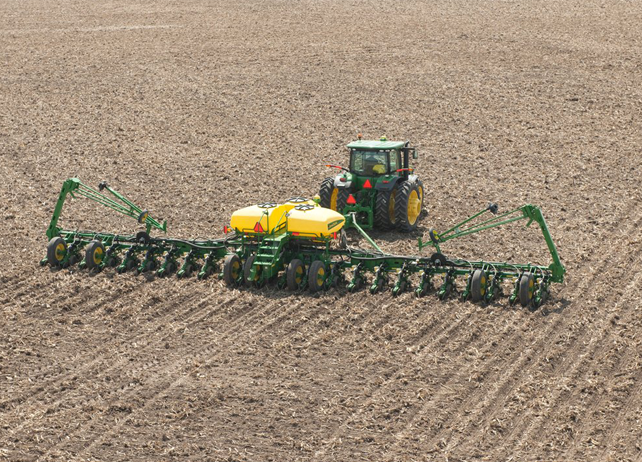 Maintain Consistent Depth Control
How can you protect your yields and maintain consistent seed depth? By taking on tough field conditions with confidence. 
Active pneumatic downforce options can make planting accuracy much easier. When using SeedStar, a hydraulic compressor helps to automate downforce control. By simply setting the target margin value on your row-unit, the active pneumatic downforce system on this machine will automatically maintain the control. 
This ultimately helps to achieve precise soil penetration, as well as consistent planting depth, without any sidewall soil compaction. This way, operators can focus on making manual downforce adjustments as conditions in the field change, while also paying attention to other planting factors like seed singulation and spacing to maximize crop yields.
Improve Singulation and Spacing
It is essential to retain steady seed spacing as you change speeds. For this reason, you need a technology that senses the change and adjusts seed meters to deliver a consistent plant population, like John Deere's Variable Rate Drive. 
You can also fight high seed costs with ProMax 40 Flat Disks to improve seed singulation, spacing, and depth control even when you're planting seeds that vary in size and shape. Pro-Shaft drive row units can also help you save time and money by delivering durable, easy-to-maintain meter engagement or disengagement.
Penetrate All Ground Conditions
To penetrate tough soil, you don't need to compromise your planter. Coulters can be installed on your planter to break through reduced tillage conditions without damaging your equipment. The coulter blades work to ensure accurate tillage in the designated seed zones. By pre-tilling areas, openers can provide a clear seed furrow, enabling easier closing of the seed furrow.
Similarly, you will want to make sure you keep crops healthy and improve yields this planting season. Tough residue can be easily managed with unit-mounted row cleaners. Increasing crop yields comes with increased residue left in the field, and row cleaners are essential for managing this.
Monitor and Document Performance
When it comes to the planting season, you will want to lessen seed costs and prevent overplanting. One product that can help with this is the John Deere Section Control, compatible with GreenStar and can be set up automatically. It helps to turn sections or row units on and off. With these systems working together, operators will have more time to focus on other planting factors. 
Monitoring daily operations and broader planting performance with SeedStar XP can help you significantly improve productivity. This monitoring system easily integrates with GreenStar 3, allowing you to use one display for all of your planting and precision farming operations.
When it comes to planting season, you will want to lessen seed costs and prevent overplanting.
Final Thoughts
John Deere has many different pieces of agricultural equipment that can be used during planting season. Those machines, in coordination with some of the techniques mentioned above, can help you maximize your crop yields when it comes time to harvest. 
If you have any questions about John Deere machines, contact your local John Deere dealer.
If you enjoyed this post or want to read others, feel free to connect with us on Facebook, Pinterest, or Twitter!
You might also like: