Compact construction equipment is often used by contractors, landscapers, farmers and a number of other customers to get things done. Those customers understand there is no time to waste, and selecting the right piece of equipment could result in a major boost in productivity.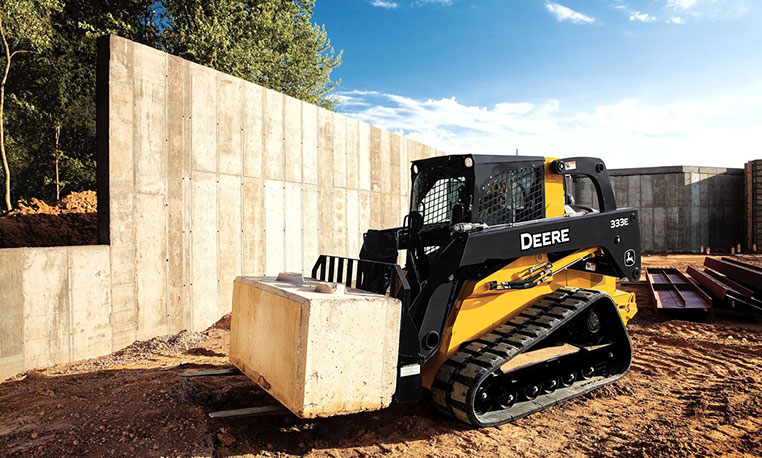 However, deciding on the right piece of equipment for the job at hand can be a challenge. For this reason, we've identified (and explained) some key factors to consider when purchasing a piece of John Deere compact construction equipment.
Primary Application
While compact construction equipment can be used for a variety of applications, determining a primary use will help narrow the search, as some models are a better fit for a given project than others. Before you go on to the next step in the buying process, be sure to determine if the equipment will primarily be used for agriculture, construction, landscape or rental.
Lift Path
Next, you'll want to select a lift path that best fits the projects you'll be taking on. Choosing between a vertical or radial lift path will help narrow the search even further. A piece of equipment with a vertical lift path is a great match if you will be using the machine to do things like load dump trucks, as the load will stay close to the machine throughout the lift. The radial option is best suited for jobs that require lifting at mid-range heights, as the arc delivers great range for tasks like dumping over walls or unloading pickup trucks.
Terrain
Depending on where you live or where the majority of your projects take place, the type of terrain may vary. Understanding what type of terrain the equipment will be primarily used on (hard surfaces, snow, sand, mud) will help identify the model that is best suited for you.
Lift Capacity
Some John Deere compact construction equipment users require a lift capacity of less than 2,000 lbs. for things like adding small attachments or transporting plants or round bales of hay. Others need a machine with more than 2,701 lbs. of capacity to support and transport heavier objects like jersey barriers, heavy pallets, and larger attachments. These lift capacity ranges will help you filter out models that might not be the best fit and identify a handful that could be a trusted partner.
Trailer Capacity
Transporting your equipment is a reality that will be faced if you're in the business of getting things done. This makes understanding your trailer capacity critically important when selecting a piece of compact equipment. Determining if your trailer can haul less than 7,000 lbs., between 7,001 and 9,000 lbs., or more than 9,001 lbs. ahead of time will help you identify the equipment models within your range.
Horsepower
Last, but certainly not least, think about how much horsepower you will need out of your equipment. Selecting a piece of equipment that doesn't have the appropriate horsepower range for your jobs will result in a loss of time and potentially impact your bottom line.
Next time you look to purchase a piece of compact construction equipment, think about the above factors. While they aren't the only elements to consider, we believe they will help get you well on your way to finding a perfect match.
If you enjoyed this post or want to read others, feel free to connect with us on Facebook, Twitter or Google+!
You might also like: