"Safety first" is one of the many things John Deere had in mind when creating the compact wheel loader, excavator and track Loader. Each of these pieces of equipment has been designed with the specific goal in mind to be safe and easy to transport with tie down locations that are easily assessable. In this post, you will learn how to quickly tie down equipment and how to swiftly move from job to job.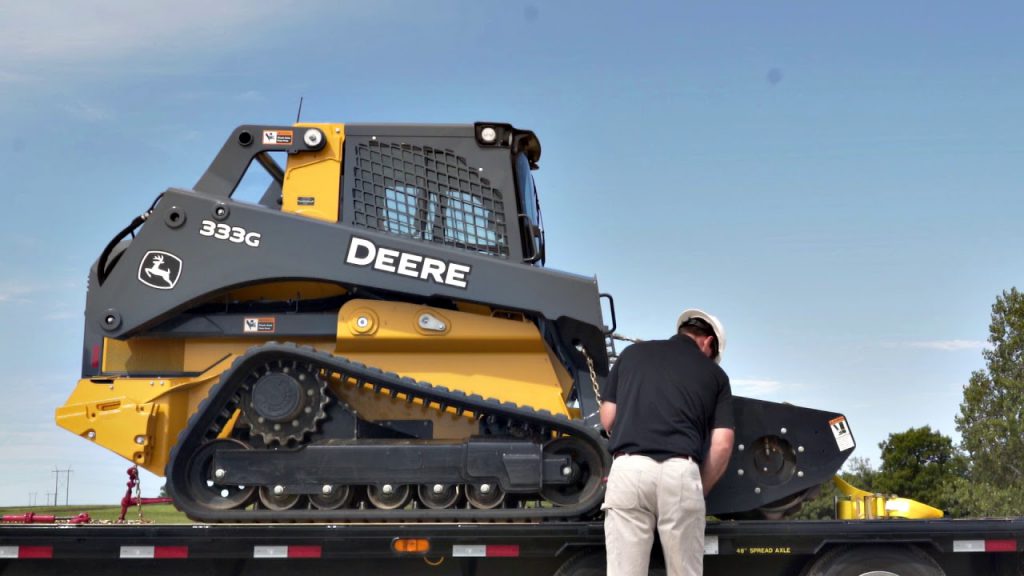 Let's start with the compact wheel loader. You must first place blocks against the wheels of the trailer – this keeps the trailer sturdy during the loading of equipment. After slowly driving the machine onto the trailer, the centerline of the machine should be over the centerline of the trailer.
After lowering the equipment down on the trailer, move forward, reverse the switch to neutral, push the parking brake on, install the articulating locking pin and turn the battery disconnect off. Once the equipment is safely on the trailer, it's time to secure the equipment to the trailer with chains at both the front and rear.
The trailer loading for the John Deere compact excavator once again begins with placing the chock blocks against the trailer wheels to keep it sturdy. As you begin to load the machinery onto the trailer, make sure to keep the boom and attachment low all while positioning the machine in the center of the trailer. Begin the next step by rotating the upper-structure so the front attachment is facing rearward.
Place the lower blade to rest on the trailer bed as you lower the boom until the bucket also rests on the trailer bed. Finally, stop the engine and secure the bucket, blade and track frame to the trailer with chains and to ensure a safe transport to the next job site.
Enjoy this extra video of the John Deere compact track loader following similar safety steps as the equipment above.
We hope these videos were helpful if you're looking to safely and efficiently load your machinery while reducing time. For more information about Deere construction equipment, contact your local John Deere dealer.
If you enjoyed this post or want to read others, feel free to connect with us on Facebook, Twitter or Google+!
You might also like: