John Deere construction training simulation is a cost-effective, safe and productive way to train new equipment operators in a risk-free, virtual environment. When you're training a new operator for working with construction equipment, a virtual jobsite certainly comes in handy.
Your new operators can have a chance to sit in a simulated seat and use replica machine controls without any risk involved.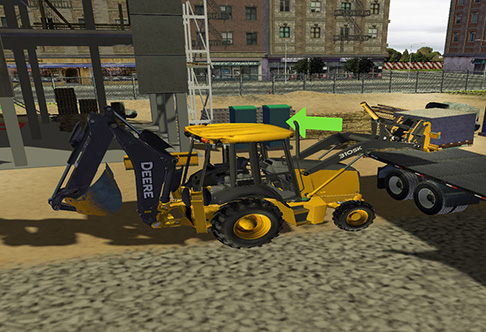 For this reason, we've put together a video gallery to go over some of the core training lessons incorporated in these simulations. Enjoy!
John Deere's Crawler Dozer Operator Training Simulator is the most cost-effective and productive way for operators to gain better control and training, without any risk. In this video, you'll learn about the eight key lessons incorporated in John Deere's Crawler Dozer Operator Training Simulator. These include:
Controls familiarization
Maneuvering on a jobsite
Blade control
Spreading base stone
Production dozing
Stump removal
Pioneering
Loading onto a trailer
This training simulator features real-life situations and controls to help train operations while eliminating fuel costs, damage to equipment, weather restrictions, etc.
The John Deere Backhoe Loader Simulator contains eight essential lessons for operators:
Controls familiarization
Working on a jobsite
Loading trucks
Unloading bricks with forks
Stringing pipe
Backhoe digging
Digging a trench
Craning
These eight highly detailed and realistic lessons teach proper operator technique, machine controls and safe operations in a virtual jobsite. The best part? After completed each lesson, those involved in the training will receive feedback to go over their performance. Both bucket and fork exercises are included.
The John Deere Wheel Loader Simulator also contains a variety of lessons to help operators gain control without risking other elements involved in the process like equipment and personnel. In this video, you'll learn about some lessons incorporated in John Deere's Wheel Loader Training Simulator:
Controls familiarization
Bucket loading
Driving on a jobsite
Moving a load with narrow forks
Unloading a flatbed with forms
Moving a wide load with forks
Featherbedding into a trench
Truck loading
Loading onto a trailer
John Deere's simulator training provides operators with the tools and experience they need to get more familiar with machine controls, gain confidence and eliminate any risk factors involved in the learning process. Again, this virtual training includes both bucket and fork exercises to help build the skills needed for successful operations.
We hope this post was helpful in explaining more about John Deere Simulations, and how they benefit construction operations and training.
If you enjoyed this post or want to read others, feel free to connect with us on Facebook, Twitter or Google+!
You might also like: