With spring officially set to arrive this weekend, it's time to start thinking about landscaping and farm-related chores. To get these chores done, you may be looking for attachments to add. Today, we're here to offer compact utility tractor owners and enthusiasts a list of John Deere 3032E and 3038E attachments that can be added to the machines to make quick work of any project that awaits.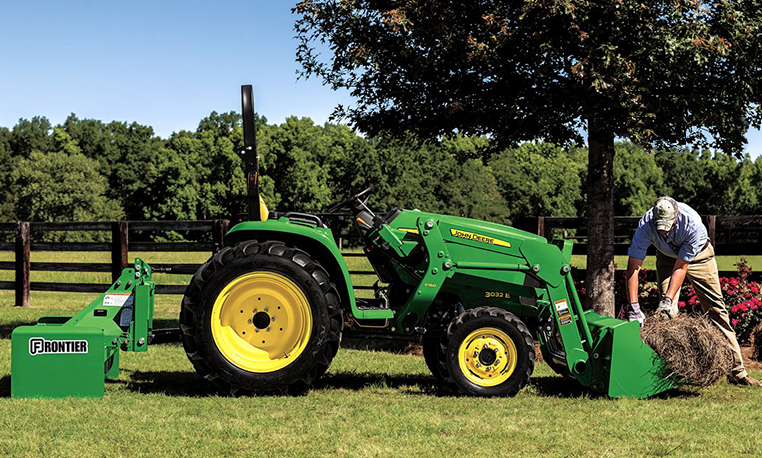 While these aren't the only attachments that can be added to these tractors, we hope this list gets you thinking about what you can add this year. Enjoy!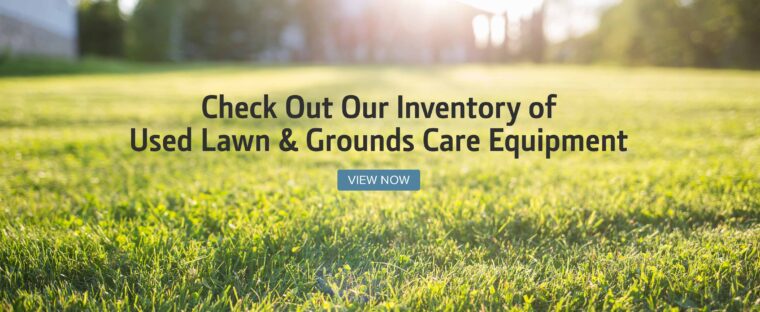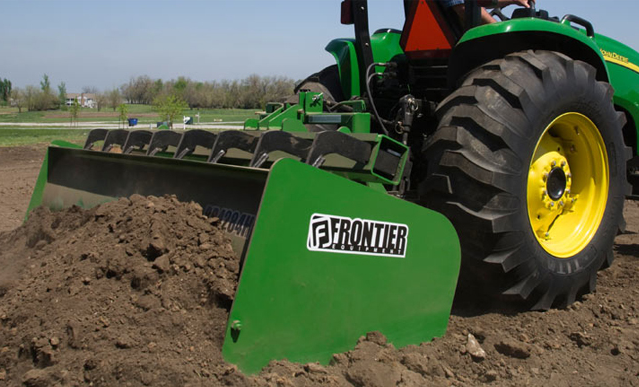 By hooking up a box blade to your 3032E and/or 3038E, you will be able to shape, level or grade terrain with relative ease. The blades allow you to choose from three scarifier depths to match ground conditions and a strong structure ensures heavy-duty projects can be conquered.
Spreaders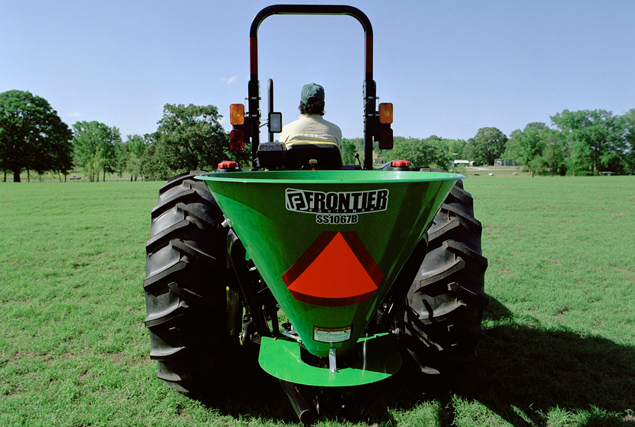 3032E and 3038E Compact Utility Tractors are compatible with a few different types of spreaders.
Broadcast Spreaders: Attach one of these spreaders to your tractor to widely and evenly spread seed or fertilizer.
Manure Spreaders: Do you use your 3032E or 3038E for livestock projects? Add one of these to your machine to spread manure regardless of the conditions.
Pendular Spreaders: Consider this option if you're looking to precisely spread material with varying weights, sizes and textures. Large hoppers allow you to stay spreading for a longer period of time.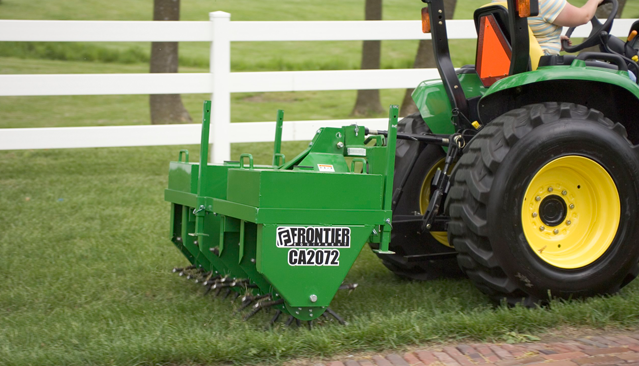 If you're a landscaper or homeowner that deals with big yards or properties, you should consider this attachment to revitalize the area. Six aerating spoons per hub seamlessly puncture heavy thatch and tough soils. Optional sand weight tanks are also available if you deal with highly-compacted soil.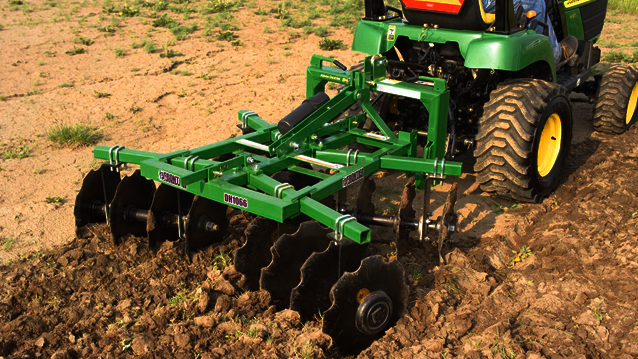 Match your 3032E or 3038E Tractor with a disk harrow and begin tillage work on large gardens or small fields. These attachments are also well-suited for leveling and preparing yards for new seed or sod. When you're done using your disk harrow, simply water it down as the gang bearings are sealed to keep out dirt and reduce the need for greasing.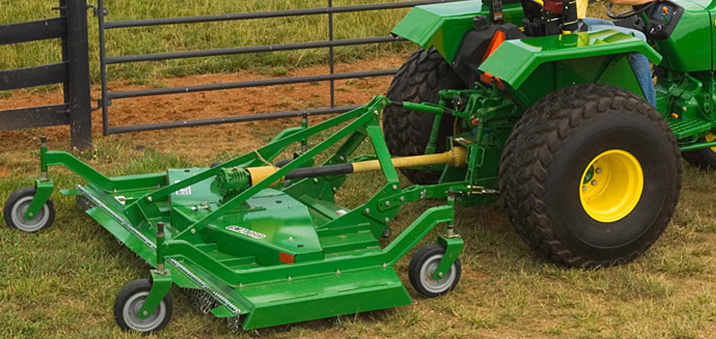 Frontier grooming mowers are often used for areas that need a wide cut, like large lawns or sports fields. Their durable design makes them tough and swivel-bearing tires allow for a precise cut.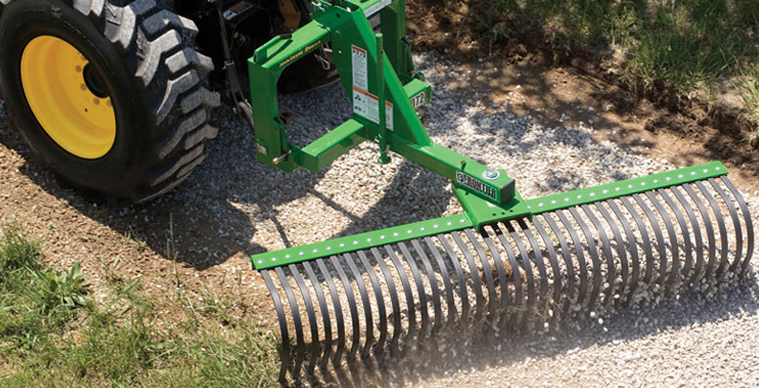 Without a doubt, landscaping will leave behind debris and brush that needs to be removed. Attach a landscape rake to your 3032E or 3038E to clean up or surface level. The adjustable tine beam can be set to eight different positions (5 forward, 3 reverse), allowing you to choose the profile that works best for the job.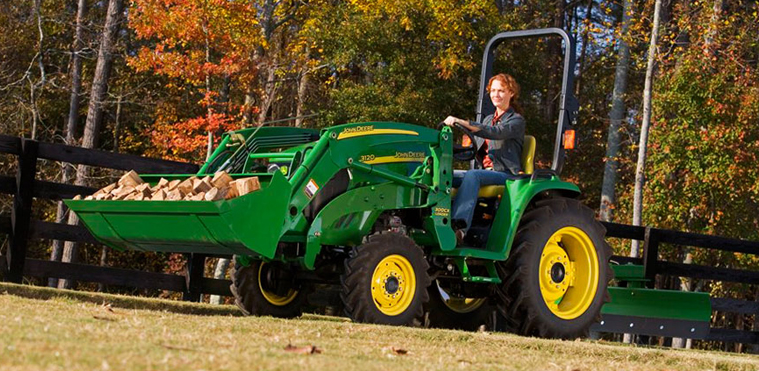 John Deere's loaders can easily be added to your tractor to help get to the bottom of any project. The quik-change attachment carrier allows fast, easy removal/mounting and the loader joystick makes it very easy to operate.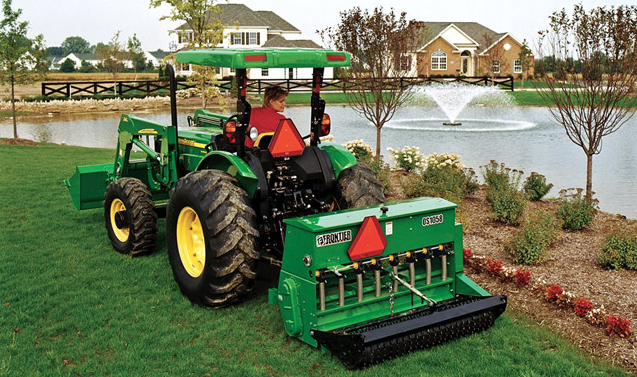 Attach an overseeder to your machine to aerate and add seed to the soil all in one step. If a lot of your work will be done in wet conditions or on clay, you may want to consider adding the optional scraper bar.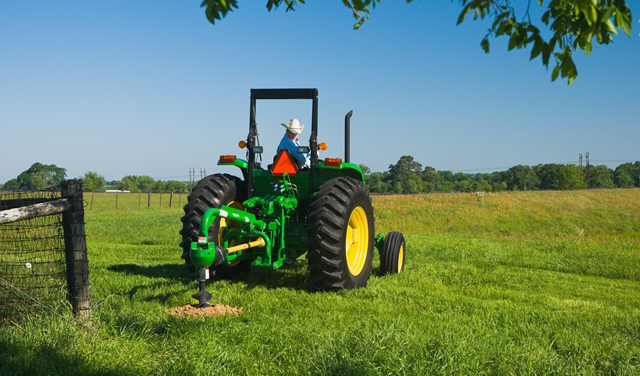 Whether you use your 3032E or 3038E for farming or landscaping, you'll likely come across a time when you need to dig a hole for a post. The ROTOMEC USA post hole digger offers augers that range from 6″ (for smaller posts) all the way up to 30″ for things like tree root balls. The rugged and dependable gearbox ensures a long life.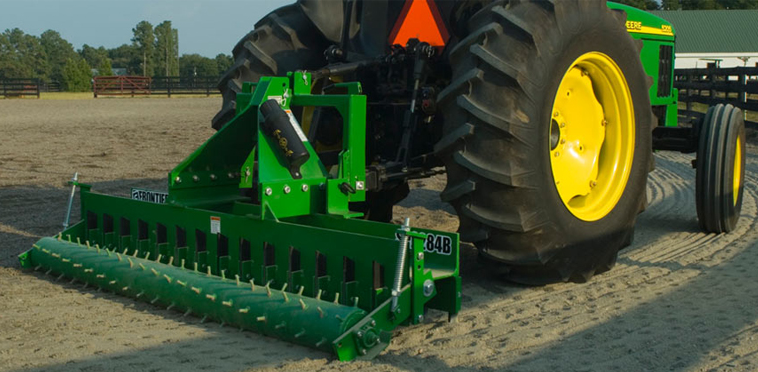 Spring typically means it's time to plant some new grass or lay down sod. Either way, adding a pulverizer to your tractor will make preparing the soil easy thanks to its 10 in. (25 cm) H-beam design that adds strength and operating weight.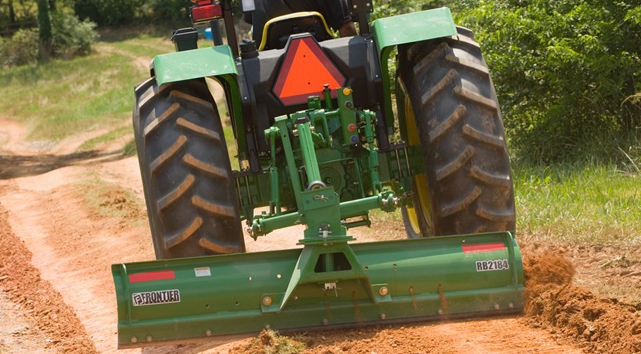 John Deere's rear blades make it possible to handle all gardening, landscaping and other maintenance chores with confidence and speed. Blade angle adjustments can be made to set the blade at multiple positions in both forward and reverse, depending on the task at hand.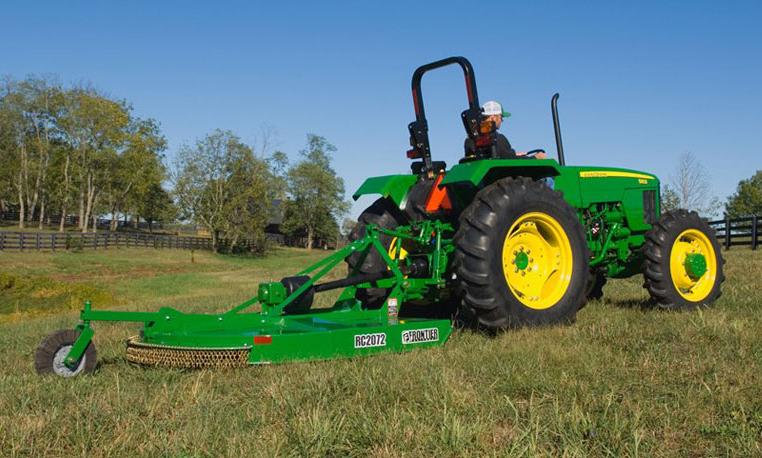 John Deere's rotary cutters can be added to 3032E and 3038E models for fast, efficient mowing, much in part thanks to their cutting width. The cutters go as low as 1.5 in. or as high as 9 in. depending on the length you're looking to leaving behind.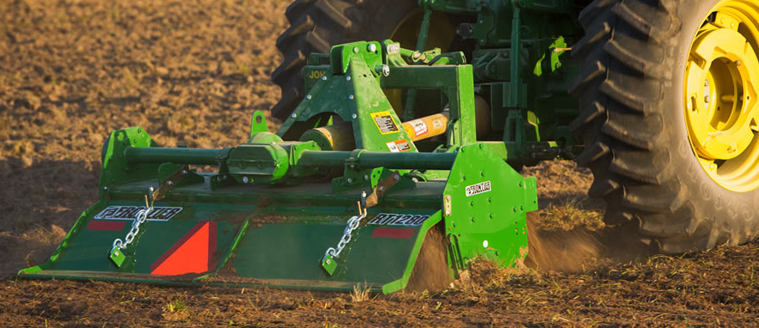 Till your garden or prepare a large-scale seedbed by adding a rotary tiller to your fleet. The rotor on these tillers is helical shaped, improving efficiency by reducing the horsepower needed to drive the unit.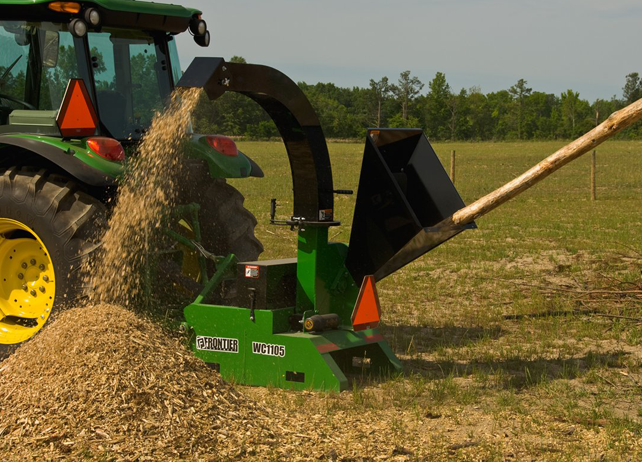 You may be feeling ambitious as the warmer weather comes around. If you're looking to clean up your land, consider adding a John Deere wood chipper to your tractor. Depending on the model, the rotor rpm ranges from 1380 to 1920.
If you enjoyed this post or want to read others, feel free to connect with us on Facebook, Twitter or Google+!
You might also like: