For those who expect a windrower to handle everything from changing terrain to dusty work conditions, the John Deere W150 is designed to deliver. This windrower has an engine that provides 150 horsepower and four-point independent suspension.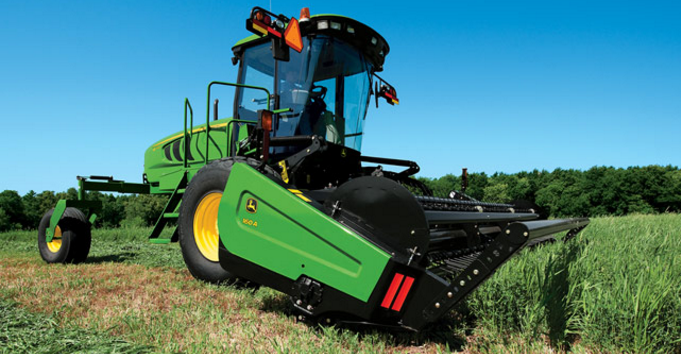 Let's take a look at how the John Deere W150 can improve your daily job.
Cummins® Engine
The John Deere W150 has a Tier 3-compliant Cummins 4.5-liter engine that is designed to meet the needs of various field and crop conditions. In combination with hydraulic drive pumps, the engine provides the machine with enough torque to match the needs of the auger and draper platforms. The W150 also has standard muffler and vertical exhaust to reduce noise during operation.
Fuel Tank
The fuel tank of the John Deere W150 has a 97 gallon capacity, meaning users can work for longer periods of time without needing a refill. The tank itself can also be easily refilled from the large approach landing.
Enhanced Visibility
The John Deere W150 has high frame clearance, which means that it's simple for operators to keep an eye on the field while using the machine. Over-hood visibility in the transport is also enabled by the height and forward positioning.
Easy Serviceability
Engine service access points and hydraulic service points are all easily accessible on the John Deere W150. Routine service checkpoints, including the fuel-water separator drain, coolant level, and engine air filter, can all be found on the right-hand side of the machine.
Storage Boxes
The John Deere W150 has a large tool box on both sides of the machine. This allows operators to bring other resources they may need with them out into the field.
Optimized Controls
Centralized controls in the cab of the John Deere W150 reduce operator fatigue. Overhead consoles are also designed to provide access to less frequently used controls during operation.
Various Tire Options
There is a wide variety of tires that can be used with the John Deere W150. Button tires, for instance, can be used to minimize turf damage on hay crops. Radial bar tires can provide an optimal ride quality and take on muddy conditions.
AutoTrac™ Guidance
The John Deere W150 is compatible with GreenStar™, meaning operators have the option of using AutoTrac guidance out in the field. This feature can increase productivity by allowing operators to take on more acres in a shorter amount of time.
Optional Reverser
Exclusive to the John Deere W150, the reverser gives operators the ability to slowly reverse the knife drive and hay conditioner to clear plugs.
If you enjoyed this post or want to read others, feel free to connect with us on Facebook, Twitter or Google+!
You might also like: