The John Deere 893 Corn Head was originally designed to deliver durability and dependability thanks to innovative new features and technology that offered some distinct advantages for producers. And, even though it has been a few years since these were new to the marketplace, they are still standing up to the test of time.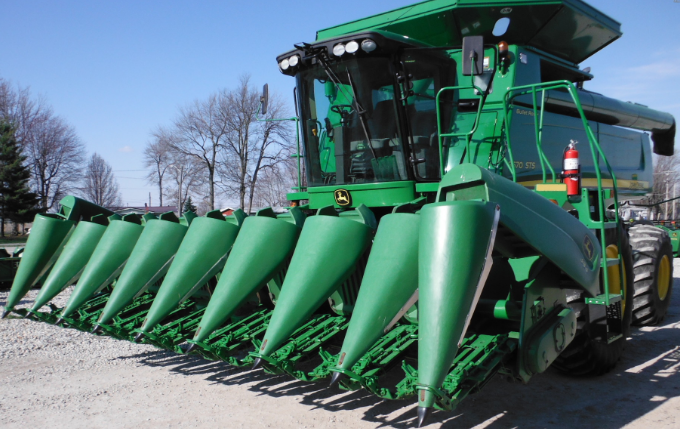 You may be wondering what features make these corn heads a timeless option for John Deere equipment owners. Well, let's take a closer look:
1. Perma-Glide™ Shields and Points
Perma-Glide is a tough and solid polyethylene material that can stand up to the bumps and bruises that come along with harvesting corn. The surface of points with this material will resist dents and rust and even have a desire to return to their original molded shape in the event of an accident. The shields and points made from this material are not painted, meaning the color is set all the way through and no metal will be exposed.
Additionally, all Perma-Glide shields and points are created as one-piece units, compared to metal units that have multiple weld points. Lastly, the slippery surface provides less sticking or bunching of leaves and husks in damp conditions, increasing productivity.
2. Header Height Sensing System
When operating the 893 Corn Head, users can leverage the header height sensing system to keep the header at a desired height with the turn of a dial in the cab. The operating range with this feature is 0 to about 18-in. Harvesting control with the 893 is elevated even further thanks to the Contour-Master ground-following system, which provides fast and accurate tilting action.
3. Telescoping Connecting Drive Shafts
The shafts on the 893 mount directly to the splined feederhouse backshaft. The coupler features an 8-degree index, allowing the operator to match drive shaft splines without rotating the platform or feederhouse (not available on sidehill platforms).
The latching system has a single-point configuration that is located on the head and combine. This allows for an easy hookup and can connect electrical circuits, hydraulic circuits and header retaining pins in one easy motion with the lever.
4. Knife Stalk Rolls
Operators that want to use the StalkMaster chopping option will have to have knife stalk rolls factory installed. This is recommended for customers that want to cut and size corn stalks at harvest to get a faster residue breakdown, earlier soul warmup, improved handling of residue, and have a desire to reduce passes.
Knife stalk rolls cut, crimp, and break stalks as they are pulled down and into the rolls. All blades are heat-treated for a long wear life.
5. StalkMaster™ Gear Case and Chopping Blades
The chopping gear case is the muscle behind the StalkMaster corn head. It mounts directly onto the corn head frame right next to the row unit gear case. The blades rotate at 2200 rpm and provide maximum stalk processing. Lastly, the blades can be reversed to double the average amount of time between replacements.
We hope this post gives you a better understanding of why the John Deere 893 Corn Head is still a great option for John Deere equipment owners looking to have a productive harvest season.
If you enjoyed this post or want to read others, feel free to connect with us on Facebook, Twitter or Google+!
You might also like: