With the introduction of the John Deere 1870 Air Hoe Drill, small grain farmers and seed producers are able to plant more acres in less time, and with more accuracy. This addition to the seeder lineup includes 40-foot and 56-foot models that incorporate a cutting-edge design to improve seed and fertilizer placement.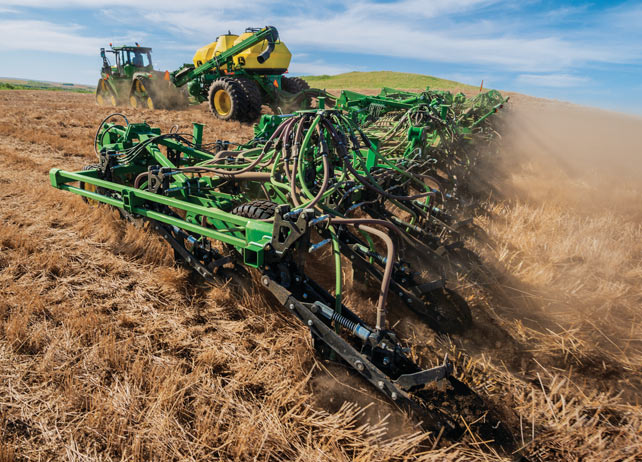 To better explain the benefits of this new piece of equipment, we put together a video gallery overview of the many John Deere seeding capabilities. Enjoy!
John Deere's new AirPower 2 now provides two fans – one for seed and one for fertilizer. Along with large 3-inch primaries, this enables more accurate delivery rates across the full width of the seeding tool, from opener to opener.
Customers have the option of stainless primaries to resist corrosion from high fertilizer rates. Plus, AirPower 2 allows customers to deliver high rates under field operating conditions with up to 40% more product delivery per primary compared to the single fan system.
In this video, you'll learn how John Deere's wider seeding width has also added more fan capacity.
When it comes to precise seeding placement, the John Deere 1870 shines. Independent and hydraulic controls ensure seed placement and fertilizer separation. Along with uniform depth control, the fertilizer tip and seed tube precisely place seed and fertilizer at the controlled depth and spacing. And, the fertilizer tip can band fertilizer 6 inches deep – deeper than any other in the industry.
Watch this video to learn how this John Deere machine helps improve seeding placement.
What are the benefits of full integration with John Deere? Here's the perfect example – the newly developed Relative Flow™ blockage system. Now customers can actually see the relative flow rate of both seed and fertilizer from inside the cab. An easy to reach display clearly visualizes relative product flow across the drill from opener to opener. Sensors on all primary towers and secondary hoses monitor the relative rate of product flow.
Tune into the video above to see how this exclusive technology give customers a better understanding of what happens from cart to opener to help spot potential blockage problems before it actually occurs.
Exclusive TruSet depth and pressure control lets customers adjust trip force and packing pressure conveniently from the tractor cab. This saves time and makes it much easier to adapt to changing field conditions. Controls on the GreenStar™ 2630 allow operators to predetermine a targeted seeding depth. Incremental changes to working depth can be made on the go, with no need to get out of the cab.
Watch this video to see how it works for yourself.
We hope you enjoyed this video gallery and are inspired to improve your seeding productivity with help from John Deere. If you enjoyed this post or want to read others, feel free to connect with us on Facebook, Twitter or Google+!
You might also like: