Producers who need an air hoe drill that can stand the test of time may want to consider the John Deere 1830. This air hoe drill comes with five different tire options, positive depth control features, and ground-engaging openers to take on a wide array of field conditions.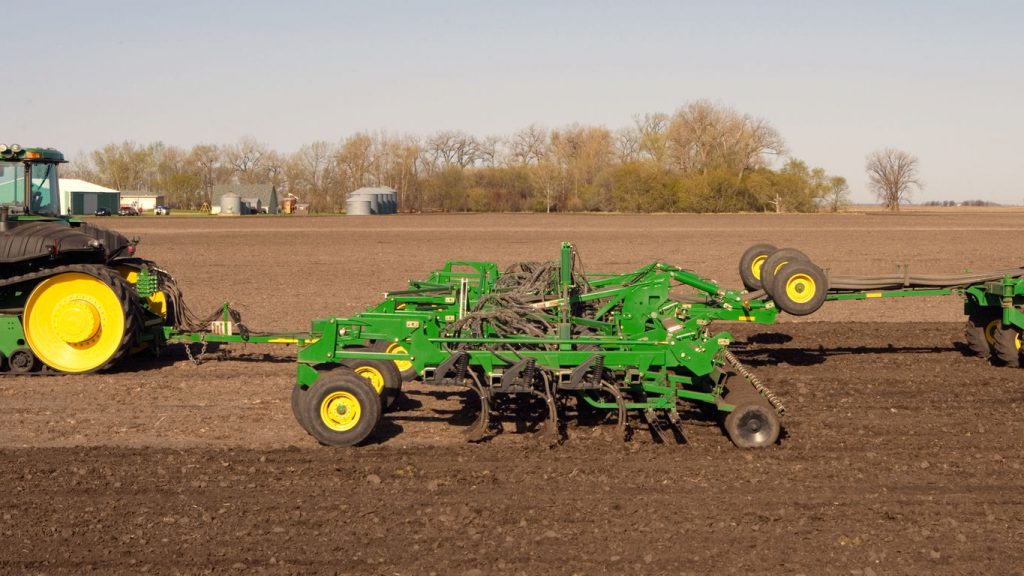 Let's take a look at some of the highlights of the John Deere 1830.
Knife Bodies
Operators have the option to use a knife body with a one-inch or four-inch spread point. The one-inch point can be utilized for low disturbance, while the four-inch point can be implemented for a wider spread pattern. Both knife bodies have a positive retention system with provisions for a hose clamp to hold the hose in place.
Hoses
The hoses of the John Deere 1830 are routed at the factory to ensure proper primary air hose positioning. The machine also has quick couplers at wing and mainframe section joints.
TouchSet™ Depth Control
With TouchSet depth control, operators can easily adjust the depth of the machine in response to changing field conditions. The raise height can also be preset to limit raise height for waterway crossings or take out wheel tracks on headlands.
Tire Options
There are five different tire options for the John Deere 1830. The base equipment comes with dual front caster wheels and dual rear transport wheels. The 12.5L-15 tire can be used to increase load-carrying capacity and improve puncture resistance. Operators also have the option of using the 33×15.5-16.5 tire or 31×13.5-15 tire for high floatation.
Hydraulic Lift Circuit
The John Deere 1830 has a simplified hydraulic system that ties all sections together for consistent depth from the mainframe to the wing. This setup also eliminates up to 67 percent of the hydraulic cylinders, which reduces the chance of hydraulic failure.
Hydraulic Hose Routing
The frame of the John Deere 1830 is manufactured with weldments to accommodate hose securement sites. Protective sleeves and velcro straps keep everything in place, reducing potential downtime.
Adjustable Transportation Height
Transportation height can be accounted for and adjusted as necessary when the John Deere 1830 is in use. Setting the pin in the appropriate hole stops the machine from lowering when openers are a safe distance above the pavement.
If you have any questions about the John Deere 1830 or its attachments, you can contact your local John Deere dealer.
If you enjoyed this post or want to read others, feel free to connect with us on Facebook, Pinterest, or Twitter!
You might also like: