If you're on the hunt for a mower with a balanced blend of technological features and durability, the John Deere LX178 could be right for you. This machine is designed to provide you with the comfort you're looking for as you take on landscaping jobs throughout the season. It also has the engine power to handle various terrains and a frame that was created to last.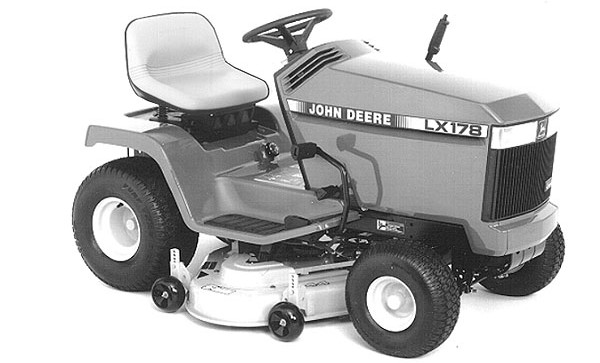 Let's take a look at some of the highlights of the John Deere LX178.
Strong, Powerful Engine
The John Deere LX178 has a strong, powerful engine with an overhead valve design for more horsepower per cubic inch of displacement. It also has an oil pump that provides full lubrication to ensure a plentiful supply of clean oil to all of the engine's moving parts. The engine itself provides up to 15 horsepower and operates with V-twin cylinders. It features liquid cooling for quieter operation and longer life.
Efficient Air Cleaner
The air cleaner of the John Deere LX178 uses a paper element filter that is surrounded by foam pre-cleaner. This provides dual protection against dirt, and it can be easily removed for cleaning or replacement when necessary. Its cyclone-type design automatically ejects large dirt particles, pushing them away from the inner workings of the John Deere LX178.
Reliable Electrical System
The electrical system of the John Deere LX178 includes a flywheel alternator, which provides the capacity to quickly recharge the battery for continued use. It's also regulated, which means that the battery can be kept at full charge without running the risk of overcharging. The ignition circuit module of the electrical system reduces the number of circuits from the wiring harness for improved reliability. Furthermore, its compact design reduces under-the-hood "clutter."
Smooth Operation
The John Deere LX178 has a hydrostatic transmission, which means that it's a smooth ride, every time. Two pedal foot controls allow for operators to easily select speed and direction without removing their hands from the steering wheel. The advanced design of the hydrostatic transaxle also allows users to select from multiple speeds on the go.
Operator Comfort
For the ultimate comfort, the John Deere LX178 has a medium height vinyl-covered seat that provides sufficient back support. It can be tilted forward as well for easy access to the fuel tank. The three-spoke wheel of the John Deere LX178 is made of a soft-grip material, and the color-coded throttle makes the machine simple to operate.  An electric PTO switch provides users with safe, fingertip control of the powered equipment, as well as peace of mind.
If you enjoyed this post or want to read others, feel free to connect with us on Facebook, Twitter or Google+!
You might also like: