Each John Deere department (all 54 of them) has a Continuous Improvement team that is focused on taking quality to the next level. With this goal in place, combine models just keep getting better with each and every year that goes by, and 2017 is no different.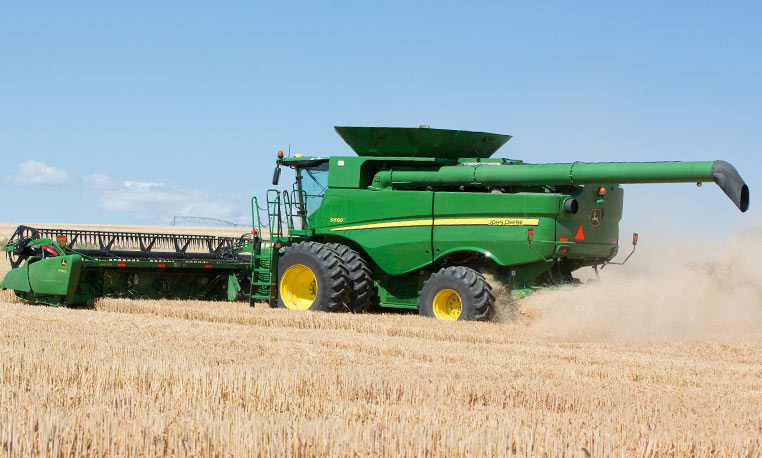 Take a journey with us to learn about new improvements made to the 2017 John Deere combines and see how they are built to run even better than they look. Enjoy these videos!
https://www.youtube.com/watch?v=hAN94dmCtbY
While the S-Series lineup will continue to include model sizes S650 through S690, this year's updates include upgraded operator comfort and technology to ensure that each hour in short harvesting windows maximizes productivity.
John Deere has added the option for combines to be ordered ready to accept cameras. This means that wiring harnesses are installed in the factory, making it easier to hook up to cameras. Ultimately, these cameras will increase the operator's' view, enabling them to more easily maneuver and make time-sensitive harvesting decisions.
To increase comfort, S-Series machines will also come equipped with footrests. This gives operators another location to rest their feet during long hours and reduce fatigue.
The Bluetooth feature has been upgraded with new microphones, higher sensitivity and noise cancellation to improve hands free communication. Additional LSW Tires were also added to provide better traction and overall harvesting performance.
John Deere has made several updates to the front-end equipment lineup. To expand their corn head offerings, the 608FC has been added to include an 8-row folding corn head into the mix. This header features the same row units that producers experience on all the John Deere corn heads with the added ability to fold to a width of just under 11-feet for easier transport.
The addition of the reel flip-over feature on the 600D Draper Platforms rounds out the 2017 updates. This is put in place to reduce crop wrapping in tough and wet conditions to ensure the highest level of harvesting performance.
Tune into the video above to hear all about the updates made to the 2017 John Deere S-Series Combines and front end equipment.
https://www.youtube.com/watch?v=rglT0M4HzTI
After hearing about the new features added 2017 S-Series Combines, I bet you're wondering how John Deere does it. Step inside the factory in East Moline, Illinois to find out.
From the minute you turn the key until the final cart is filled, you won't tolerate downtime. You want quality from start to finish, and John Deere gets that.
This is exactly why John Deere is constantly improving the quality process in the East Moline factory. Combining the best tools, the best processes and the best people right from the start. See it for yourself by watching the video above!
If you enjoyed this post or want to read others, feel free to connect with us on Facebook, or Twitter!
You might also like: