The John Deere X320 and X360 tractors are both ideal for mowing with the utmost control. However, there are slight differences between the models that may appeal to customers depending on their specific needs.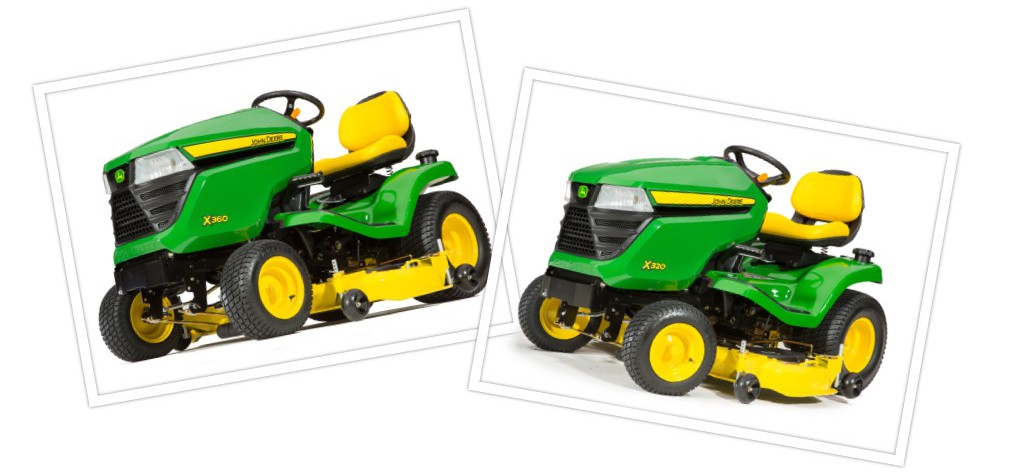 For this reason, we have a John Deere X320 vs. X360 comparison to help you make a more informed purchasing decision.
Engine Power and Performance
When it comes to the John Deere X320 vs. X360, their engines have many similarities. Both tractors include 22-horsepower (16.4-kW) V-twin engines that are powered by the John Deere iTorque™ system. This means that they are designed for lugging, even cooling, and durability. The V-twin design ensures that the machine operates smoothly and starts easily, regardless of exterior conditions. Both the John Deere X320 and X360 have flywheel alternators with 15-amp capacities.
Hydraulic Lift System
A comparison of the two models shows that the X360 has a hydraulic lift system. This allows operators to control the X360 with a simple control lever. However, the John Deere X320 still has features, including a large steering wheel, for precise maneuverability.
Fuel Tank
As soon as you look at the John Deere X320 vs. X360, you'll quickly notice that they both have large fuel tanks. The tractors can each hold 3.3 U.S. gallons, meaning they can operate for longer without the need to stop and refill. They are also located on the left fender of the machines to reduce the chances of spillage.
Hydrostatic Transaxle
Both the John Deere X320 and X360 have integrated hydrostatic transaxles, which are designed to efficiently transmit power to the tractors' wheels. The Tuff Torq® transaxle encloses the hydrostatic pump and motor rotator groups in the same housing. The reduction in the number of sealing surfaces minimizes the potential for leakage.
Steering
In terms of steering, the X360 has power steering for easy turns and automotive-like control. This also reduces operator fatigue and increases productivity. The John Deere X320 has a large, 14-inch diameter steering wheel for more leverage. It also has ball joints on both ends of the steering tie rods for the utmost durability.
Edge™ Xtra Decks
Customers will notice that both tractors have Edge Xtra Decks. These mower decks have 4-point mounting systems, wider anti-scalp wheels, and 0.25-inch cut-height increments. The design of the deck is also meant to evenly discharge clippings.
Final Thoughts
As you can see through this comparison of the John Deere X320 and X360, both tractors have features that can be useful, depending on the job. With this information, you can ensure that you're buying the John Deere machine for your specific needs.
If you enjoyed this post or want to read others, feel free to connect with us on Facebook, Twitter or Google+!