Agricultural professionals who are seeking a planter with all of the bells and whistles may want to consider the John Deere 1775NT. This planter comes in 12, 16, and 24-row versions to accommodate operators' needs.
Although they each have a different number of rows, the John Deere 1775NT planters come with many similar features.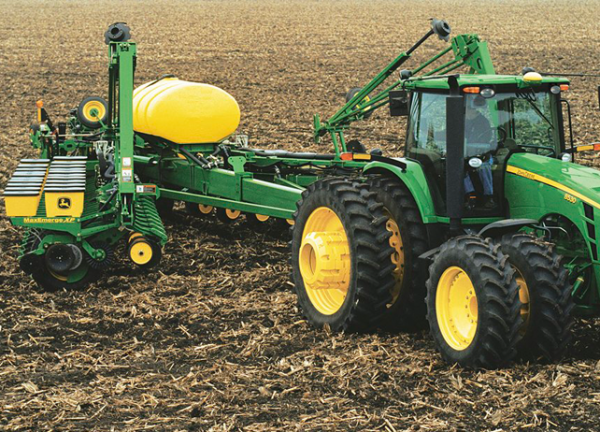 Let's take a look at some of what they share in common.
Custom Seed Rates
All of the John Deere 1775NT planters allow operators to set custom seed rates for individual row population control. Up to four different rates can be assigned across the planter. Additionally, the feature can be used to develop tram lines.
Easy Adjust Row Cleaners
Row cleaning is no longer a tough job with the John Deere 1775NT planters. This equipment has the Easy Adjust row cleaner and coulter combo, which is a pneumatic row tillage solution that can be controlled directly in the cab. Operators can also save three presets in Easy Adjust for various ground and field conditions.
SeedStar™ 2 Monitoring System
The SeedStar 2 system includes a display with information on seed population, field documentation, and coverage maps. It monitors planter functions, including row failure, vacuum level, acre counter, and fertilizer pressure for heightened efficiency out on the field.
RowCommand™
The John Deere 1775NT planters have the RowCommand individual row control system, which lets users manage seed output, reduce yield drag, and improve harvest capabilities. RowCommand incorporates individual, low amperage clutches inside of the Pro-Shaft and gear boxes to optimize seed output.
Innovative Central Insecticide System
The Innovative Central Insecticide System (CIS) of the John Deere 1775NT planters improves the application of insecticide to maintain crops over time. The system consists of a water tank, insecticide cabinet, pump and valve assembly, flow monitors, nozzles and controller. The cabinet can hold up to eight boxes of Force® CS.
Pneumatic Closing Wheels
The John Deere 1775NT planters have pneumatic closing wheels, which allow operators to make adjustments right from inside of the cab. The closing wheels can be adjusted to 25 different positions with the GreenStar™ 3 2630 display.
Dual 56-V Electric Motors
The dual 56-V electric motors of the John Deere 1775NT planters ensure that the ExactEmerge™ is as efficient and precise as possible. They are brushless and require less amperage to power compared to other motors on the market. The dual 56-V electric motors are maintenance-free as well.
To find out more about the John Deere 1775NT planters and their features, contact your local John Deere dealer or visit www.JohnDeere.com.
If you enjoyed this post or want to read others, feel free to connect with us on Facebook, Twitter or Google+!
You might also like: