As crop planting and seeding season swings into full force, growers have unique needs when it comes to planting technology and parts. It is crucial to think about a variety of techniques each and every planting season. To better understand how planting equipment got to where it is today, we've put together a timeline that highlights crucial moments in John Deere planter history, while also featuring some producers that are using their John Deere planters to make the most out of the 2021 planting season.
John Deere Planter History
The John Deere planters of today allow crop growers to plant everything from corn to soybeans, to cotton, and more. This is done accurately at 10 mph thanks to the top-notch technological features of John Deere planters. But, where did this all begin?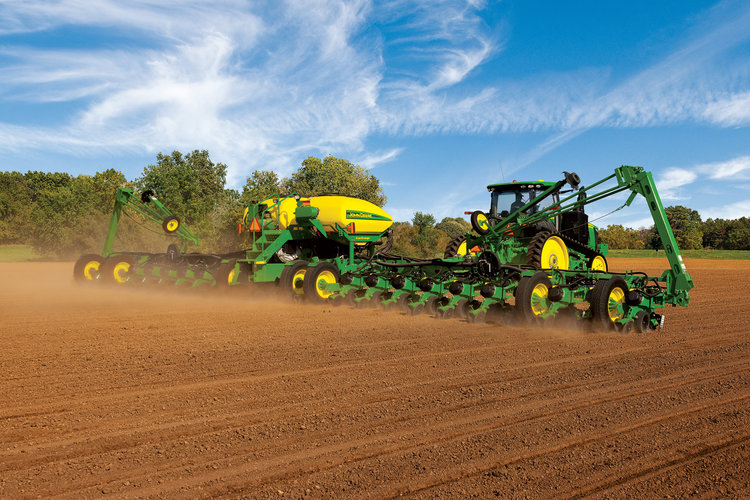 Let's take a look at how this type of machinery got to where it is today by exploring the timeline of John Deere planting equipment. 
John Deere Planter Machinery Production
John Deere planters have been in production since the mid-to-late 1800s, starting with the development of the corn planter. 
Pre-1887
When the industry needed an accurate corn planter, Charles Deere and Alvah Mansur formed the Deere & Mansur Company to meet this demand. Back then, the planter company was operated separately from the John Deere Plow Company.
After this partnership was formed, Deere & Mansur released their Deere Rotary Adjustable Corn Planter. This hosted an innovative rotary mechanism, making it an instant hit. As the operation gained more success and outgrew its small space, it eventually moved to a larger location in Moline, Illinois, where the innovation continued. 
1887
In 1887, The Deere & Mansur Company introduced the Deere Center Lever Corn Planter. This machine featured a center lever that was designed to raise or lower runners with ease. The lever could be accessed by hand or foot to accommodate farmers who lost limbs in the Civil War.
Mid-1890s
With planting accuracy top of mind, the Accumulative Single-Kernel Drill Planter was created to increase accuracy by 15%. The Edge Drop Planter was also introduced – this new planter metered seeds by their thickness, as opposed to by length, which also increased planting accuracy.
1899
In 1899, the Deere & Mansur Company was recognized as the largest planter manufacturer in the world.
1901
At the beginning of the 1900s, the No. 9 check-row corn planter was brought to market. Due to its usability, as well as its accuracy at the time, this planter was called "the foundation of John Deere planter leadership" by The Furrow magazine in the 1940s.
1911
The Deere & Mansur Company was acquired by Deere & Company as the latter eyed the creation of a full line of farm equipment manufacturing.
1913
The No. 999 machine was created by John Deere. This planter had a natural-drop seed plate, an enclosure of clutch and variable-drop gears, and safety fertilizer attachments. In addition, it had a tongue truck, a simple positive valve action, and special plates that could handle various types of hybrid corn.
1935
Due to the ever-growing popularity of farm tractors, the need for faster planters became clear. In response, Deere released their four-row, No. 450 Corn Planter. Attached to a farm tractor, this planter lets farmers plant about 40 to 50 acres in a single day.
1957
Deere's planters were forced to keep up with bigger and faster tractors. The four-row 494, as well as the six-row 694, the four-row 495, and the six-row 695 Planters were introduced as a result.
1968
The 1200 and 1300 Series Plateless Planters hit the market this year. The new "finger-pickup" mechanism worked to select seeds one at a time, which was similar to the way a farmer would manually plant seeds.
1974
Another major step in innovation occurred when Deere released the 7000 and 7100 MaxEmerge™ Planters. These allowed seeds to be placed at more precise depths than before. Deere also introduced the Tru-Vee™ openers, which used angled disk blades to cut well-formed seed trenches. These systems both pushed Deere's planter popularity to new heights in the 1980s.
1995
The John Deere Seeding Group became an official entity.
John Deere Planting Equipment Today
Once spring hits, farmers are in the midst of preparing for the planting season, if they are not already out in the field working. Producers know that when the climate allows for it, they will need to take certain factors into consideration, such as the crops they are going to plant, when they can actually sow their fields, and what planting equipment they are going to use. This could include any of the following machines.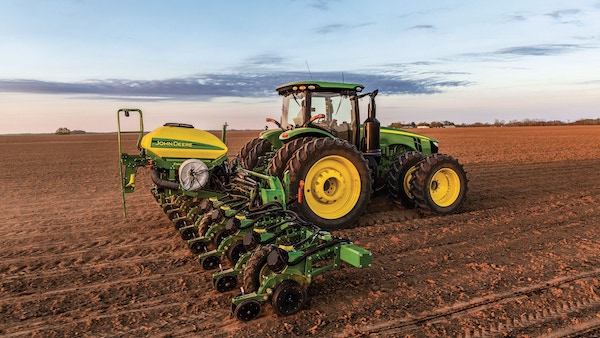 John Deere Planters
Drawn planters: Drawn planters are designed to cover more acres. They are known for their flexibility and productivity, even in no-till situations. Models include: 
1775NT 12Row30

1775NT 16Row30

1775NT 24Row30

1795 12Row Split 23 or 24

1795 16Row Split 31 or 32

1795 24Row20

1765 Flex

1765 Rigid

1765NT

1775 Flex
Mounted planters: Producers who are looking for more affordable options may want to consider mounted planters. They are perfect for planting in conventional and reduced-till conditions. Models include: 
DB planters: For producers managing many acres, this John Deere planter option may be the right fit. Models include: 
DB44 24Row22

DB60 24Row30

DB60 24Row Split 47 or 48

DB60 36Row20

DB60 47Row15

DB60T

DB66 36Row22

DB80 32Row30

DB80 48Row20

DB88 48Row22

DB90 36Row30

DB90 54Row20

DB120 48Row30
DR planters: These planters feature Stack-Fold technology, which maximizes flexibility and productivity. Models include: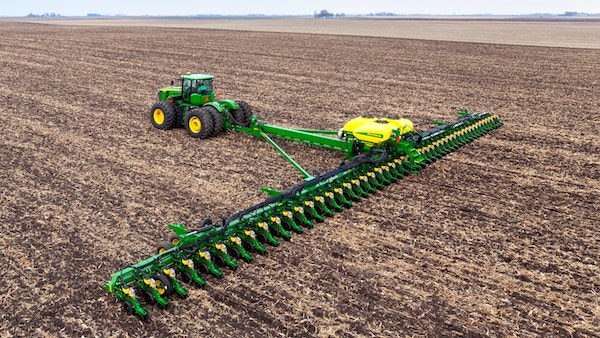 John Deere Seeders
Box Drills: John Deere Box Drills feature productive seedbox capacities, allowing for longer intervals between any necessary refills.
Air Carts:

With the John Deere ActiveCal system, calibrating your machine can be managed from the cab of the tractor. This enables producers to cover more ground every day. 

Air Drills: John Deere Air Drills, specifically the N500F, as well as the P500, are designed to handle tough no-till conditions with ease. They also help to provide consistent seeding rates row by row.
John Deere Systems
Active Pneumatic Downforce:

This hydraulically-driven compressor works in conjunction with the SeedStar XP in order to automate downforce control. This eliminates the need for operators to manually make downforce adjustments when conditions vary.

Row Command:

Two critical areas of focus for today's producers are controlling costs and improving overall planting productivity. RowCommand helps to manage seed output, while also reducing yield drag, and improving harvest capabilities. 

VRD – Variable Rate Drive:

The SeedStar 2 variable-rate drive use one, two, and three hydraulic motors in order to turn the seeding drive shaft. These hydraulic capabilities help change seeding rates on the go through the display from the tractor cab. This allows the producers to match seed populations based on the soil types or the irrigation practices.

Vacuum Seed Meter:

The goal of vacuum seed meters is to pull and hold individual seeds to the holes of the seed disk gently. This helps to improve population control, as well as spacing accuracy. 

Pro-Shaft Drive:

Pro-Shaft cables are great for powering seed meters. 

Coulters:

Unit-mounted coulters plant in reduced tillage conditions, which ensures accurate tillage in the seed zone. The coulter blade works to pre-till the seed trench, allowing the openers to more easily create well-defined seed furrows. 

Row Cleaners:

With increased yearly crop yields comes an elevated amount of crop residue, which is left in the field post-harvest. Row cleaners have become essential tools for managing these pattern changes. John Deere offers screw-adjust unit-mounted row cleaners, floating row cleaners with a unit-mounted coulter, and row cleaners for double-disk fertilizer openers.
Tips for Spring Planting
With John Deere's line of planters, including parts, services, and attachments, you have the opportunity to choose which equipment works best for you. There are 5 essential tips that can help you best use your equipment to maximize yields this planting season.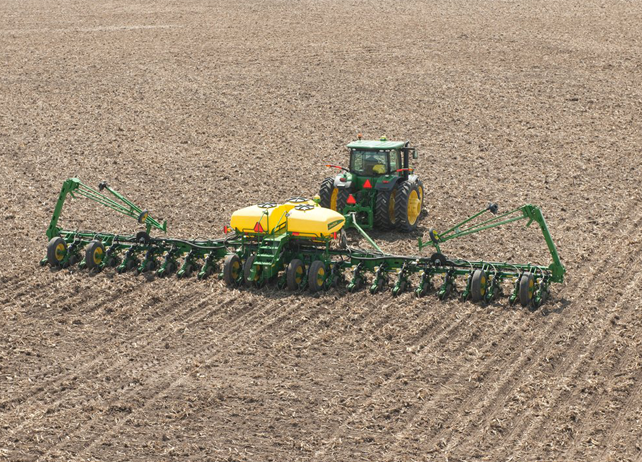 Reduce Seed Costs
Put seed only in the places where you want them to grow. RowCommand meets this need by helping to reduce seed waste and minimize yield, especially in headlands, as well as point rows. This system manages your seed output, reduces any yield drag, and improves your harvesting capabilities. By controlling your input costs, as well as improving productivity, farmers can experience better performance in the field during planting season.
Maintain Consistent Depth Control
John Deere has a few options that make achieving desired planting accuracy easier. All you have to do is set the target margin value on your row unit, and the John Deere active pneumatic downforce system will automatically maintain this value. This ultimately leads to achieving precise soil penetration, as well as consistent planting depth, without any sidewall soil compaction.
Improve Singulation and Spacing
Retaining consistent seed spacing is essential, even when you change speeds. You need a technology that can sense changes and adjust seed meters so you can deliver consistent plant population. You can fight high seed costs with the ProMax 40 Flat Disks, which can also help to improve seed singulation, spacing, and depth control. Pro-Shaft drive row units can help you save time and money, delivering durable, as well as easy-to-maintain meter engagement or disengagement.
Penetrate All Ground Conditions
You don't need to compromise planting equipment in order to penetrate tough soil. You can use coulters on your planter to break through any reduced tillage conditions without damaging your machines. Positioned directly ahead of your opener, the coulter blade ensures accurate tillage in the seed zone. By pre-tilling an area, the openers can provide clear seed furrows and enable easier seed furrow closure.
Monitor and Document Performance
Lessening seed costs and preventing overplanting allows operators to focus on other planting factors. Monitoring daily operations and planting performance can help you significantly improve your productivity. 
Twitter Media Gallery from Spring Planting
John Deere planting equipment is used all over the world to plant crops. With the rise in social media, owners have now began to highlight their beloved planting equipment on social platforms, such as Twitter. 
Here is a look at our Twitter fan media gallery showcasing images of John Deere planting equipment and attachments.
Started planting corn today, finished nh3, worked a little ground. Nice sunset to a smooth day. pic.twitter.com/xuMpAdCdN7

— Zane Jones (@zane_jones) April 4, 2021
Love us some blue sky and green iron! New #N540C set-up and ready to roll. #plant21 #johndeere #ontag pic.twitter.com/lTEq1TQ7JW

— Premier Equipment (@PremierEquip1) April 7, 2021
https://twitter.com/DALakey21/status/1382181895132254211
Hybrid #Corn Variety Demo is planted in Prairie County thanks to some great help! @janyingling #plant2021 @AR_Feedgrains @ARCrops @UAEX_edu pic.twitter.com/rC6oaJyWju

— Amy Greenwalt Tallent (@amygtallent) April 8, 2021
A lot of plotting is going on. Corn plots, that is! @iamyourfarmer #kscorn #plant21 #myksfarmlife #cornplant21 pic.twitter.com/iYRuijDswU

— Kim Ray Baldwin (@kimraybaldwin) April 14, 2021
https://twitter.com/NDubuc/status/1381049222309539840
I'll have to followup @rsbfarms tweet to show that merging of the old 9450 box hoe drill and new technology is still doing a great job seeding wheat south of Roland. #plant21 pic.twitter.com/kzmrAShnVK

— Jason Voogt CCA, PAg (@field2fieldag) April 10, 2021
Insta is down so sorry for the pretty pick. The last soldier is ready to ride off into some sunsets after this 1.5" of rain dries up. #plant21 #chasingsunsets pic.twitter.com/WwwTMFItxr

— Q Connealy (@Qconnealy19) April 8, 2021
Let's roll boys and girls. @JohnDeere #plant21 pic.twitter.com/u8RRBKABrm

— Kacee Bohle (@kaceebohle) April 8, 2021
Starting to plant spring wheat today! #plant21 #nsag pic.twitter.com/bD2Qcq17p0

— Mike Eisses (@MikeS670) April 8, 2021
https://twitter.com/Dungannon_Dan/status/1380242339491422212
Beautiful day in Northeast Oklahoma for corn #plant21!
Thanks @NewAgSupply for the great products! pic.twitter.com/lQj0zbjtDJ

— Zack Rendel (@zrendel) April 8, 2021
Got both planters ready for tomorrow. Ending day working some stalks. #plant21 pic.twitter.com/vRHZkcSZI2

— Seth Lawrence (@lawrence_farms) April 6, 2021
Perfect day to put in another @LocalSeedCo plot. Much appreciation to @jamesewray #Plant21 pic.twitter.com/sMm01oXQYf

— Sam Barré (@barre_sam) April 13, 2021
We're #seeding #wheat at the Leading Edge Test Farm with a #JohnDeere 1890 drill and #C650 air cart. Check out the full video here: https://t.co/4x7eMcX3Da #plant21 pic.twitter.com/S12wJpUJbx

— Leading Edge Equipment (@LeadingEdgeEq) April 8, 2021
It's go time! First quarter of Starbuck wheat is in the ground, ready for that moisture, Mother Nature! #plant21 pic.twitter.com/BUcmnXZVkm

— Shelley Bartley (@prairieheart) April 11, 2021
https://twitter.com/DougRibey/status/1381758275297902592
Son's first year planting all the bean crop this year! Planting @AgriGold beans @MACC4Yield #plant21 #prouddadmoment pic.twitter.com/SGYu1qIvgo

— Jason Reichenbach (@va2673) April 14, 2021
Ready to grow. #plant21 #westcdnag #johndeere pic.twitter.com/DP3hUmZCza

— Brandt Agriculture (@Brandt_AG) April 13, 2021
Champaign Co. IL. pic.twitter.com/r8bNVaOW0B

— Zach Wells (@ZWells85) April 18, 2021
https://twitter.com/PrairieLandJD/status/1380227395798568961
The farm is part of all of us. #plant21 #AgTwitter pic.twitter.com/7MPcbR5esL

— Mid-State Equipment (@MidStateEquip) April 13, 2021
https://twitter.com/CMyersFarms/status/1383373756559622146
"Cause if you wanna make a livin, you gotta put on a good show" @JohnDeere #plant21 pic.twitter.com/ZkfsIs7HeE

— Cody Kirkpatrick (@JDCodyK) April 17, 2021
Got the first planter of the year ready yesterday, can't wait till #plant21 is in full swing pic.twitter.com/3FFn8hekQK

— Tucker Kulhanek (@PVETucker) April 16, 2021
#rowrice #plant21 pic.twitter.com/A1fzSUVCMe

— Ryan Sullivan (@rsullivan12) April 16, 2021
#plant21 pic.twitter.com/M3X1Vdsbf5

— The Photographer Farmer (@PatrickWOlson) April 15, 2021
https://twitter.com/ashleyrice94/status/1383481271590952967
Time to load it up and turn it loose #plant21 pic.twitter.com/TJcrvYBJ7F

— Jason Schill (@jason_schill) April 9, 2021
https://twitter.com/1TheyLetGetAway/status/1379998175780560902
#MyViewFromTheTractor#Plant21 #Soybeans#JD8310RT pic.twitter.com/rv6Q0UaMSS

— Ron Haase (@Ron_Elo_Haase) April 19, 2021
East Saint Charles PKP ✅. Great to be back in the field for #plant21 @PioneerSeeds pic.twitter.com/0BKS9pxmSn

— Josh Shofner (@JoshShofner) April 18, 2021
Pic of me getting getting to 3% planted. #soybeans thin them out. #plant21 pic.twitter.com/r5J0pOLvVi

— Corey Hillebo (@corn_porkNbeans) April 9, 2021
The weather may not be ideal but we were able to get a few more soybeans acres in the soil today!

Snow predicted tomorrow. The weather is unpredictable in #Indiana in April. #TomFarms #AprilShowers #Weather #Plant21 #Asgrow #CoverCrop #Carbon #Bayer pic.twitter.com/qM0wepdjG4

— Tom Farms (@TomFarms) April 19, 2021
Snow is coming in. #kentucky #spring #Snow #plant21 #kyag365 #corn #bourbon pic.twitter.com/PvBx8GAe0p

— Quint Pottinger (@Affinity_Farms) April 21, 2021
Mother Nature throwing a wrench in everyone's plans again #spring #plant21 pic.twitter.com/rSpURoCEox

— Lenice Orchard (@LeniceJensen) April 21, 2021
Let's do some planting on this #EarthDay! #Plant21 #JohnDeere #ExactEmerge pic.twitter.com/u28bQGL01P

— Courtney Christensen (@_court92) April 22, 2021
Tomorrow we roll #plant21 pic.twitter.com/8rp7IzaxVF

— Perry Albers (@PerryAlbers) April 23, 2021
Final Thoughts
John Deere planters have been around for many, many years – and for good reason. Their consistency helps farmers to increase productivity and save time. For more information about John Deere's new and used planters and other planting equipment, contact your local John Deere dealer.
If you enjoyed this post or want to read others, feel free to connect with us on Facebook, Pinterest, Twitter, or Instagram! 
You might also like: